Thought I'd share my new build with you fine folks. I've been doing a few local long range precision shoots and was using a Ruger Precision Rifle in 308 but it just wasn't quite what I wanted so with having a budget of 3000.00 all in and after lots of research I thought the Tikka CTR in a 6.5 Creedmoor would be the ticket. I'm very familiar with the Tikkas and for my budget thought the Tikka action and factory barrel would save me quite a bit of money in Smith work right out of the gate.
I have a great relationship with the people at Mountain Tactical company/Tikka Performance and fortunately live just down the road from their shop and as luck would have it they had some over stock rifles they were trying to move so they gave me a screaming deal on a 20" Tikka T3X CTR 6.5.
Here's the build so far:
Rifle: Tikka T3X CTR 6.5 Creedmoor
Mountain Tactical bottom Metal to run Accurate mags/AICS mags
Mountain Tactical 20MOA rail cerakoted FDE
Mountain Tactical bolt handle/knob cerakoted FDE
Mountain Tactical bolt shroud cerakoted FDE
Optic:
Bushnell LRHS 4.5-18X44 MIL reticle scope
Nightforce Ultralite 30mm 1" high rings
Other parts I'm still waiting on the mailman:
Heathen Muzzle Brake by Insight Arms
Yo-Dave trigger spring
SAP 2 Round holder
Triad Stock pad/cheek weld
Sniper Skid Plate/pad
Grovtec Flush swivel to classic sling swivel
First thing I did upon receiving the rifle was pull everything apart to install the Tikka Performance parts. While it was apart I figured I'd try my hand at painting the stock. I've never painted a stock before but figured if it turned out like crap I could always clean it off or order a Manners stock later down the road. Between coats of paint I put the other parts on. Bolt shroud and handle was quick and easy. The part I was a little concerned about was putting on the new 20MOA rail. I know they epoxied on the factory rails and heard it could be a struggle. After some research I decided to use a clothing iron to set on the rail to heat the epoxy up. It worked like a charm and I got the new rail on without a hitch.
Next step was to dremel out some contact areas in the stock where it touched the barrel, about 5 minutes with the dremel tool made quick work of that. Then came reassembly which was straight forward. Then I cleaned the barrel to prepare for break in and zeroing. Once the bore was clean I mounted my scope and rings.
Hoping for the rest of my parts to show up before Friday so I can get some range time this weekend!
The goal for this rifle is to be able to compete in some local PRS type matches and potentially use it for field hunting deer and antelope but mostly just competition while staying under 11.5LBS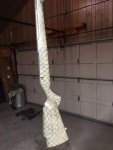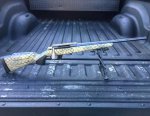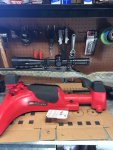 Last edited: