Joined

Dec 13, 2017
Messages

89
Location
I'm carving out some space here to share my experience the relatively new TPS Arms M6 combination rifles, based on the original M6 survival rifles made by Ithaca in 22 Hornet over .410. When I was younger and poorer I always imagined the Springfield copy would make the perfect companion for most hunting in AZ, despite its shortcomings--fixed choke, rough trigger, single-ish shot, cheap construction. But once you overcome the heavy, gritty trigger of a cheap Chinese springer air rifles, any other trigger is smooth as silk. And I'll admit, a good 20 or 28ga shotgun could fill this same role just fine, but maybe a little heavier, and a more limited range.
Jumping forward a good 15+ years, I found myself moving back to AZ and contemplating a good small game gun to carry around the desert. That's when I remembered the Springfield Armory M6. A couple quick Google searches and it was confirmed that the gun had been discontinued, but new copies were being made by two companies. The first was Chiappa... Yuck! But the second was made by a company that was new to me, TPS Arms.
After seeing the design changes TPS arms had made, and the models available, I had to have one. The TPS Arms model added an improved trigger, non-riveted construction, addition of synthetic materials (quieter and less cold), a removable choke, sight mount options, captive takedown pin, and an easily-manipulated cross bolt safety. Not only that, but it's offered in models with five different upper barrels; 22LR, 22 WMR, 22 Hornet, .410, and best of all, .357 Mag. The .357 Mag even has an adjustable front sight post. I had to order one. Or two. Or three.... So I did. It's worth mentioning here that when I was first interested in the guns, I couldn't find the 357 models anywhere, so I reached out to the company. The owner, Jeff Paulson, was quick to respond and helped me get ahold of them, and and has been quick to respond to subsequent questions via email.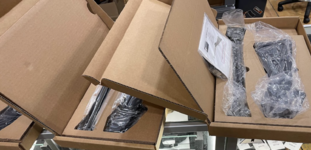 I've only done a little bit of shooting with them so far, but have found soda can accuracy at 50+ yards is very doable with the rifle rounds once you're used to the trigger. After some experimenting with the trigger, I discovered a three-finger press on the trigger bar works best for me. Here's a 50 yard group, shot kneeling with a 22 Hornet, and a 25 yard shot with 3" 11/16 oz 410 load at 25 yards with the extra full choke. Same point of aim using a Vortex Viper holographic red dot sight, so I'll need to compensate for the shotgun barrel.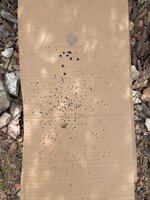 I missed the early dove season while I waited to meet my official AZ residency requirement, but I'll be out with the .410 barrel for quail and dove later this fall. May even load up some TSS to fill the stock and pockets with on days I might run into watering holes holding ducks. Here's a jackrabbit I got last night on the first hunt with my 22 Hornet model. I used the 410 here, but the 22 Hornet currently shoots a handloaded 40 grain bullet at a mild 2200 fps. I've got a bunch of Hornady 140 grain FTX bullets to try in the 357 Mags when I have time. Seems like the gun might have a place in brushier areas, sitting water for bears or out hunting javelina.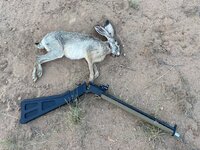 Let me know if you have any questions and I'll do my best to answer them. If you have an M6, regardless of make, please share some of your hunting experiences with the gun!