Joined

Feb 25, 2012
Messages

453
Location
My dad and I had our family's most successful weekend of blacktail hunting in years. Saturday night (while I was down in Seattle with my wife while she took her Medical Assistant certification test - she passed by the way) my dad made it out to one of our hunting spots and found a monster old regressed buck chasing does around. Unfortunately I didn't get any good pics as I was out of town, I'll upload some of his if he ever gets around to downloading them off the camera.
His main frame was a 3x3 with eyeguards but he has a gnarly third antler growing out of his forhead with 3 points on it as well. Pretty cool buck! He is getting a euro mount of him so he should look pretty cool!
This morning, I headed out to a different spot that we hunt. When I left the house it was 37 degrees and overcast. The forecast called for .05 inches of rain for about an hour in the morning. Instead, it rained close to .75 inches and I was drenched and freezing cold. Early in the morning I had 2 does (I think) walk by at less than 40 yards and I had my gun on them and never could tell for sure if they were bucks or does because the rain was coming down so hard and thick I couldn't see clearly through it.
Around 8:30 I was about ready to call it quits as my hands were so cold I couldn't move them anymore. I actually started walking the logging road back to my truck when I looked up and saw something that looked "deer like" about 175 yards away. Sure enough it was a buck standing broadside looking at me. The rain had started to let up a bit and he had got up to start feeding. I was hoping to get a big 3 or 4 point this year but it was one of those times when you're so cold and miserable that when the buck stepped out it never even crossed my mind not to shoot it! I dropped my bipod and got a perfect heart shot at 175 yards and dropped him in his tracks!
He's not the biggest buck on the mountain but he is my biggest blacktail to date so I am thrilled.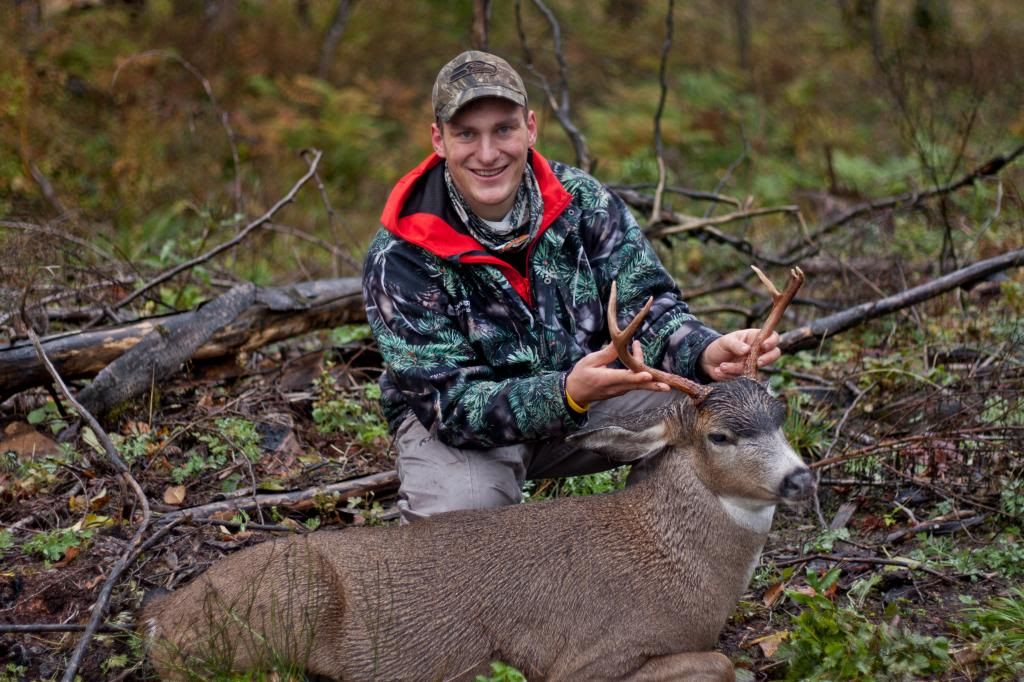 (Yes I was wearing hunter's orange I just took it off for the pictures because I think they look better without it.)
All in all it was a pretty good weekend! I took my brother out this evening to see if we could make it a perfect 3 for 3 but we struck out.
The rut is definitely starting to kick in. My dad's buck was chasing a doe around a field and mine definitely was starting to get a swollen neck. With all this cold weather and mountain snow it shoudl be a good final week of the season!