Joined

Oct 8, 2019
Messages

1,313
Was putting away my MegaLite and noticed that I still have my down Slumberjack 20. Figured I'd take a couple photos to show the difference. All bags are hung in a closet when not in use.
Initially I was stoked to try the SJ bag. But each time I took it out, I'd be soaked and cold (no matter the temperature. Was a "low cost" down bag and I suffered because of it.
Bought a WM Antelope and MegaLite and they rock. Huge difference between the warmth, loft, and comfort of the WM bags compared to the SJ bag. Biggest lesson: buy quality as you can clearly see and feel the difference.
Loft comparison - SJ on the left and MegaLite on the right. The SJ is 20* and the MegaLite is 40*. The SJ is heavy and dense compared to the light and airy MegaLite.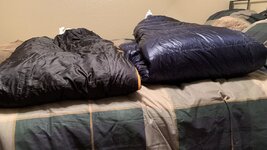 Comparison of the MegaLite and Antelope (just for fun).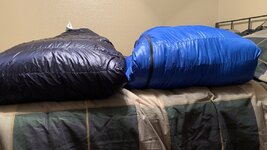 Last edited: