I've had this spotting scope for 1 year. Used on one deer hunting trip in 2016. Excellent condition, no box.
$300 tyd in the lower 48.
Vortex Diamondback Spotting Scopes deliver outstanding performance when you need a heavyweight performer in a light, compact package. The Diamondback guarantees a bright image throughout the magnification range, and the rugged construction stands up to rough use in the field. Multilayer coatings provide the clearest, brightest, most color-accurate images possible. Vortex proprietary XR anti-reflective coatings, fully multicoated on all air-to-glass lens surfaces, increase light transmission for maximum brightness. Porro prism gives maximum image quality and performance in a traditional design. Angled scope is valued for allowing an overall lower mounting height, which maximizes stability in wind, offers greater comfort when glassing for extended periods and permits the use of a smaller, lighter tripod. It's the most compatible design for use with car window mounts. Straight scope provides speedy target acquisition and ease of use. Optics are sealed with O-rings to prevent moisture, dust and debris from getting inside the spotting scope. Nitrogen gas purging delivers fogproof, waterproof performance. ArmorTek™ ultrahard, scratch-resistant coating protects exterior lenses from fingerprints, scratches, oil and dirt. Eyecup twists up and down for comfortable viewing with or without eyeglasses. Sunshade reduces glare and raindrops.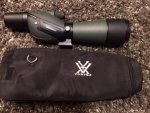 Last edited: