Joined

Nov 30, 2012
Messages

1,130
Location
The rifle has arrived and I must really say that I was and am more impressed with the rifle than I really thought I would be. A couple of things I knew going into this project. I really wanted this rifle basically because of weight. It weighs just slightly over 6# from the factory.
Knight was able to reduce the weight of this rifle basically by offering a completely new stock assembly. At the same time as they moved to the Kevlar stock they incorporated a aluminum bedding block into the stock. The block along with the cantilever recoil lug (commonly called a 'forked recoil lug) offers the rifle stability never seen in a Knight rifle before. The Kevlar stock offered on many high end rifles offers durable construction with a greatly reduced weight factor.
Another thing Knight accomplished with the help of their partner Green Mountain Barrels - they contoured the barrel even more than the old Knight DISC Elite. Looking at the nose and crown of the new Ultra Lite you might be surprised at the 'slimness'
It is my belief this new stock and the added machining that Green Mountain had to accomplish was a very difficult decision for Knight. These two decisions were going to drive the cost of one of these rifles far beyond the every day price of other available muzzleloaders out there. I believe it was a tough decision and one that I am glad they made. I also believe that the are people out there that will opt for this rifle even though with the price. I am pretty sure that Knight knows that not everyone is going to run out and buy this rifle. Myself, I have been terribly bitten by the ML disease. I now hunt all year with a ML, both the regular rifle season here in Idaho and ML season. My center fire rifles have become safe dwellers.
Since, I have chosen to hunt both rifle and ML season with the same rifle. Because of this the rifle I choose to use I want it to have a lot of versatility, in that I want to scope and use 209 primers during rifle season, yet during ML season I have to return to cap ignition and for me here I have to shoot full bore lead conicals. The Ultra Lite allows that versatility as does the Extreme. So it really comes down the weight factor and some added features of Ultra lite.
As mentioned the weight factor is key, a couple of other added features to this rifle not found in the DISC is the Pacmayr recoil pad, the fully adjustable match grade trigger, and the higher tolerances held in the Mountaineer series rifles just to mention a few off the top of my head.
Here a few pictures of the new rifle…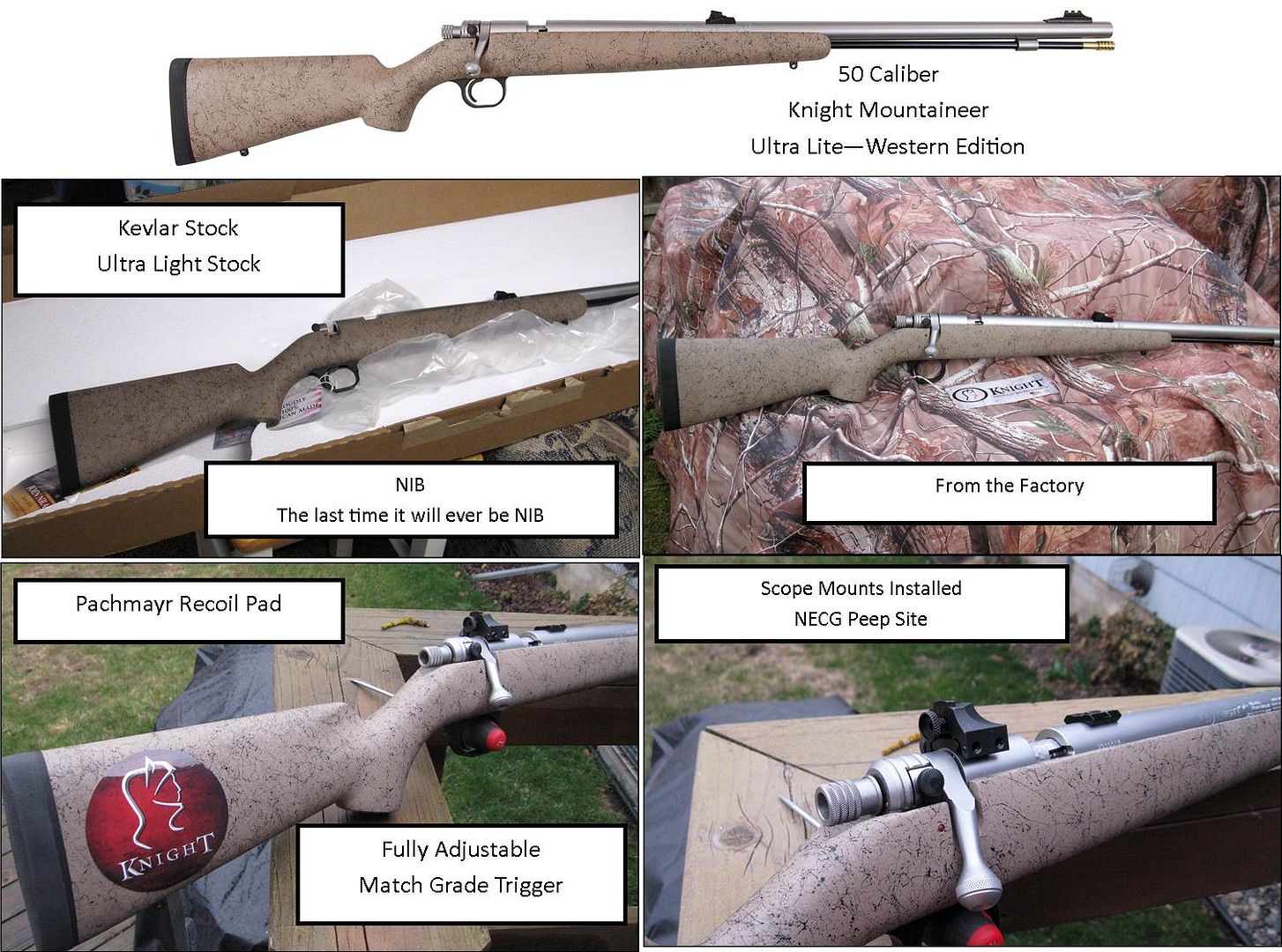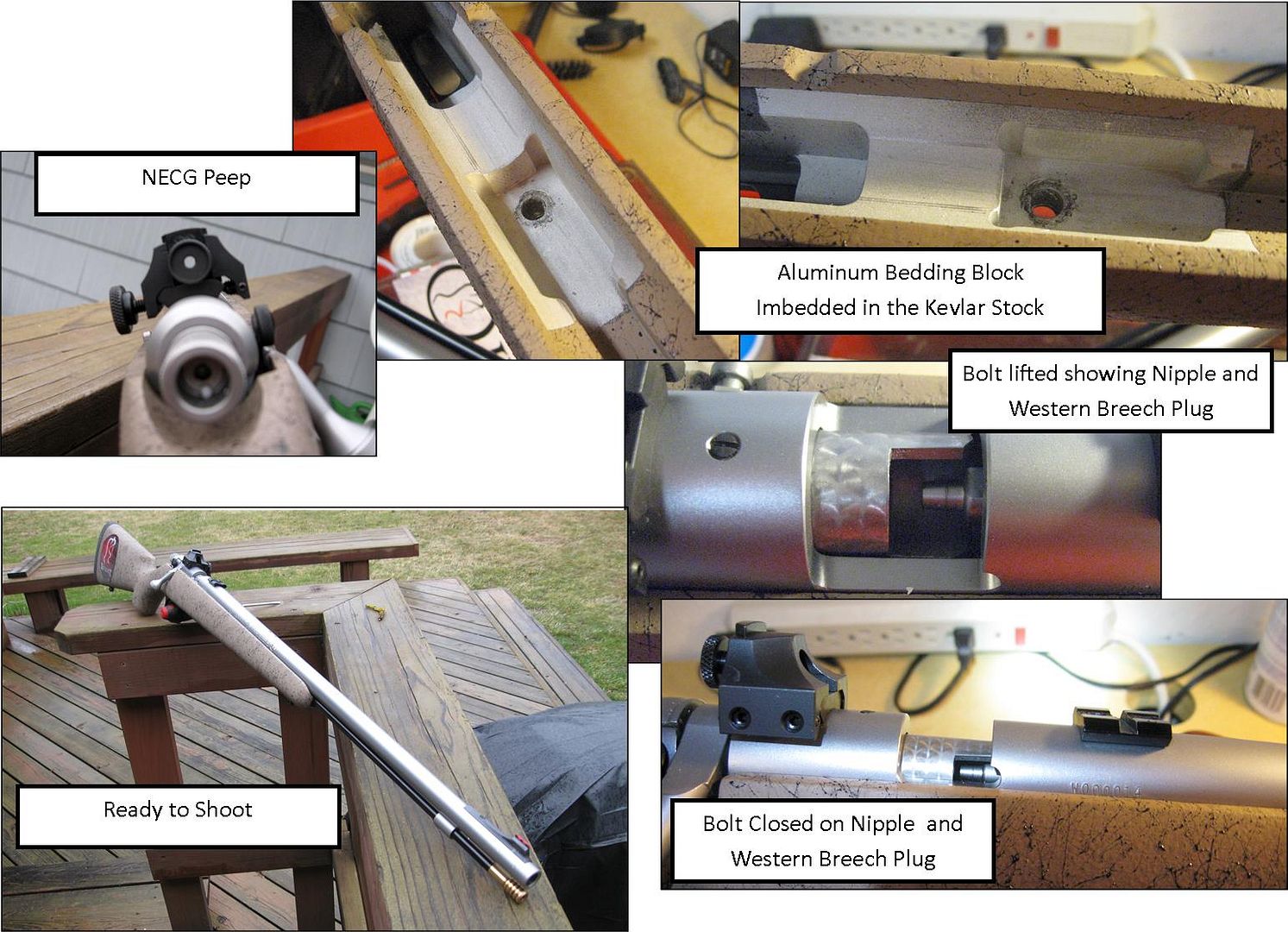 For us western hunters, I have been told that Bob's has 4 of the new rifles coming in shortly and Wholesale Sports or soon to be again Sportsmans Whse. will be getting a good order in later in the spring. Both of these dealers should beat the Knight price easily… but then again demand has a lot to do with price…
Hopefully I will get an opportunity to shoot the new rifle soon…