Joined

Jun 11, 2021
Messages

13
Location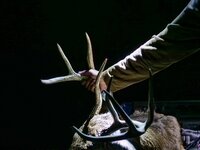 Looking for ideas from other guys that either watch or make their own videos?
A little bit about us: A group of friends and family that decided to hunt just like you, we just happen to have a camera with us when we go. I personally got into this as a teenager, and after getting an associates degree in Digital Marketing I decided to start up a small business. The business is based on Faith, Brotherhood, and the Outdoors.
Now that we're a few years into this, we've built up a schedule of hunts and trips we have wanted to go on for years. The only downside is that everyone knows the market for hunting videos is saturated. However, our goal isn't to do this for a living, we just want to show that the average joe can go out into the field, and have a successful hunt. We also love the idea of connecting with guys and sharing our faith through our passions in the outdoors.
My question for you is: With all of the content there is out there today, what is something different that you guys would prefer to watch over treestand sitting for whitetails?
I'm using this to gather some intel so I can hopefully impact some more beginner and novice hunters as they get introduced to the same sport we all love. Here's a video link to show past work, and it's only going to get better from here.