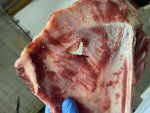 Yes.
I shoot a 525gr arrow with a 125gr Exodus and 75gr insert, going about 255fps. The shot was 40yds and the broadhead exited the opposite side.
I have worried my slow arrow wouldn't go through the shoulder blade and thought about switching to a 2 blade like an Iron Will.
Also, it makes a cute heart shape in the shoulder blade. It will make a great Valentin gift for the wife.