New Kifaru Duplex Belt, Small, Ranger Green
Brand new, never used Duplex belt in Ranger Green. It's the new production, power pull style belt. Unbelievable how easy it is to cinch. Small, for waists between 28"-33" per Kifaru.
$70 PayPal To Your Door.
Also happy to trade for a Medium in Ranger Green.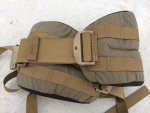 Last edited: