Joined

Dec 19, 2016
Messages

24
Location
Selling my Kifaru E&E in Multicam w/ X-Ray Shoulders Straps, grommet holes, 2 Chamber Pockets, 1 Lock n Load 10, a Bungee cord retainer system on the back. I added Go-Ruck zipper pulls and velcro webbing keepers.
I loved the setup & ideas for this pack, its really got the perfect amount of space but I just dont find it comfortable enough to wear for an extensive day hike. I sweat a little more than the average guy so the lack of a mesh breathable backing is the downfall for me. I know its designed as a pocket to be occasionally thrown on as a pack but I was really attracted to it as a regular day pack because of the design. At this point Id just like to recoup the cash and probably get an Eagle yote pack. Shown in pictures are how I have the pack set up and the bungee on the outside holds my anorak shell securely on the pack.
I think $240 Shipped is fair since its brand new and the pack itself (Multicam,/Xray straps/grommet holes) without anything extra is 200 shipped from Kifaru w a 3-week lead time. I prefer paypal gift or venmo.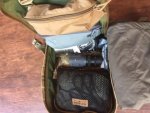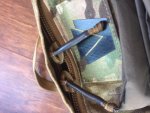 Last edited: