Joined

Feb 26, 2018
Messages

567
first off by saying thank you to Wyoming and the amazing residents that gave us access.
Being a resident of Idaho there are many opportunities for myself and other to take advantage of and hunt.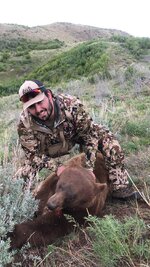 2021 started off to a great start killing a stud bear in Idaho. (19-3/8") My first bear actually.
In the fall of 2020 I connected up with
@Tips n Tails
he was looking for a butcher to cut his elk up. My dad cuts big game on the side (35 year butcher), I connected Corey up with my dad and being my dad, learned Corey was active duty. So my dad did it for free and also invited Corey to elk camp for 2021.
I learned Corey was coming next season, so we got talking more and decided to do a Wyoming antelope hunt. Firsts for both of us (minus one archery hunt for myself).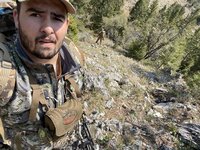 Being in Idaho, with the random draw we have I have unfortunately never drawn out for lope or even mule deer for that matter. (15 years) that's just how it goes unfortunately.
Few years ago I decided to start the point game in Wyoming. I thought I better since I have great luck in Idaho lol
we started out with a rough elk season. They decided to rut late but did get a few to talk.
his buddy that is stationed in England ended up drawing a great bull tag in Idaho, so we opted to postpone our opening day antelope in Wyoming to have Corey help Nick get Nick's bull. (Story for another time)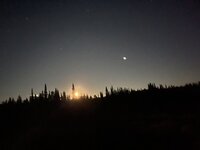 Corey, Nick and myself headed out early morning of the 7th for Wyoming. 7 hour drive from where we were.
Drive went by quick. Seen a ton of country and PLENTY of goats on the way.
We ended up getting there and met the amazing landowner that allowed us on. 60 acre parcel with water was plenty.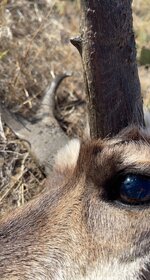 Within 15 min of being there we were on a buck and his does….and the horses…
we tried for an hour and a half trying to get into good position of this buck. These horses didn't know what we were so kept on trying to get on us. It was quite entertaining how these horses acted towards us. Luckily these antelope couldn't care less.
Finally, the horses moved on and the buck got up at a different position with his background clear, at 240 yards Corey made a spectacular heart shot and the buck went a whopping 60 yards and tumbled over.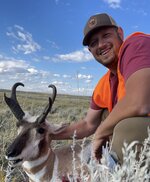 2 hours in at our destination, 1 tag, 1 to go. Pics don't do this buck justice. While he's not majorly tall, he's got great girth. And a couple extra pieces of character to go along.
Raced around and tried spotting up another buck before dark. Quartered and caped Corey's buck in record time I felt.
Texas Roadhouse for the win that night! Or so I thought.
october 8th,
wake up, get coffee and head out. Went back to the land we had access to and spotted up a great buck for the unit.
Out of nowhere I'm sick as a dog. Both ends no clue which it's coming. I don't get sick either. So only thing we could think of is Texas Roadhouse. And now, I can't even think of chicken fried steak..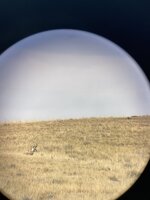 I'm ready, we find this buck and I thought, "this is my buck"
we headed down through the gate and walked up to the water which was only 200 from this buck. As things were, his does started getting jittery and he stood up, I couldn't get a good rest, he started walking, BOOM! Rushed my shot. We all thought I hit him in how he acted.
running on three legs I shot again and missed. Damn, crossed over into private. Rewatched film, he's on three legs, ok I hit him sweet.
called the landowner and asked if he had the neighbors number, he got us access, awesome!
found the buck from the road, drove into the access we had and went over the edge. Damn! Doe spotted us and off they went. But back over into the original access. We chased them trying to hoof it into position to catch him and get a shot. Nothing, then over across the road and into the opposite unit. Thought it was over.
We called Fish and Wildlife, the officer gave us permission to try and go in and get him.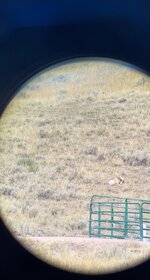 off we went, found his does but not him? What the hell. Talked with two more landowners and they were great people! Gave us access to go look. Back and forth we scoured looking. Nothing.
So back across we went looking. Drove to the highest spot we could and glasses trying to see if he was laying somewhere. Nothing. 8 hours we looked, went back to original spot, no blood nothing. But that's not off, I've seen animals bleed very little before.
so, we head into town for some water and quick food and back out we went.
About a mile up the road on public we glass up a bunch of antelope. Jump out, nick says "ok 518"
I tell him no. I'm getting closer. I can't hold this rifle steady being suck
Buck has us pinned. He's not moving, does are gone now. He's limping. "Damn! I think that's the one from earlier" I get to 350. Lay down, boom! High. He's still there, Boom! 'Wap!'
there he goes! Runs straight down!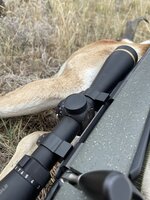 im sick, mind you. So I have like no joy in my expression. Head back up to the truck to grab my drink and hurl.
back down the hill i go to them. Walk up and the buck and "man, it's not him!" I was in awe. I thought it was the same buck. Same leg limping.
we look closer and his legs are all chewed up from the barb wire fence. The leg he's limping on, HORRIBLE hoof rot. His other front had it too, but not nearly as bad. I've never seen it before so I was in shock.
was the first buck actually hit? Or was it rot as well?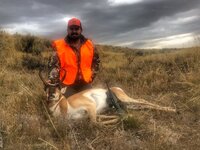 all in all, great experience! Fun hunt! And remember, there's always another option to hunt what you can't hunt.
thanks Wyoming!