Simple yet innovative, Hardside Hydration puts a new twist on the proven platform.  Their system made me do a double take when I first saw it in Salt Lake City at the 2022 Expo. The simplicity comes from using the long-proven Nalgene bottle and then innovating a leak-free drinking hose into the system. With this design, you can store your Nalgene anywhere on your pack and conveniently get a drink without removing it.
Hardside Hydration Swig Rig
If you've used water bladders for any length of time, no doubt you've had a failure. Having water leak inside your bag is at least inconvenient and could be downright dangerous wetting out your insulation layers or sleeping system. Nalgene bottles have proven near bombproof and as such, gone are the worries of having a bladder seam fail.
Easy To Clean
One of the side benefits of a Nalgene-based system is the ease of cleaning. I had problems in the past trying to clean the inside of a bladder after flavoring my water. This lesson resulted in me bringing along a second bottle for mixing drinks which added unnecessary weight and used valuable space. Using the Hardside system has returned me to a system that is easily flushed and cleaned even in the backcountry.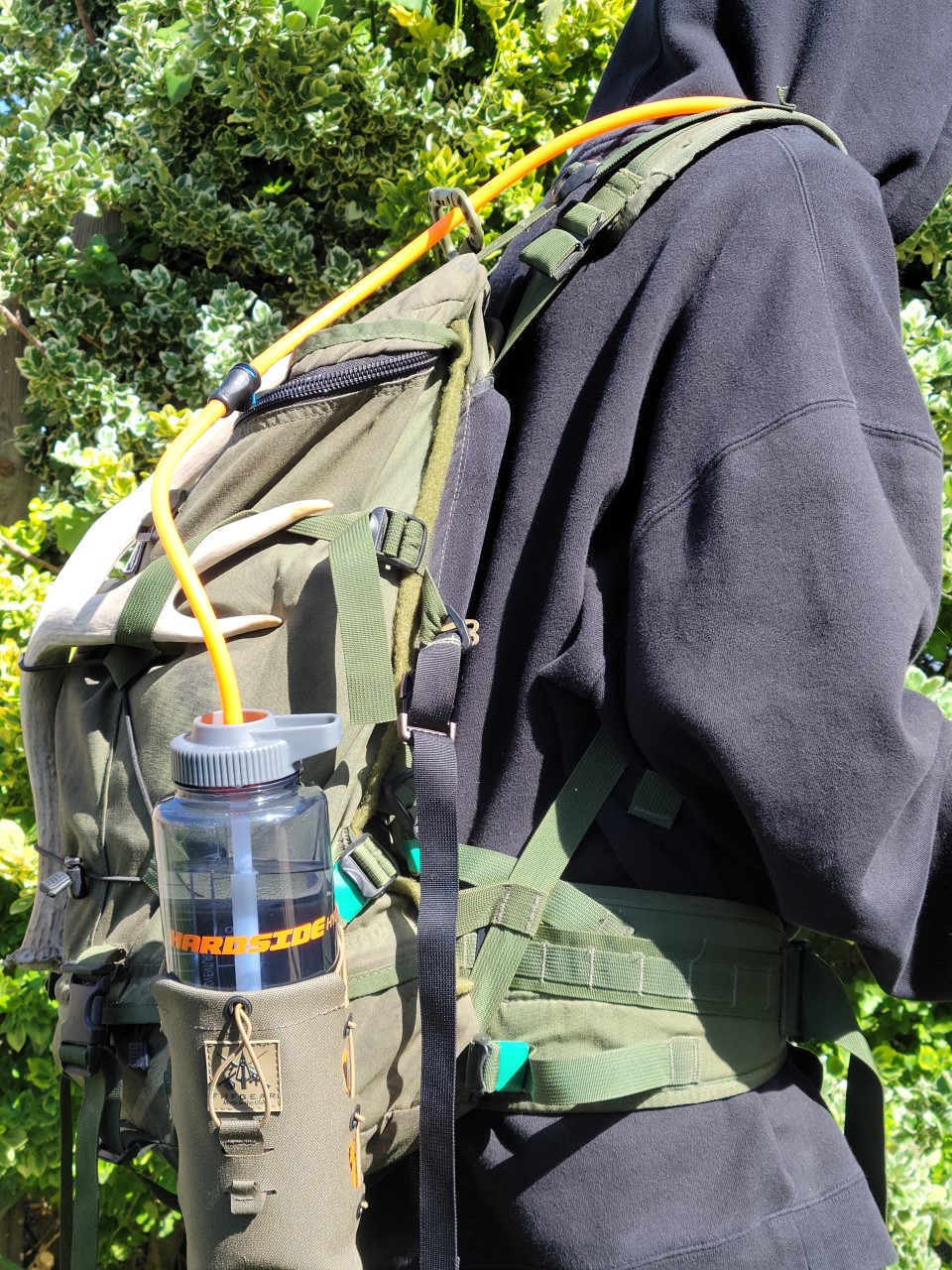 Great For Late Season
Staying hydrated during the late seasons can be an issue as I've had many bladder hoses freeze up in the November/December cow elk seasons.  Hardside Hydration has turned to some of the newest technologies in the design of their insulated drinking hose. When the temperatures really plummet, freezing will still occur but the Hardside system allows for continuous use by simply removing the cap and drinking from the opening as if using a standard Nalgene.
Use It With Your Bottle
Already have a favorite Nalgene? Hardside hydration sells a Swig 63 kit adapting the drinking hose to that bottle. It works with all 48oz or 32oz bottles using the standard 63mm threaded cap size. A simple cost-effective way to stay hydrated by placing a drinking hose conveniently on your shoulder. You can see all the Hardside Hydration products here.
(At Rokslide, the more opinions on a product, the better. Below are Rokslide moderator William Hansen's thoughts on the Hardside Hydration system)
William's take on the Swig Rig
My thoughts on Hardside Hydration's system are very similar to Sam's. This is a quality product that combines some of the advantages and alleviates some of the largest concerns of the two primary hydration options for the backcountry in the classic Nalgene water bottle and water bladder. However, some concessions must be made to make the switch.
The Hardside Hydration system can most simply be described as an upgraded Nalgene water bottle. With the detachable external straw, you can have water more readily available to drink while hiking which can directly increase your water intake. These water bottles are incredibly versatile in their ease of cleaning, refilling, and options to purify water in conjunction with increased durability compared to their water bladder counterparts.
Arguably the most crucial improvement is durability. A leaky bladder can be at minimum an inconvenience, but it could very well be the reason your 10-day elk hunt is cut short.
That is not to say that a water bladder does not have any advantages over this hydration system. A switch to this system will require carrying extra weight to carry the same amount of water. Additionally, water bladders have the potential to carry more water, saving precious trips to gather water that could more effectively be spent glassing that northern slope.
What I Don't Love About It
This product is not without its flaws, albeit they are minor and mostly a reflection of my nitpicking. The internal air valve in the lid is small. It can cause difficulties in the amount of suction needed to drink.
Secondly, the ergonomics of the integrated handle can quickly become uncomfortable to hold with a finger and leave much to be desired.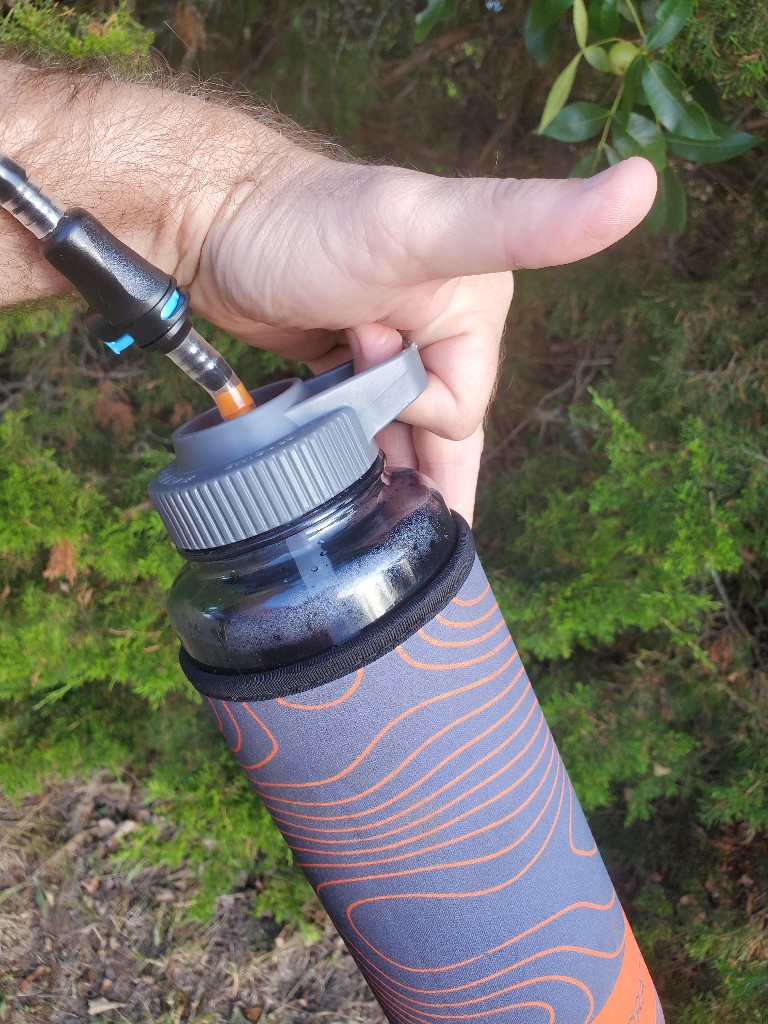 These are minor issues that I would expect with any product this new. I have confidence that Hardside Hydration will continue to improve its product.
Conclusion
The Hardside Hydration Swig Rig has become my go-to hydration option for day-day use. It has effectively replaced my old Nalgene. However, for longer hunting trips or where water is not readily available, the advantage of larger water quantities that the water bladder has cannot be replaced.  All in all, I can confidently say that both water-carrying options have their place. And on some hunts, both will be accompanying me on my excursions in the backcountry. Order yours here.
Comment or ask Sam and Will questions here.
Continue reading the rest of our gear reviews.