Boomers, sorry to break it to you guys, but we've now advanced from scratching on cave walls, to papyrus, to the Gutenberg to…wait for it…the App!
NOOOOOooooooooooo!!!!!
(I can just hear my dad cursing his flip phone as he searches for the App Store)
I'm a writer by (partial) trade and I love the mind-focus of reading a book vs. trying to read (or listen to) something in a digital format…
"Oh look, there's a Instagram notification—I'll just check that real quick!"
…30 minutes and a few cat videos later, I'm back to the article
You know it because you've done the same thing
So when fellow mule deer hunter Marlon Holden contacted me in December 2022 to let me know he was releasing an app to cover all things mule deer, I knew I must be getting old as I cringed a little bit.
"An app for mule deer hunting?…What has the world come to?"

An App for Mule Deer Hunting?
Marlon offered to comp me the app to get some feeback on the project he'd been pouring his heart into for the last year.  I took a look at the free sample in the App Store and decided I'd just pay for it. At $9.99/month, I knew I'd get all that and more back by taking a peek into the mind of a very successful mule deer hunter.
Plus I could give you guys a more independent review if I was sweating out my own lunch money.
While I've never met Marlon personally, I was very aware of his successes the last few years as I'd followed him on Facebook and then Instagram (IG)
Handled as graylighthunter on IG, I was always impressed with his ability to stick with a hunt for a long time and sometimes a very long time (like two weeks). More often than not, he'd tag a good-to-even-great muley with his trusty Hoyt.
I also like to see a bowhunter who wasn't married to hunting just one type of terrain or season. Graylight's escapades take him from the desert floor to the highest peaks on the continent.  He doesn't just hunt early-season velvet either, and has taken good hard-horned bucks on very late season archery hunts—the toughest game if you ask me.
You can learn a lot from a hunter who hunts like that.
I'd also heard Marlon on the SKRE Country podcast last year.  It was such a good podcast that I posted it on my mule deer blog—the Rok Blog—to make sure anyone polishing on their big buck game could enjoy it. Link is here
The Graylight App
So I paid for & downloaded the app in late December over Christmas break, thinking I'd bust through it while I was home.  That thought was quickly dashed as I realized this app is huge!
36 Courses
As I scrolled down the screen on my iPhone, it took a long time to get to the bottom.  There are 36 Courses in the app:
Intro
Field Ethos
Mule Deer in a Nutshell
Conditioning
Mountain Safety
Scouting
Glassing
Field Judging
Equipment
Bow Tuning
Shooting
Backcountry Logistics
Mindset
Navigation
Habitat
Terrain
Weather
Stalking
Strategy
Mule Deer Behavior
High Country
Mid-Elevation
Low Desert
Early Season
The Rut
Moment of Truth
The Hunt
Blood Trails
Pack Out
Field Care
Velvet Preservation
Scoring
In the Wild
Vortex
Zamberlan
SKRE
Within those Courses, there are anywhere from one to 21 Lessons (mini-topics). That adds up to at least 100 Lessons (likely way more).
I can tell you in over two weeks of using the Graylight App, I've only made it through 16 of the 36 modules.  I'm sure I have at least a few hours into it.  At this rate, it'll take me a few more weeks to get through it all (like reading a big book) but I'd seen enough to get a review out there, so here I am.

My Take
Most of the Courses are very well done. Almost all of them include short video to give illustration to the text. This is a unique way to teach.
The videos are shot on the mountain during actual hunts or scouting trips.  Marlon used his phone to shoot them so what they might lack in quality, they make up for in realism. (There is one video so far that was shot by a professional).
There are a few of the videos that the sound was botched by wind, or the deer too far to see well, or the phone flipped them into portrait when landscape would have been better, but most are fine.  Some are downright great!
As far as content quality, some Lessons are pretty basic (for an experienced mule deer hunter) but but most are for all skill levels.  Even if I was familiar with a Lesson, I enjoyed a fresh angle on the subject.
The further I got into the app, the more I realized that this format works very well, and takes the user to a whole new level in the learning process—something that a book, podcast, Forum, or YouTube video just can't do as well.
His Glassing (a huge Course), Scouting, and Field Judging Courses could especially be useful in the field (if you have cell service).
His knowledge of plant types in mule deer habitat is unmatched among the mule deer hunters I've learned from over the years.  I can't wait to dive into the Stalking and Blood Trails Courses.
Another Advantage to an App
Marlon said although the app is launched, it's not static like a book or magazine article.  At anytime he can freshen up the content and says he already has more updates scheduled. By the 2nd month of the Graylight App, the plan is to add or update another 35-40 videos.
I only ran into a few glitches in the app that required a restart when videos froze.  I never could determine if it was lame wi-fi or the app, but most were pretty minor inconveniences.
Is It Worth It?
Although I'm just near the halfway point in the Graylight App, I've got more than the $9.99 cost out of it.  It's educating and entertaining.  It will help a newbie mule deer hunter get his feet under him quicker, and it will probably make even an experienced mule deer hunter rethink some of his own tactics. It did for me.
While Marlon is a bowhunter and I haven't found any rifle or muzzleloader content in the app, don't sweat it if you only hunt with firearms. The Graylight App can help any hunter improve his game. No better hunter to learn from than a successful bowhunter, in my opinion.
And at less than ten bucks and the ability to cancel anytime, I wouldn't hesitate to give the app a shot.
I think if Marlon keeps his promise of keeping the app updated with fresh content, even getting your money's worth long term won't be hard.  Here's a quick intro video:
I've always said we can learn from anyone who hunts mule deer, especially big mule deer. The Graylight App does not disappoint.
You can find it in the App Store
If you have any questions or feedback on the Graylight App, click here
I just released my second book: Hunting Big Mule Deer: The Stories on Amazon here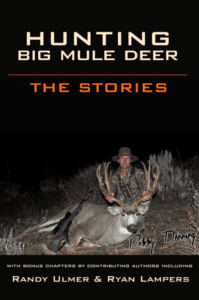 This is the follow up to How to Take the Best Buck of Your Life.