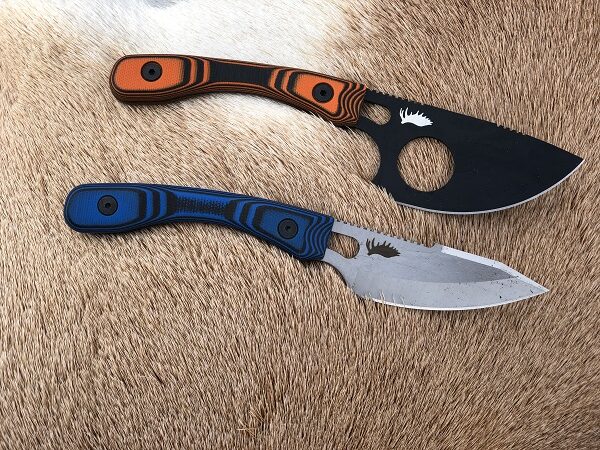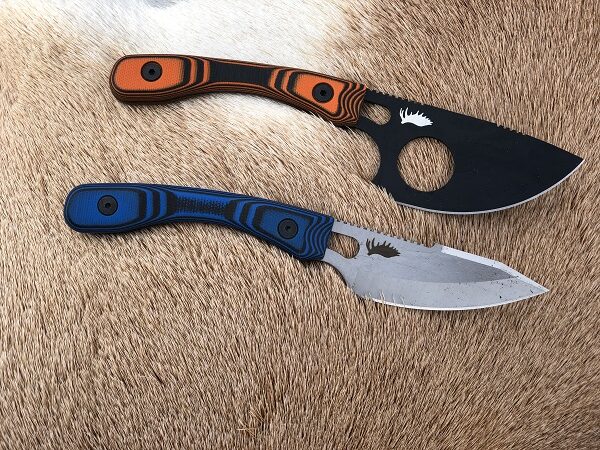 It is no secret that Iron Will pushes out some great broadheads that have been reviewed here on Rokslide. Many may not know that they also make a couple of hunting knives that deserve some attention. Until recently, they offered just the K1 Hunting Knife. Now they make the K2 Ultralight Skinning knife as well.
Iron Will Outfitters Knives
I'll primarily be reviewing the new K2 hunting knife, but I'll also touch on the K1 hunting knife. Les Welch previously reviewed it here.  I was excited for the opportunity to try a couple of knives that I was sure would perform, but I wanted to put them to the test myself.
Evolution Of Hunting Knives
I remember getting my first hunting knife for Christmas over 30 years ago. It was a big burly, heavy-bladed knife that looked really cool and was sharp as could be! It seemed back then the bigger the knife, the cooler it was! Boy how things change when you grow up and realize the effectiveness of better alternatives out there! I have had a lot of knives over the years and all have done their job in one way or another with varying levels of performance.
K1 and K2 Knives
I received the knives early last fall in anticipation of a busy season. I'd heard all the hype about lightweight knives and was excited to see if it was deserved. Let's find out!
K2 Ultralight Hunting Knife
The K2 is what I consider a skinning knife. It has a tell-tale large blade with a sweeping edge that helps spread out the cutting area to help avoid accidental cuts through the hide. It boasts a tapered ½" Saber Grind that reduces the steel near the blade edge so there's less material to push through with each sweep, resulting in clean and smooth cuts.
Additionally, a longer handle with multiple grip positions improves performance and feel on fine, shallow cuts and deeper cuts on thick, stiff hide.
A new premium Black Ceramic coating option provides improved abrasion and corrosion resistance; otherwise also offered in natural steel finish.
The knife is made from treated A2 steel to help hold a sharp edge and weighs only 1.2 ounces. The A2 Tool Steel, which is commonly used by manufacturers to stamp metal, is treated with their proprietary cryogenic steel hardening process to produce edges with 60 HRC hardness.
Core Specifications
A2 Tool Steel Blade
60 HRC Cryogenic Treatment
Skeleton Blade Weight: 1.2 oz (34 grams)
G10 Handle Weight: 0.7 oz (20 grams)
Overall Length: 7.2 in.
Blade Length: 3.0 in.
Blade Width: 1.6 in.
Bevel Angle: 19 degrees per side
K2 Grip Options
The K2 comes in various handle configurations and color options. One option is the precision CNC machined handle made from G10 which weighs in at only 0.7 ounces. You have five color options to choose from with the G10 handle.
You also have the option to choose a skeletonized handle with an added option to wrap it in paracord— a handy option to have in a pinch.
Each knife also comes with a Kydex sheath to help keep that blade safe and secure while not in use. Sheath color options are black or orange.
Sheath Attachment Options
Most of us like to have mounting options with our knives. Iron Will listened to users and offers Pack Attach Sheaths. They allow you to attach your knives externally with mounts that fit on MOLLE Webbing, backpack shoulder straps, belts, etc.
If you already have an Iron Will knife and want this option, you will need to get one of the new Kydex sheaths or drill a hole in order to attach it to the mount as the holes on the sheaths have changed a small amount to fit onto the mounts.
Iron Will Knife Care
I had several tags in my pocket, as well as the rest of my family members. The true test was sure to come, and I wanted to see how many animals I could take apart in the field before I needed to sharpen the blades.
The kit I received also came with their carbide broadhead and knife sharpener as well as a mineral oil pen to protect my blades when not in use. This mineral oil would come in particularly handy with the raw steel blade of the K1.
The blades are not stainless steel, so taking care of them when not in use is necessary. The mineral oil pen would allow me to coat them after use. The K2 came with a black ceramic blade with a black composite coating for added wear and corrosion resistance. The K1 came with a natural steel blade, so upkeep would be a bit more important.
Field Use
It was late September when I was finally standing over a pronghorn antelope, ready to take it apart. A smile came over my face when I took the knives from my pack. These things weigh nothing! Keep in mind I had both the K1 hunting knife and the K2 skinning knife in my possession. I do feel that having both is the best option, as each knife has a particular purpose to help you take apart any animal.
At first, I grabbed the K1 to make my initial incisions and started peeling the cape from the pronghorn. I prefer a more pointed blade to start making initial cuts, and the K1 fit the bill. I then switched to the K2 skinning knife to remove the hide.
The Handles Provide Good Grip
I liked how the blade of the K2 had a hole to insert my pointer finger to help maintain the blade in my hand and help keep it secure. The precision grips on the upper side of the blade helped keep my thumb from sliding along the back of the blade as well. These are both added to help increase the effectiveness and safety of the knife, and they worked like a charm!
Sharp Right Out Of The Box
The K2 skinner cut effortlessly and sliced perfectly while skinning the animal. This knife was smooth to use, and the Saber Grind offers less resistance with each swipe or cut. I was impressed with how sharp the knives were right out of the box and didn't require additional sharpening. I had to be careful at first because the edge was better than I was used to, resulting in a couple of cuts through the hide.
The K2 did a great job once I got used to its sharpness. I didn't have to worry about cutting through the cape unless I applied too much pressure.
To further the testing, I also used the K2 to debone. Not only did it make good on the skinning, but it also cut through meat easily. I prefer a bit longer blade for deboning, but it could also handle this if needed. I still recommend using both the K1 and K2 to take animals apart most effectively. Each knife has its place, but hunters often have to improvise and the knives can adapt.
I repeated this process several times over the next few months and purposely didn't sharpen either knife to see how they would hold up. I didn't notice much dulling of the blades with two pronghorns, and was well into a large mule deer buck when I started to notice the loss of the edge. Although it was still doing the job fine, it took more effort to get the cuts like I was getting on the first two animals. I could have likely done another, but once that edge has lost its main cutting power, it can get irritating.
Sharpening Iron Will Knives
I used the included Carbide broadhead and knife sharpener. Would it bring back my edge enough to take apart another animal? I cleaned the knives well and sharpened them using only this small sharpener. I was able to bring back a decent edge to effectively do another large mule deer, but it was clear that I should spend a bit more time getting the edges back in tip-top shape. This would require a better sharpener to get them back up to snuff.
I Would Add A Gut Hook
The only thing I missed while using these knives is not having the option of a "gut hook." Having this option on other knives allows me faster and more precise ways of cutting through the hide, up the neck, and around the legs and body of the animal when caping them out. This results in a much cleaner cut, which the taxidermist prefers.
Final Thoughts
The K2 Ultralight Skinning knife was a joy to use.  It is "less" knife than I have been used to in the past. I am happy to say it has earned a spot in my arsenal for my longer backcountry-style hunts. Being so ultralight, you don't even know the K1 and K2 are there, and they are very effective.
The options that you have to make the knife yours are amazing! You can customize each knife to fit your taste and even have custom engraving to keep your buddy from stealing it!
I am sure you would like to have these knives in your kit. If you like to keep your knives external and not in your pack, the new mounting system is effective. The hardware is tight-fitting and keeps your knife readily available when needed.
Although I tested these knives on pronghorn and mule deer, they would easily break down an elk without re-sharpening—I am sure of it.
If you are looking for an effective and quality-made backcountry knife, check out the K1 and the K2. Together, they weigh less than one knife I have used in the past. Great knives to have, indeed! I look forward to many years of use.
Comment or ask Jared questions here.