The dream of going to Kodiak Island started in the pages of Outdoor Life from my grade school library.  Between the weather, terrain, and giant bears, Kodiak sounded like the epitome of adventure.  2022 was the year the dream of hunting the northern Blacktail finally became reality. Kodiak proved to be as brutal and beautiful as I ever dreamed.
Kodiak Blacktail Hunt
Planning for this hunt started on the way home from the 2020 DIY caribou hunt Dean, Steve, and I went on.  A college friend, Jeff, would be joining us for our Sitka blacktail adventure.  Jeff comes from a farming family like me, so our usual September and October hunts wouldn't work for him due to the fall harvest.  We chose to hunt November hoping to catch the rut, knowing that entailed more risk of bad weather.
On November 4th, we piled our gear into my old Suburban and headed to the airport through heavy rain.  We flew out of Wichita, through Seattle, and on to Anchorage for the night.  On the morning of the 5th, we flew to Kodiak and checked in with our transporter, Island Air.  They informed us they were backed up due to the weather. From talking to their personnel and others around the island, storms had just kept coming through the fall.  These storms were not necessarily more severe than normal, but there was not much of a window for travel between them.  Delays and improvisation are a big part of hunting Alaska, and we understood.  We were scheduled to depart Kodiak on the morning of the 6th, but it was mid-day on the 8th before we could fly into the field.
Arriving At Camp
We chose to hunt a larger lake that had yet to freeze.  The lake was accessible when the bays we researched were not due to wind.  As our planes came within view of the lake, we discovered we were not the only hunters with this idea.  Three camps were already spread around the lake.  This worried us at the time, but it turned out to be a non-issue.  We only saw other hunters one time at a distance during our hunt.
After the pilot of our lead plane circled the lake a couple of times to show us potential campsites, we chose a peninsula at the base of a brushy drainage away from the other camps.
Once the float planes landed, we set about finding a campsite.  We wanted a good amount of shelter from the Kodiak wind and, luckily, were able to find it.  Using our saws, axe, and kukri, we enlarged a little clearing for our tents.  We piled the brush we cut around the perimeter of the clearing to increase our wind protection.  A little deeper in the brush we cleared a smaller area to set up our cook tarp and store some of our gear.  After camp was up and our homemade bear fence was strung, we headed out to glass near camp for the last couple hours of light.

First Night On Kodiak
That evening rain began, and the wind picked up.  All night a steady rain drummed against our tents.  The rain continued all day on the 9th.  We hiked and glassed through the lower country up the drainage from camp.  We found several decent vantages and learned where to cross the creeks meandering through our valley.  The rain moved out about 3:00 PM, but it stayed overcast and windy.  We split up and glassed until dark with no luck.  We still had not seen a deer.  The weather forecast on the inReach was positive though the next day we should see the sun.  We all went to bed with high hopes.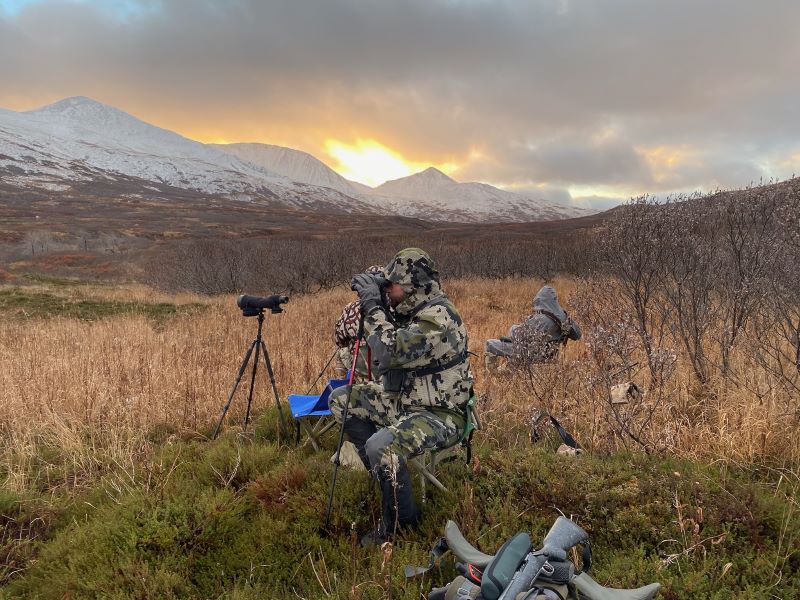 First Day Of Our Kodiak Hunt
We awoke to clear skies on the 10th.  Our plan for the day was to split up and hunt in pairs.  Jeff and I would hunt the rim of the drainage to the Southwest.  Dean and Steve would go across the drainage and hunt toward the rim to the Southeast.  Jeff and I crossed a creek and worked through a series of smaller hills below the steep wall of the drainage.
A couple of hours in, I spotted a deer moving down from the rim.  I was unable to determine if it was a buck before it disappeared. I looked for openings the deer may reach below but could not find anything but brush.  We decided to let that deer go and continue west along the base of the rim until we found a good spot to climb higher.
Shot Fired
Mid-morning, as we broke into a clearing, I spotted a buck above us on the rim.  I showed it to Jeff, and he got prone to rest over his pack.  The buck was at 340 yards and facing directly at us.  Jeff shot, and the buck jumped, then ran off into the surrounding brush.  We were unsure if it was a hit.  Jeff started the climb up to where the buck was standing while I stayed below to give hand signals to guide him into the right area.
This was where the Kodiak terrain came into play.  Jeff had to take a much different route than we'd planned to get up to the rim.  I waited for longer than I thought reasonable, then a little longer yet without catching sight of Jeff.  Finally, I decided to head up myself.  I made a flag from the blue shop towels I carry in my pack and attached it to brush for a reference point from above.
My plan was to climb straight up to where the deer was standing at the shot, trying to take as direct a route as possible.  This proved to be impossible.  The thick alders I had to contort my way through were the easiest part of the climb.  Devils club was growing out and sometimes even out and down from the slope.  I felt like I could understand the perspective of medieval warriors assaulting a fortress protected by sharpened stakes driven into the ground at the perfect angle to stab at them.
I kept climbing and finally after much scratching, clawing, and silent cussing, I reached the top.  Not long after, Jeff found me, and luckily he decided it was a man, not a bear making all the racket in the thicket.  We soon found where the buck was standing.  Unfortunately, there was no blood in the snow. We tracked the buck until its tracks met up with those of several other deer.
Shots Fired
Slowly we hunted our way west along the rim.  We heard a shot and got a message from Steve saying Dean had taken a nice buck.  A few hours later, we decided it was time to circle back to camp.  Jeff was getting a hot spot on his foot he needed to tape, so I went a little further while he did so.  I always have the urge to see what's around the next bend.
I soon saw a buck's head protruding from the brush above me at 212 yards.  There was really no way to get a better angle or lower shooting position, so I set up my Slik 634 tripod to shoot standing.  Taking a deep breath, I steadied my Rifles Inc 300 win mag and found a window in the brush.  At the shot, the buck jumped forward and toward me a few steps.  This exposed his lungs completely, and the second 180-grain E tip finished the job. I stayed put until Jeff caught up.  He then guided me while I climbed through the brush to the deer.  Once I'd found the buck, Jeff joined me.  We were both pretty sure this was the same buck we'd been tracking for hours.
Kodiak Views
The scenery from that height was some of the most beautiful of the trip.  Looking down, we saw a pair of eagles soaring below us.  Words can't describe the view, and the pictures I'll share here can't do it justice.  After soaking it all in and taking some pictures we got to work.  Daylight was fading, and the clear sky was clouding up. I sent Steve an inReach message asking him to put the little LED lantern from the cook tarp on the knob above camp.  That would help guide us to the spot we needed to cross the creek as we headed off the mountain.

Heading For Camp
The pack-out wasn't the hardest I've ever done, but it was far from the easiest.  It was almost all downhill but through rough slick terrain.  The Katoula Microspikes I'd put on my boots before beginning the climb earlier continued to pay off.  This was Jeff's first-time packing meat, but he stayed right with me, and we made it safely back to camp.  The other guys had a meat rack built, and Dean's buck already hung.  Once the work was done, we traded stories of the day over a hot meal and well-earned drink.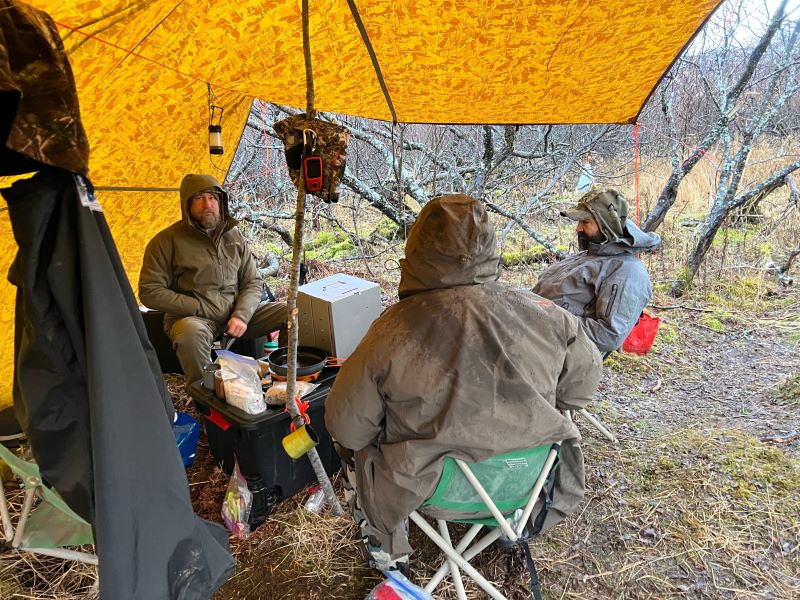 Dean told the story of taking his buck.  They had seen a couple does about a half mile from camp.  As they worked closer, they saw a buck chasing another doe a little further off.  Dean set up for a long shot, but the buck disappeared into the brush before he squeezed the trigger.  The pair of hunters angled toward the buck, and when he reappeared at 170 yards, Dean made a good shot.  Both of our bucks were nice 3x3s with eye guards. Dean's was really nice.
Kodiak Weather
That night the rains returned with a vengeance.  We attempted some glassing from the hills near camp on the 11th, but there just wasn't enough visibility to hunt effectively.  The wind picked up to the highest levels we'd seen, so we returned to camp, braced everything up, and hunkered down.  It rained all night and most of the next day.  On the 12th, Jeff and I decided to parallel the lake north while Dean and Steve did so to the south.  Jeff and I walked and glassed until the rim and lake met in a wall of steep, thick brush.  There was just no more huntable country.  As the rain increased, we set up a tarp and watched the approach to that bottleneck near where I'd seen the first deer on our sunny day.  It was a good-looking area with several clearings within shooting distance, but deer were not moving in the wind and rain.  Finally, we headed back to camp.  The creek we'd been crossing was now almost too deep for our Wiggys Waders
Last Hunting Day
November 13 was our last full day of hunting.  The rains turned the creek Jeff and I'd been crossing into a raging torrent.  Access in that direction was cut off.  Dean and I had each filled a tag, so we stayed at camp to prepare to fly out the next morning while Jeff and Steve hunted the areas they could reach.  It was another cloudy day with intermittent rain and fog.  They gave it their all and covered a lot of miles. It just wasn't meant to be.  We saw a total of eight deer on our hunt and were lucky enough to harvest the only two bucks.
Traveling Back Home
Late morning on the 14th, we flew back to Kodiak after getting camp packed up.  After that, we spent a day in town getting everything dry, clean, and ready for the trip back to civilization.  We de-boned and boxed up meat before freezing it.  Then we embarked on 24 hours of planes and airports to get home.  We kept our sleeping pads in our carry-on bags and set up camp in the Seattle airport for our 9-hour layover.
The hunt had its share of ups, downs, and trials.  We all agree it was a great adventure and that we will be back.  Dean and I have been invited on a boat-based hunt in 2024 and plan to give that a try.  Someday though, I'll be pitching a tent on the shores of Kodiak again. Kodiak is an incredible place, everything it's described to be, and more.  I can't wait to experience once again the adventure that is Kodiak.
Comment or ask Heath questions here.
Don't forget to check out Heath's First Alaska Moose Hunt and his Alaska Caribou Hunt.