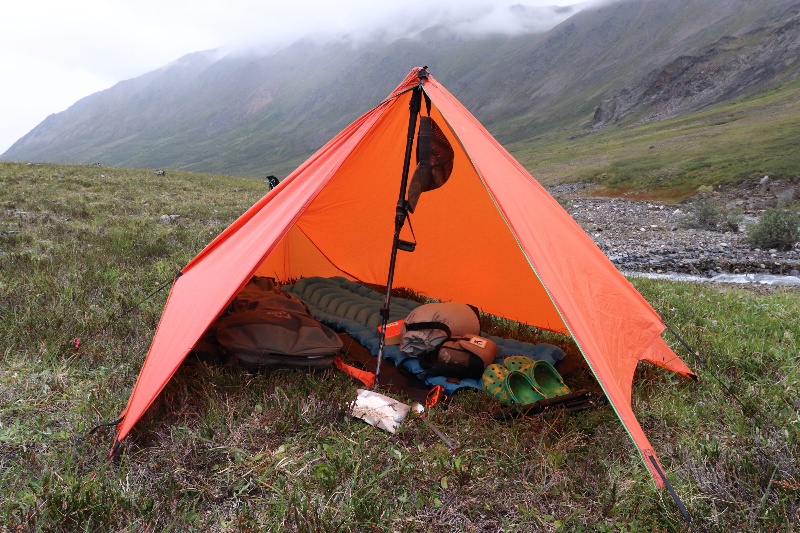 Never put all your eggs in one basket. As I lay in my sleeping bag, listening to the snaps and pops of my tent recoil against the gale-force winds, I contemplated the wisdom of this age-old saying. A thin layer of sil-poly was all that was protecting me from being utterly soaked by the raging storm rolling through the Alaska Range during the opening week of Dall sheep season. A tent is both home and refuge, a place of safety, an absolutely critical piece of gear. My home for this 10-day hunt was a tent I made myself, my very first sewing project and I sure had put every egg into one very small basket!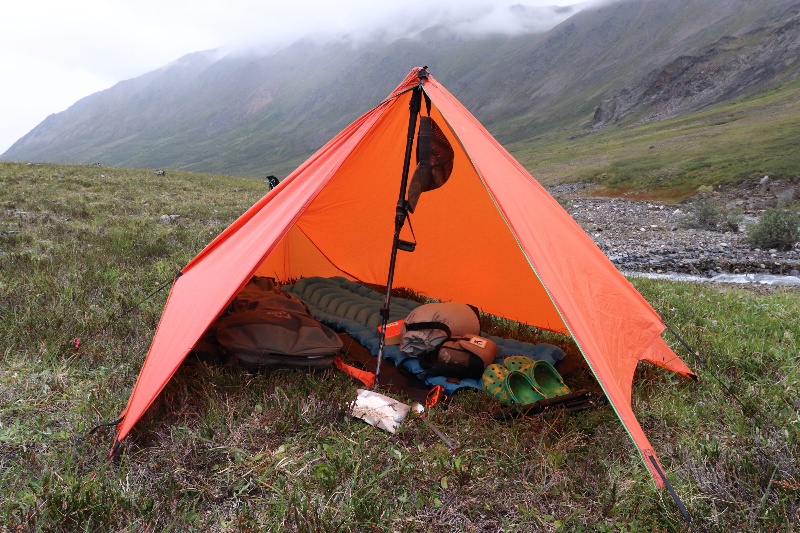 I survived the restless night, untouched, dry, and confident in my newfound skill. Making your own hunting gear is a challenge, however, it's a rewarding pursuit. Besides the pride you feel making a functional piece of gear, you gain experience in a skill that will be used to repair gear in the field.
Sky's the Limit
I have a tendency to bite off more than I can chew when it comes to undertaking projects and my foray into gear making is no exception. My wife gave me a 30-minute sewing lesson and I dove into making a tent! The learning curve was steep and I was quickly cursing myself. Luckily, there is a slew of projects that you can make that don't require 40 hours of work.
The breadth of projects you can undertake is only limited by your imagination. If you were to dump out your pack, you'd notice that the vast majority of your gear is made from some sort of fabric, sewn into a usable item.  Obviously, making your own pack or a pair of puffy pants is on the extreme side of the spectrum, but items such as stuff sacks, zippered pouches, and tarps are projects very conducive to the novice.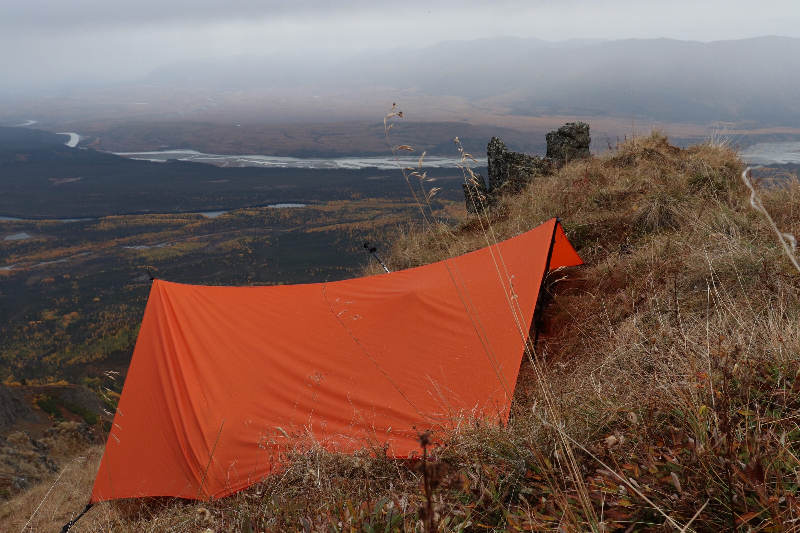 Besides making gear, learning to sew has actually been more valuable in regards to gear repair/customization. All of us that grind it out in the mountains hunting are keenly aware of how much of a beating our gear takes. If you buy top-end gear you lessen the chances of needing to do repairs, however, even the best of the best get worn and weary.
It goes without saying, but if the product is warrantied, use it, but warranties take time to ship, fix and get returned. I've had back-to-back hunts with only a few days at home in between and I didn't have the time to have the manufacturer fix the issue. Being able to repair something like a torn stake loop saves you time and gets you back out onto the mountain.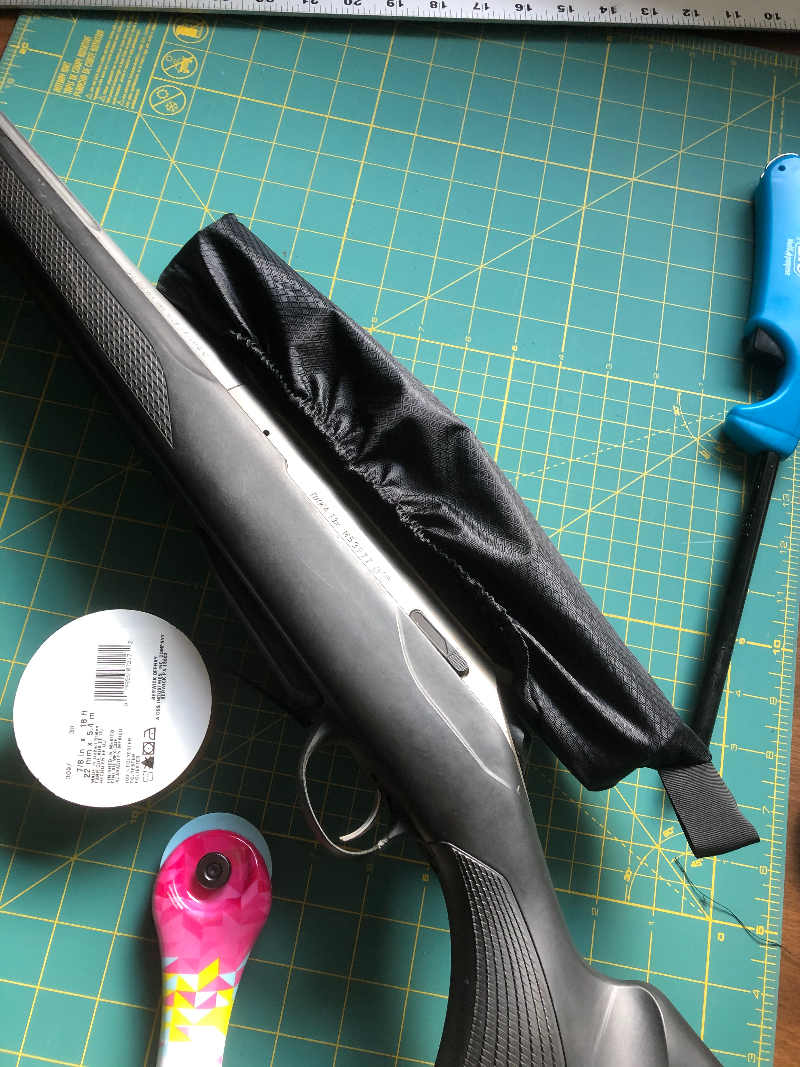 Tools of the Trade
Being married to a woman whose hobby is sewing, I didn't have to purchase any tools or a sewing machine. However, the cost of entry into a simple sewing kit is low. To get started sewing, you'll need a few tools.
Sewing Machine
I use a very simple sewing machine.  These little machines can do a lot of work, and they perform very well sewing synthetic materials like thin sil-poly all the way up to doubled up 500d Cordura.
Self-Healing Mat and Rotary Wheel
Cutting long straight lines through slippery synthetics with scissors is darn near impossible. A rotary cutter paired with an acrylic ruler (see below), will allow you to make laser-straight cuts. Get the biggest mat you can afford and always buy extra cutting wheels. Your project is only going to be as good as your ability to cut straight, clean edges.
Sharp Scissors
Don't try to use the rusty old pair that you keep in the junk drawer, get new, sharp scissors. Learning a new skill can be frustrating enough, don't make it harder by having tools you have to fight along the way. Spend a few extra dollars and don't let the kids use them for making cardboard forts.
Straight Edge
You can get away with using a ruler but that is a good way to slice your finger open (I learned that the hard way.) Instead, get an acrylic ruler that matches the size of your cutting mat. It will make cutting straight, square pieces of fabric a breeze. It's well worth the money and cheap.
I've been making my own gear for three years and the list above is all that I use. Based on the provided links you can get into the sewing game for just over $250. If you'd rather dip your toes in, rather than diving in headfirst, chances are you know a lady in your life that already has these tools you could borrow.
The Goods
When I first dreamt up my wild idea of making my own tent, I assumed finding material would be challenging, I was wrong. Virtually everything you could ever need to make your own hunting gear can be found in one place.
Ripstopbytheroll is the best place I've found to buy supplies. I don't have the space in this article to list what they carry, but they have it all! Not only is it a one-stop shop, but they will also send you samples of fabric. They also have project templates and a ton of learning resources.
Where To Start
In our current age, learning a new skill has never been easier. If you have a willingness to learn and are not afraid to make mistakes, hop onto YouTube and learn something. Like I mentioned before, ripstopbytheroll.com is a great learning resource, like this video on how to make a stuff sack.
If you're old school and want some face-to-face human instruction, reach out to family members that know how to sew. Even if your wife or grandma is more of a quilter or traditional seamstress. Their brain is full of knowledge for you can soak up. Maybe your inner circle of friends and family is vocationally lacking in the sewing realm? If so, head down to the local fabric store and hobnob with the ladies behind the counter. You'd be amazed at how eager they are to share their hobby with a beginner. Even someone wanting to make hunting gear.
Be Like Bridger, Learn to Sew
I like to reminisce about what it must have been like to be a mountain man blazing his way across the Rockies, totally dependent on his own skills and abilities. Their buckskin suits probably didn't come with a lifetime warranty, so when they blew out the crotch, they fixed the issue with needle and thread.
I look at that era with nostalgia, an era I'd like to experience. However, I'm really no mountain man. I'm a passionate mountain hunter with top-of-the-line optics and the most technologically advanced synthetic fabrics available. All of us whose lives revolve around hunting season should strive to gain competency in skills that make us more successful and keep us on the mountain longer, warmer, drier, and focused on the task at hand. Put aside the ego, pick up the pincushion, and get to work!
Comment on this article or ask Jake questions here.