Stone Glacier has been making ultralight hunting packs for a decade. In more recent years, they have taken the gear scene by storm with their annual launch of new and innovative hunting gear. I have been very pleased with the quality of their clothing, gaiters, and other hunting equipment that I've had my hands on. They put a high priority on keeping things lightweight while maintaining functionality and durability. Which is exactly what I am looking for in a technical gear company. So when they announced the launch of a true 4-season, 1-Person tent (1P) designed for wind-swept alpine camping, I was immediately interested.
Stone Glacer Sky Solus 1P Tent
I purchased the Sky Solus at a firefighter discount previous to a December black bear hunt that I was guiding here in Oregon. Although I didn't necessarily need the small footprint on this hunt I knew the temps would dip low into the 20s and it would be a good winter-time debut for this all-season tent.
Trail Weight
With the tent, six guy-out lines, and a dozen stakes, it came out to right at four pounds on my pack scale. This is not the lightest shelter but it is definitely comparable in weight to other top-of-the-line all-season tents of this caliber. Read more here.

Main Features
The Sky Solus 1P is a solid material inner tent (not bug mesh) with an outer rainfly that can be pitched separately or congruently with the inner portion.  This is a fully freestanding tent with a front entrance and dual vestibules, its 48-inch width is made for fitting in tight alpine places where real estate is at a premium (think deer bed). It has an absurd amount of guy-out points and a web truss system for the poles making this thing seemingly impervious to windy environments. We had some windy nights on this hunt but nothing that would have really stood a chance against this tent.
A Small Footprint
What interested me most about this late-season tent over some of the competitors was the ability to fully pitch it and then set it on top of the mattress-sized bed that I just dug out of the side of the mountain.
I have a tipi-style tent with a stove and have used a plethora of other non-freestanding tents on mountain hunts where you struggle to either find enough space to pitch a tipi or it becomes challenging pitching your tent perfectly overtop of the bed you just carved out. This tent fixes both of those issues with its small footprint and freestanding capability.
Condensation In Wet Conditions
During this late-season black bear hunt, I pitched the tent near a pond in a small valley to really give it a challenging time with condensation. The results were as expected: not great.
The tent has a good ventilation concept with a vent hole at the head which you can vent through the inner and outer walls of the tent straight to the outside air, along with a mesh zip vent at the door which allows flow-through ventilation. You also have the ability to open the large vestibule access holes which would allow even more ventilation from the sides.
During this bear hunt, I did all of the above and the tent still had a pretty considerable amount of condensation in the mornings, but this is to be expected with the temps and location I chose. It certainly was not enough to soak out my down bag or to make me reconsider this tent, just something to note that tent location is still just as important when avoiding condensation.
New Mexico
Next, I took the Sky Solus 1P on a late January Aoudad sheep hunt in New Mexico. I stayed in the tent for a week and again the temps would dip down into the 20s. This country was a little bit more suited for this style of attack tent as the rocky canyon country was difficult to find a large enough flat location to pitch your tent, and the frozen ground made it hard to excavate. I was able to kick out a mattress-sized bed, pitch the tent, and then set it perfectly overtop of the area I had just cleared.
Plenty of Stake and Guy-Out Locations
It has a total of 14 guy-out locations and about 20 stake-out locations so you could really get carried away if you saw the need to do so in high-wind environments. We again didn't see a crazy amount of wind this trip so four corner stakes and one for each vestibule worked perfectly. With this being a true double wall tent, I noticed it stayed moderately warmer inside the tent than outside. Any water inside the tent at night would not freeze, while everything left out would freeze solid.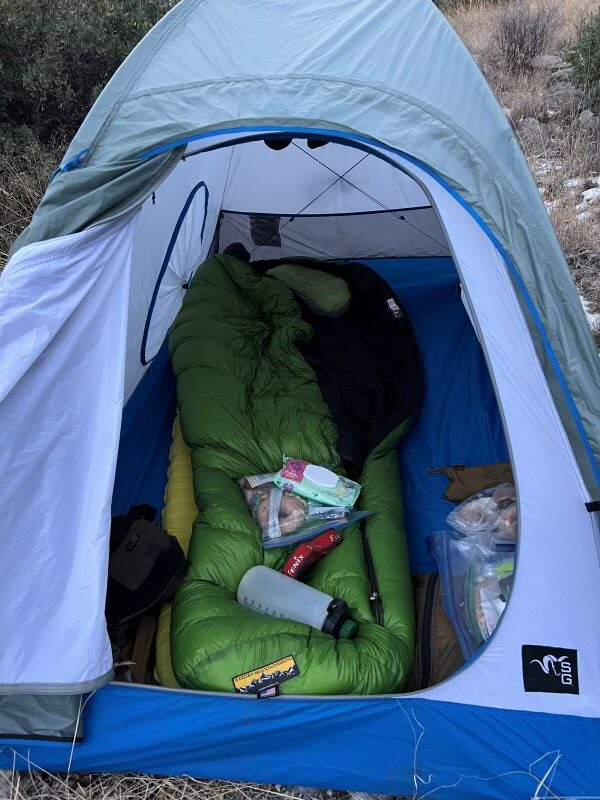 Interior Space
I spent a little more time inside the tent during this trip with it getting dark so early. And the high physical output nature of this hunt made my bed very inviting earlier than normal. The first thing I have to touch on is that the length of the interior is only 80 inches, so any normal-length bag is inevitably going to brush up against the tent wall at one end or the other. Not a deal breaker and I really didn't mind it but in situations where high condensation is expected, it may get your foot box a little damp.
For reference, I am 6 foot tall and I'm not sure I would appreciate the length of the tent if I were any taller. The tent is however very spacious for one person width-wise, I had plenty of room for extra gear, clothes, and food.

Storing Gear
The interior has eight different mesh pockets for storage, and I really enjoyed the large vestibule access holes that made it easy to get to gear from the inside. The vestibules do not have zipper access, so to place or retrieve gear from the outside, I would just undo the guy out line from the stake and fold the vestibule portion of the fly out of the way. This was not problematic at all and saves weight and failure points.

A Few Other Key Features
The Sky Solus 1P has a sewn-in rain gutter around the door to help keep water from running down the entrance and directly onto your stuff while the door is open. This can be a flaw in other front entrance attack-style tents, and I still think that some caution needs to be taken when entering or exiting the tent in rainy conditions. But the rain gutter should at least assist in guarding against your tent becoming a high mountain pond.
Door toggles to affix the door open, along with extra zippers in place on the inner and outer fly section doors are a nice feature in the event of a failure.
Conclusion
All in all, I think this is a great tent. I personally appreciated the small footprint, freestanding ability, and spacious interior. It may not be the one-size-fits-all tent, but it is definitely built with rugged winter mountains in mind. The Stone Glacier Solus 1P will be my go-to when late-season adventures take me to high elevations. Available here.
Comment or ask Court questions here.
You might also like our other sleep system reviews.