Every week, there will be a new tip or discussion to add to your long range rifle skillset. Placing a bullet precisely on target at long range is easier than ever, and this forum is here to help you. Science and manufacturing has put the tools in the hands of every hunter, straight off the factory floor you can get a rifle and scope to shoot long range. These tips will draw on resources from all over to explore many different aspects of long range shooting to learn the fundamentals and to add to your bag of tricks.
It's the indian, not the arrow. Learning the ART of long range is what will make you and me a better shooter in any condition.
When I started, I knew nothing about long range. For gear, I had a package .270 win that came with a cheap Nikon scope. From there, I spent $800 total on my first long range rifle system, which was a cheap Savage with a used SWFA Super Sniper fixed 12x scope. It would shoot half inch groups at 100 yards, with factory Gold Medal Match and Hornady Precision Match ammo. I will never say you need a custom rifle and expensive glass to get in the game or to shoot long range.
Being a cheapskate, I downloaded Shooter, a free ballistic solver onto my phone. I had the cheapest Kestrel to give me environmental data, but no ballistics on it. With $100 on the used Kestrel, I had all the tech tools to model the ballistic performance of the bullet and tell me the environmental conditions. I had also read many of the available books, including the technical books written by Bryan Litz on modern ballistics. I had consumed content from YouTube, podcasts, and forums like on Rokslide.
Everything was in my hands to shoot to 1000 yards. But, I knew I was still no sniper. The furthest I had shot my rifle was 500 yards on a few trips to the desert, but I always had to walk in my impacts. So, I jumped at a chance to attend Evolved Ballistics' long range shooting course that focused on first round precision shooting for hunters.
On the evening I arrived before the course, I was paired with Paul Butler, a former Marine urban sniper course instructor, who is now a close friend and current owner of Evolved Ballistics. Paul took me to the range and started me with baby steps from the beginning, even though I wanted to start hammering at the 1000 yard plate. He forced me to confirm my 100 yard zero and measured the velocity of my ammo. He had me tweak my zero and explained why. Then he walked me through all the steps to set up the ballistic solver to my gun and ammo. He entered the environmental data.
Only after the baby steps of setting up my rifle system did he start verifying the ballistic solver data by increasing the distances I was shooting by two or three hundred yards, giving me pointers, calling my hits and giving my wind holds, but thankfully the wind was very kind to me as it calmed before sunset. The range session ended that evening as Paul coached me from 100 yards to my first sub moa group at 1000 yards. It was amazing.
Ever since that range session, I was consumed with the goal to become a rifleman who knew the SCIENCE and mastered the ART of a long range. The wind and variable field conditions still humble me, so I am still just a long range student, practicing the ART and keeping up with the science. I'll share what I know in these tips, and bring in experts to share what they do. I hope you find value and get more first round impacts.
Stephen
First 1000 yard group with Paul Butler's instruction.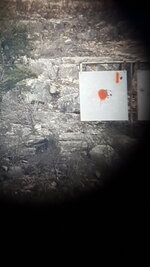 A "range" session in the wilderness practicing field condition shots for first round accuracy.
Last edited: