Joined

Dec 10, 2018
Messages

71
Location
I wanted to make a post about our successful 2019 caribou hunt as a thank you to everyone who has ever posted on here about caribou. We both got decent bulls for our first ever caribou so were very happy. Not the biggest bulls in the world, but not too shabby for our first time.
We scoured the forums and learned a lot here, so I'd like to pay it back by relaying our experience , telling our story, and hopefully providing equally as beneficial information for anyone looking to do a similar trip. Instead of posting an intricately detailed thread about the minutia of gear, I'll just tell the story and if anyone has specific questions (guns, gear, cost, flights, logistics, equipment, recommendations, etc) I'll monitor the thread and answer questions the best I can. Planning a trip like this to AK from the lower 48 is kind of daunting, and had it not been for the help of my friend Andy who moved up there, coupled with all the information we learned here, we probably wouldn't have even known where to begin. So thanks everyone.
We started planning the trip a year in advance. We elected to hunt Aug 30 - to Sept 5 ( 7 days in the field ) based on Andy's recommendation for weather and his prior successes around those dates. We chose Brooks Range Aviation as our transporter. Neither of us had ever used a transporter before, but they were professional and seemed experienced. Based on our experience of one trip with a transporter, I would recommend them and wouldn't hesitate to use them again. I feel like we paid a fair price for the service received.
We mailed the bulk of a gear up ahead of time via USPS in action packers. It only took 3 days to get there. We flew up with just our guns and clothes as checked baggage. Everything else we had already shipped ahead.
We lost a day of hunting when we arrived due to flights being canceled because of bad weather. A common occurrence in AK, so consider that when you plan flights and how many days you want in the field.
The weather was unseasonably warm, we were told. I think the coldest it got was 39° and the highest was about 65°. It did rain a little bit most days and a few days the wind blew close to 45 mph.
We did not experience giant herds of animals, likely due to warm weather. Brooks Range Aviation tends to move further south as the weather gets colder so as to avoid ice on the lakes. My hunting buddy and I were dropped further south than anyone else had been at that point in the season. Looking back, we were positioned ahead of the herds as we began seeing more animals later in the hunt. We were situated on a fairly large lake at the base of a mountain about 3/4 from the Noatak River.
A steep drop-off about 40-50' tall and a mile long dropped down to the river valley and became our glassing/hunting spot.
The river wasn't crossable so anything we shot was going to have to swim across to our side.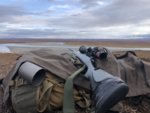 Our 1st day we saw a herd of 11 cows and calfs, noted where they crossed the river, and setup there to glass for the rest of our hunt.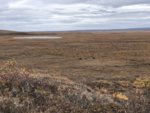 This spot was 1 mile from camp. We generally saw a few more than we had seen the day before each day, and the day we killed our bulls we probably saw 75 caribou total. On the third day, a group of 3 monster bulls with one that was almost black in color, slipped in behind us between our glassing spot and our camp on the lake. By the time we saw them they were moving away fast, and we learned the hard way that in the tundra terrain, you'll never catch them when they're moving.
On the 5th day of the hunt the wind was blowing sustained around 40mph and it was foggy/misty rain intermixed.
Kind of sucked. We were hunkered down behind a small knob glassing the river valley and looking for caribou.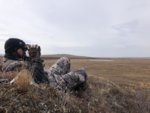 I just happened to stand up to pee and turned the opposite way so the wind would be right. I saw a herd of 10 bulls about a mile away and they were headed right towards our camp. I put the binos on them and could tell that two of them seemed pretty good. Especially good enough for us on the 5th day. We made a mad dash to try and get ahead of them and cut them off since we weren't sure what they would do if they saw our camp. We were hoping when they got to the lake they'd move towards us and not away cause we knew we couldn't catch them. We had to make the final stalk across barren ground and in the process got busted by a group of immature bulls we hadn't noticed. They spooked and made a lot of commotion, but it didn't spook the herd of bulls we were after. After the small bulls spooked we got to our shooting position and everything happened really fast. We had drawn straws so my partner was up first. He wanted the bull with the nice tops so I was going to take the one with the long main beams as they were the two best in the group. The animals were at 265 yards. I don't know if it was because of the wind or because of nerves but he sailed two shots over the bulls back and I was cussing him out. They never spooked at all at the shooting. His third shot he dropped it in its tracks and it was a bang, flop, dead type of deal. Lightning fast my hunting partner jumped up out of the way, I plopped down in his place resting my gun on his backpack, put the crosshairs on the shoulder of my bull and sent one right through the boiler room. He staggered and didn't move around but didn't fall down either, so I put another make-sure shot in the same spot and he fell over dead. I realize now it was unnecessary but I didn't want him to run off. They were lying dead about 50 yards apart from each other and we were a little less than half a mile from our tent. The pack out was pretty easy!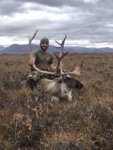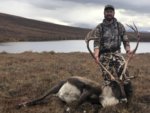 This was at about 4:00 in the afternoon. We spent the rest of the day cleaning the animals and getting them back to camp. During this time, any exposed skin got obliterated by black flies. I mean they tore us up. The bites itched for about a week after we got home and our arms were so torn up we looked like junkies. Those things really itch.
We used citric acid to preserve the meat. We set the meat pile on a little peninsula that jutted into the lake where it would be better protected from bears.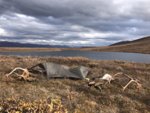 We never had any trouble with bears and had only seen one the entire time, a few days before. He was about 600 yards away, fishing in the river and just moved on without ever noticing us. The next morning, a red fox was eating the gut piles, so that was neat to see. We fished and cleaned up the last day before we flew back to Brooks Range Aviation's headquarters in Bettles.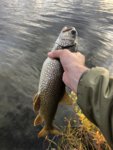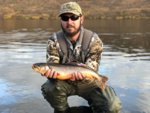 When we got back there was room in BRA's hanger freezer to freeze our meat. We shipped our gear back home from the post office in Bettles, AK. We flew to Fairbanks with our meat and capes in action packers, our guns in their cases, our racks wrapped up in plastic and hose, and just our traveling clothes. We took our capes to Fairbanks tannery. The guy there was super friendly and helpful and offered to let us freeze our meat in his walk in. I can't remember his name but definitely go by there if you're ever in Fairbanks. He's a big help. He had our capes tanned and mailed to us quickly. We elected to have our meat processed in Fairbanks and shipped home to us. We went to Interior Fish processors in Fairbanks and didn't take up the guy at the tannery on freezing our meat. Looking back, we should have gone that route just to cut down on cost as it was expensive to have our meat processed and shipped home. We could have flown home with frozen meat in action packers as checked luggage for a lot cheaper. If I do a similar trip again this is what I'll do.
We bought boxes and shipping supplies at a U-haul store in Fairbanks and boxed up our racks as best we could to fly home with them as checked bags. We didn't split our racks but should have cause it would have been a lot easier. We stuck a fragile sticker on our "baggage" and they made the trip home through baggage handling just fine. We really should have just split the racks. Our boxes looked ridiculous, but the lady at TSA said we did good and no one on Alaska Airlines even batted an eye. When we got back to Houston we did get some strange looks though.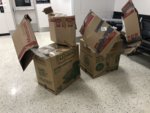 So that's our tale. If you're considering a trip like this, it's really something to go and experience, I'm glad we went, and I'd recommend doing it. Not counting gear purchases, or things we already owned, we each spent about $6500 for this trip all in with flights and license fees. You could maybe shave some cost off with logistics such as flying home with meat, shipping less weight worth of gear, messing with flights, etc. If you have any specific questions I'm glad to answer. Thanks for reading this and thanks again for everyone who has ever commented in threads or made a post about AK Caribou.
Thanks,
Andrew