Joined

Dec 17, 2018
Messages

119
Location
While at the local large sporting goods store I noticed they now sell tree saddles. The kits from the big names in saddles had actual climbing rated caribners (kn rating and strength axis) stamped on the side. I also noticed they had a couple racks of single caribners for sale and although they were the same price as an actual rated caribner they had nothing stamped on them at all and nothing about rating on the tags. So the actual question finally, would you trust your life in the event of a fall to an oversized key chain clip or do you upgrade the hardware?
I have to be honest, I used them for years because I didn't know any better. Until I started saddle hunting and watching some of the break testing guys do on YouTube with caribners and different rope and amsteel, I just assumed they wouldn't sell it with a safety harness if it wasn't safe right? Just a thought that would be nice to test. If anyone knows anyone that does this kind of testing it would be nice to see the results. Im sure they will hold 300 lbs in a static load situation but drop that 300 lbs 5 or 6 feet and you are looking at some serious force being loaded on that clip. Maybe I'm overthinking it, maybe the no name beaners are way stronger because they over build it and don't bother to test? Just something to think about and the use the right tool for the job deal maybe?
Anyway hopefully this might lead to some testing or forcing companies to step up their game when it comes to possibly saving someone's life. Or maybe keep one of you guys from getting hurt or killed if the strength ratings are not up to snuff with what your using now. Better to pick up a $10 climbing rated clip than risk it with the mystery made in china who knows what steel one that comes with the harness.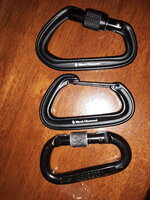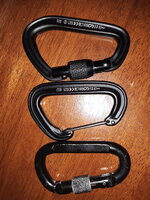 Last edited: