Alrighty guys and gals. I'm gonna give my take on a few boots that I've tried in my long, expensive journey of trying to find a pair of boots that fit my feet along with my needs in a boot. Some background in how i hunt. I backpack hunt the North Cascades for mulies and prefer being in the Alpine. When not chasing deer, elk, or bears,I'm in eastern Washington shooting Chukars every weekend I can get out. I like a boot that has some flex in the forefoot, protects me from feeling sharp rocks, and that allows me to sidehill comfortably.
First, we'll get into my foot measurements. I'm going to use the GoHunt measurement style just because it's easy to reference, and from my current experience it is pretty dang close. My left foot measures 28 CM Long X 11.3CM wide. Right Foot 27.9CM Long X 11.2CM Wide. I have medium to moderate arches. My typical tennis shoe is an 11.5 Reebox Crossfit, which do have a nice and wide toebox compared to a Nike.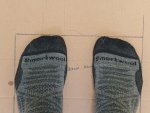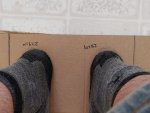 My very first pair of "Mountain" boots were Kennetrek Mountain Extreme. I bought the 11.5M and found that there was too much length in the toe box so i exchanged them for 11M. That switch ended up being a problem for the vertical volume. The top of my foot would get cramped and start to hurt, so those also went back. These boots are heavy, stiff, and felt like bricks. Not a bad thing, but just different.
Lowa Tibet HI 11Wide. (Don't have a weight) Moderately Stiff Flex
I got a screaming deal off of campsaver.com which is why i bought the HIs instead of the Mids. I really liked these boots, but my pinky toe would get destroyed after about 2 miles of hiking with a pack. I decided i would try Superfeet Greens which helped with my feet splaying out under load, but not enough to prevent my pinky toe from getting absolutely smoked. I ended up selling those in the classifieds.
Meindl Vakuum Hunters in 11W. (3Lbs 15oz) Super stiff, but a little bit more flexible than a 2x4
These boots are stiffer than the Lowa Tibets and the Kennetrek MEs. These boots have a good heel pocket, but suprisingly narrow toe box. They have a narrower sole, which I prefered due to feeling like I could be more precise with my foot placement. Again, my pinky was getting smoked after a few miles. My toes went numb on me after a 12 mile hike, so ended up giving these to my buddy which worked out because they fit him great.
Lowa Tibet Mid 11.5W ( 4Lbs 8.6 Oz) Moderately Stiff Flex
These boots are awesome. With Superfeet Green insoles,I could walk all day without being uncomfortable. The heel pocket isn't amazing, but with the lacing zones, it's easy to get your heel locked in there. If you're going to be off trail in steep scree fields, these would be great boots. They have enough flex to where on trail hiking doesn't get painful, but enough underfoot support when you need to pack some serious weight. I highly recommend these boots if your foot measurements are close to mine. These don't have a narrow precise sole, so they can feel like brricks on your feet, and i find myself kind of bumbling around when I'm wearing these.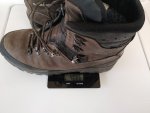 La Sportiva Trango Tech EU 46 (3Lbs 2.5oz) Pretty Flexible, but with support.
These puppies are light!!!. I didn't like these very much. The heel pocket was non existent, narrow toebox, very low volume in the forefoot. This boot was all around sloppy for me. I really liked how light they were, but they just didn't work for me. I also didn't like the ankle of the boot. It's very narrow to put your foot into the boot due to the tongue being sewn all the way up to the ankle. The lacing system kind of sucks with the cloth ankle lock, and one set of hooks at the ankle. My pinky toe was also getting pinched. The flex of these boots is a step above regular shoes, but half of a Lowa Tibet. If you want lightweight and pretty flexible, check these out.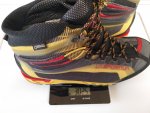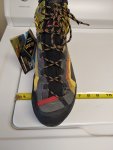 Salewa Mtn Trainer 11.5M(3Lbs 4.2oz) Perfect Flex.
These might be the perfect boot. I was very skeptical to try these due to Salewa being known as a narrow boot. The toebox is anything but narrow. It has the perfect amount of room if you want to wrap your foot snuggly, but also enough room if you want to wear some thick socks you wont feel cramped. The flex is comparable to a Saloman Quest 4D but the rubber on the Salewa protects the bottom of your feet much better. They feel much lighter on my feet than the Lowa Tibets evne though there isn't a HUGE weight savings. The round laces don't like to stay tied very well, but that's small change. The heel on these are phenomenal. I didn't know a heel could feel so good in a boot. My pinky doesn't get pinched or smashed at all, and I can spread my toes out and not feel cramped. With 50 lbs in a pack, I feel very supported wearing these and don't feel like they will blow out while sidehilling. I've only had these for two weeks, but so far i'm crazy about these boots.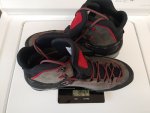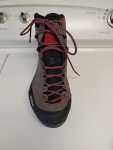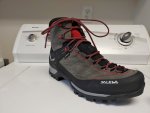 Crispi Lapponia 11.5 (Flex like a tennis shoe)
These were a no go within two seconds of putting them on. WAAAAY too narrow for my foot. They are very flexible, and incredibly light. I wish Crispi would make these in a wide, because I would be all over these.
Crispi Summit 11.5
These just didn't work out for me. I didn't like the feel of them, and the boot was over all a sloppy fit. The flex of these are very similar to the Salewa Mtn Trainers. Very roomy toebox!!!
Saloman Quest 4d GTX 11 (A little more flexible than the Salewa Mtn Trainers)
I should've bought an 11.5. They felt great in 11 but once I put some weight in my pack my pinky toe was shredded. I should've known by now that 11.5 is my size, but the 11.5s felt a little long in REI, so I got the 11s. Great flex, good support, super nice heel, but not a lot o protection underfoot. I could feel sharp rocks underfoot a little too much for my liking.
Everyone please add your "GoHunt" foot measurements and what footwear has worked for you, and what has been an epic failure. This would've saved me thousands on boots!!!!
Last edited: