Well, thanks to rokslide, getting my meat off the animal and into my freezer just got a whole lot easier. I've always preferred cleaning my animals with single sided razor blades, but it can sometimes wreck your finger. They always cut easier and faster than knives. Since reading up on here I found out about havalon knives. Those things are the best of both worlds! Super sharp, fast as razor blades, but it saves my index finger. Stoked. The other is I just got the new bomb tag bags in the mail. Any advantage to keeping the meat cool in our hot temperature is a plus. Can't wait to try them out this weekend.
Took a pic of the old vs new setup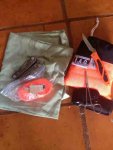 The bags will be replacing my pillowcases.