Decided to write a story about my first archery elk hunt. Wrote it mostly for myself, friends & family to keep the memories but thought I would share it here. I appreciate all the info & knowledge shared on this site. As a disclaimer, I'm not a writer or a photographer, and its long.
There's something radically alluring about the idea of a first road trip out west to chase the mighty Wapiti in the Rocky Mountains. While I have been hunting since I was old enough to climb the ladder on the tower blind ove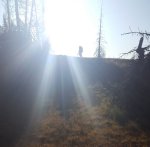 rlooking our oat patch in the Texas Hill Country with my dad, this would be my first trip out west to hunt elk with my bow.
I was fortunate enough to have a family friend who had moved up to Colorado 20 years ago and was kind enough to answer the phone when I called for some tips. Drew had hunted with my dad and I on a small deer lease in Central Texas and I remembered that he was an avid stick bow hunter. As luck would have it, not much had changed other than the size of his prey and the terrain in which he hunted. Drew gave me some great tips on general elk hunting strategies and said he would meet up with us and show us around when we made it to the mountains.
To learn as much as possible about hunting elk on public land, I spent hours upon hours watching YouTube videos and reading through forums. I found that several exceptional teams create and display fantastic content for free on YouTube. Hush, Born and Raised, Shed Crazy, Elk101, Randy Newburg and Pure Elevation are some that I found most helpful in terms of showing real hunting. These guys focus on showing the full hunt typically posting day-by-day videos with ups and downs, successes and failures that make hunting trips the priceless adventure I have always loved. I also spent a tremendous amount of time on Rokslide, which in my opinion is hands down the best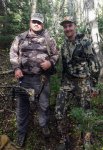 forum for western hunting info. I will admit that I spent a pretty good portion of my time in the classifieds section looking for bargains on technical hunting gear. As a fair warning to others, it can become a serious addiction. However, I do not regret a single penny spent because when you're several miles into the backcountry, and temperatures swing from below freezing to sunny and 75 every day, the extra comfort provided by quality gear is all worth it.
I found that preparing physically is also critical to success. While I spend most of my day working behind a desk, my free time is spent farming and ranching so I feel that I'm generally in decent shape. To prepare for the hunt, starting in June I spent 3-4 days per week running bleachers and climbing a steep hill at our city park with progressively increased pack loads. I also spent hours practicing out to 70 yards with my bow releasing 30-40 arrows at least 4 days per week.
At last September 20th had arrived, our day to head out for Colorado. After spending the first few hours of the morning putting fertilizer out on some hay fields in hopes of rain (that never came) and a last cut before frost we were set to leave. Only to then find that our trailer wires had been converted to a rats' nest! An hour later, minus a roll of electrical tape and a few cuss words, we were on the road. We soon found out that Aaron's F250 with its 25-gallon tank didn't like the box trailer we had in tow, forcing us to stop for fuel every 200 miles. Finally, at around 3AM we pulled into a Walmart parking lot for a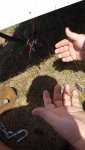 quick nap, hunting licenses, and last-minute snacks that we probably didn't need. After some tasty breakfast tacos from a roadside food trailer, we checked into our kick-ass little cabin on the banks of a beautiful river, sure to be loaded with trout. If sleeping in a nice warm cabin with hot showers and full kitchen doesn't sound rough enough, our cabin also happened to have a massive hot tub on the porch that turned out to be clutch after the 8-10 mile-per-day hikes to come.
That first day we met Drew around noon on the forest service road and spent an hour or two riding around seeing the country. We basically learned that we needed to find the steepest-looking spot to bail off the road and hike until we found the elk. Drew left us that afternoon with a "Good luck and let me know when you find them!" We geared up, crossed the creek and climbed straight up 900 vertical feet to a small bench on a north-facing slope to see what we could find. We held up 100 yards or so below the bench, waiting for the thermals to change and put the wind in our face. As we eased up to the first set of wallows and marsh, I let out a few cow calls. Nothing. So I decided to rip a bugle. As the echo faded, we were blown away to hear a faint but clear bugle in response. I am unable to describe the pure awesomeness and excitement that response to my call brought forth!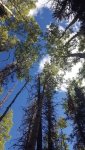 We proceeded to sneak across the marsh and trade bugles with the bull up the mountain. This began our real education on elk hunting, and here we had our first lesson. Watching YouTube, I had the perception that we would be able to hear elk bugling at 800 to 1000 yards and you might be able to in the right conditions and terrain. But we were on a big mountain and the elk were above us. We estimated that the elk were 600 to 800 yards above us and with the sun going down, we didn't have time to get there. Later after going to the top and a few more close encounters, we figure that bull was only 150 yards above us when we called it quits and headed back down the mountain before dark. Still, we left the mountain that night with a huge sense of accomplishment and motivation for the week to come. We had climbed a steep mountain, heard our first elk, and made it back to the truck with a little energy to spare.
Daylight found us parked in the same spot and headed back up the same trail. We cow-called our way up and let out an occasional bugle. Mid-morning found us 500 feet above the same bench and it was just getting steeper and thicker with blow-down but we got our first bugle. Again guessing him at 600 yards or so, slightly above and to the right of us, we studied our OnX maps and saw what appeared to be a slight bench one contour line above us. With the wind coming down the mountain, we moved up 50 yards or so and heard the bull crack off again. Still figuring he was 400 or 500 yards away we circled up in a small clearing to make a plan.
With our plan in place we only made a few steps out across the bench before the bull and a few cows busted 50 yards into the trees! We just couldn't believe they were that close. Since we had the wind and the elk didn't seem to be that spooked, we pulled back about 100 yards and ate some lunch. About an hour later we eased back up to where we had bumped the bull and let out a few cow calls and a bugle. We were quickly answered, and while I still felt like he was a ways off, we were learning and stayed put.
That was our first real set up and it was a bad one. We had made no real plan on setting up and trying to call a bull in. The bull ended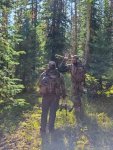 up coming into 40 yards but did not present any of us with a clear shot. Had I been set up calling 50 yards behind designated shooters, we may have been successful. This was lesson #2. We backed out again and tried to circle around to find the bull again the rest of that day with no luck. It was an awesome day, full of bugling action and our first full-on encounter with a big bull. We put 9 miles on that day, climbing 1,600' from where we left the truck. Worst part was we had to go back down.
On our third morning, the miles and late nights were starting to catch up to us and daylight found us moving a little slower and making coffee at the Cabin. We decided to try a new spot around the mountain. We found an old logging road closed to vehicles that wrapped around the mountain at roughly the same elevation we had found elk the previous two days. We called our way in enjoying the relatively flat trail we had to walk on. We could see 4wheeler tracks but nothing looked fresh. 3 miles in at about 10am we got our first bugle. We had just rounded a bend in the trail that led back into a deep drainage with open meadows below us. Not knowing what the terrain really looked like we eased down the trail 50 yards and our two now designated shooters moved down below the trail as I began to exchange bugles with the bull below. This one was fired up and his cows were going nuts to the point that we were convinced that we had found another group of hunters. As it turned out they were elk but were further than we thought and across a big meadow that apparently they were in no mood to cross. After finding their tracks we paused for lunch and made a plan to circle for the wind and try to relocate the elk. About an hour later we got a familiar response. After looping around a ridge for better wind we made another setup. The bull was responding but seemed to be circling us for the wind as well. It turned out to be a race to the top of the mountain to win the mid-day thermals and sadly the elk won. We made it to a place 80 yards from the top of the highest ridge where we ran out of cover. We held here as the bull came screaming across the top at 80 yards followed by immediate silence as he made it straight above us and caught our wind. We had hoped he would cross below the top and within range but it was an awesome experience to watch the big mature bull move across the top of the ridge bugling his head off. Our lesson here was the wind and terrain are critical and you can't outrun the elk.