Joined

Jan 16, 2018
Messages

744
This was my son's second rifle season, and man has he been counting down the days! Starting in about September he had a running countdown on the family calendar and starting in October he was giving me daily updates on how many days until season started.
So Saturday morning there was no problem getting my son out of bed to go hunting! Now our area is a mix of whitetail and mule deer but the numbers are probably 20% mule deer and 80% whitetail but youth hunters can have two tags and one can be used on a mule deer buck. This year our cameras didn't pick up any particularly exciting whitetails and only a couple of small mule deer bucks which are off limits to let them grow, so I had some concerns on finding him a good mule deer buck as he really wanted a Muley. I knew we would find whitetails so I wasn't too worried but I was hoping we could find a good Muley buck for him.
My dad was hunting a neighboring property and called to wish my son good luck, I jokingly told my dad we would have a buck down before he had his first cup of coffee drank in his ground blind. My son told me I had "jinxed" us and now we would see nothing. . . The area we were hunting is rough canyon pastures with a fair amount of cedars on the sides of of the canyons and fingers that run off of the canyons. Due to past trespassing issues the landowner locks the gates and we are allowed to walk in hunt. Due to this I decided we would head in right at shooting light as we have seen does from the road some mornings.
As we are driving down to our spot, I look southeast onto property we don't have permission on and could faintly see deer in the pre dawn grey. . . Even in the faint light it was obvious there was a buck with the lightening sky behind him! Unfortunately he was across the fence where we didn't have permission and his does were a bit spooked by us driving by even though they were a ways off the road. Luckily we hadn't slowed down when we saw them and we headed down the road and around a curve out of sight.
Parking the truck we made a quick plan to cross the fence onto the property we had permission on and work our way east back to a vantage where we could see the deer. We knew by the time we got there it would be shooting time and hoped the deer were going to come our way! Getting to the top of a small hill we set up and started scanning for the deer. We were about 200 yards from the property line and we could see the 5 does near the fence line, but there was no buck to be seen.
Suddenly below us a small 3x3 pencil racked buck came out on our side of the fence looking at the does, he's in the let him grow category and I'm disappointed thinking he was the deer we had seen skylining on the neighbors. As soon as this though crosses my mind my son whispers "Big Buck, Big Buck!". Sure enough, 10 yards across the fence a dandy buck had come out of some cedars and is pushing a doe Infront of him. . . But he's pushing her south along the fence line, not toward us. But thank God for the little buck below us! Two of the does with the big buck see the little guy and decide to cross the fence towards us!
The rest of the does jump the fence and the buck follows. So they are now on the property where we have permission but they are all facing us head on at 200 yards, so we wait! I told my son to load a round and be ready for when the buck turned. They close to about 100 yards and turn to walk up a canyon to our right which would put them on line to quarter to us fairly hard. But as luck would have it the Big buck didn't like that little buck standing close by so he took the time to walk over and intimidate him. This put him broadside at about 80 yards when he turned to stand between his does and the little buck. I was just asking if my son was on him when the rifle barked! The buck took 3 or 4 quick steps forward and stopped looking like he was hit hard, but the pause was my son needed and another shot rang out. This time there was no question as the buck lurched forward and went down!!! We hugged and high fived as my son tried to stop shaking! What had seemed like an hour waiting to see where the deer would go had actually been about 10 minutes. We made our way down to put our hands on my son's first Muley buck!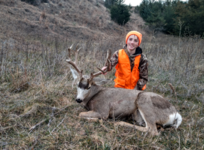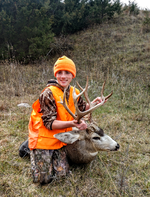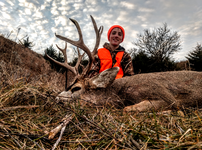 Being a full-time smart ass I couldn't help but comment that maybe I should jinx us every time if this is how jinxing worked!
My son's Muley tag was punched and we were only about 15 minutes into legal shooting time! We field dressed the buck and drug him up into a shaded area and went to walk a few canyons to see what we could find.
3/4 of a mile into the section my son spots a whitetail buck (which his other tag is good for). We wait till he's out of sight and cut the distance to see what he looks like. As he reappears at about 250 yard he stops dead in the middle of the canyon bottom, and stands perfectly broadside. My son is all set up and staring through the scope. We can tell he's decent but looks about 2.5 years old. We have lots of whitetails so I let my son decide what bucks he wants with no restrictions on younger deer like we have on mule deer. He asks if he should pass on him and I tell him it's 100% up to him. Then the buck makes a fatal mistake, he notices us and turns his head to face us showing a decently wide rack. . . Boom! He runs around a corner and piles up.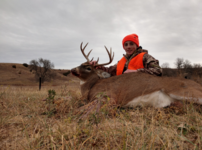 Two tags filled before 10 a.m. He was one excited kids and I couldn't have been prouder of the shots he made and the way he kept his cool!
His only complaint on the day was realizing how much a shoulder mount costs! But there was an pretty big smile on his face as he calculate how many extra chores he would have to do to cover his taxidermy costs on a beautiful Muley buck with great character.