Joined

Feb 25, 2013
Messages

61
Location
My New Mexico Barbary Sheep hunt was by far the most physically demanding hunt I have been on to date. I was lucky enough to draw a tag in South Eastern New Mexico. Over the years I have chased all different species of game across New Mexico, Oklahoma, and Texas. One thing I didn't know much about was Barbary Sheep.
My buddy Tray found out I drew a tag and without hesitation volunteered to take me on this wild ride. After talking to several people about their past Sheep hunting experiences the general consciences was if you see some Sheep you are having a heck of a hunt. This thinking didn't boost my confidence much at all but I was committed to making this hunt a successful one.
Come February 1st we set out on my Sheep adventure. Naturally, on the dirt road in to Sheep country I had a flat tire. This set us back a few minutes. With the spare tire on, off we went.
This steep and nasty country these sheep call home is hard on your body. Around mid morning we spotted a nice heard of sheep but they were over two miles away and had just topped over a high cliff. Seeing sheep this early in the hunt was exciting but also worried me that this heard might be the only Sheep we would see.
We marched on and eventually tallied 13 miles when the day was said and done. With just a couple of hours of light left we hadn't located any more Sheep. Tray and I kept talking about how "sheepy" if that is a word the country was. As we eased up to look off into a steep canyon that held several fingers and cliffs Tray motions to me to get down and points to our right.
I got down on one knee, readied my gun, and placed my pack in front of me so I could use it for a rest. I kept telling Tray "find the big one" "find the big one" as I inched closer in his direction. I found the Sheep in my scope with ease but didn't see any good Rams.
Dang It!!
Just my luck another blown opportunity. Just then Tray said there is a nice one in the middle "Bro". Not sure why I remember that but it stuck in my head. I scanned the heard and finally located the biggest Sheep Tray was referring to. All the Sheep had to do was take a couple steps and I was clear to shoot.
Without warning the entire heard of Sheep took off in a dead run directly below and away from us, moving slightly from our right to left!
I kept asking Tray where the big one was but soon all the Sheep were out of sight except one. I could tell at a minimum this Sheep was a very nice Ewe. Tray told me the last Sheep was 320 yards just prior to the Sheep disappearing behind a steep bluff. I steadied my 300 Win Mag and she ran right into my cross hairs. I squeezed the trigger off and concentrated on perfect form.
My adrenalin was in full force and I thought I had missed. Tray said "Sheep down Bro." I looked at him with some confusion and amazement. I have primarily bow hunted my entire life and I would self admit my hunting strengths do not include being a good rifle shot.
I wanted Tray to confirm what he had just told me so I asked him "did she run far." Tray told me when I shot the Sheep had fell off the bluff and all he could see were feet and legs flying through the air. He started laughing and said "that Sheep is either dead or can fly." I started laughing and a short time later I had my hands wrapped around a true trophy New Mexico Barbary Sheep.
These type of hunts are what you make of them and I will never forget the feeling of accomplishment I had walking out with a Sheep on my back and watching one of the most amazing sunsets I have ever laid eyes on.
This trip has ignited a new fire for this type of hunt and I can't wait for next year!!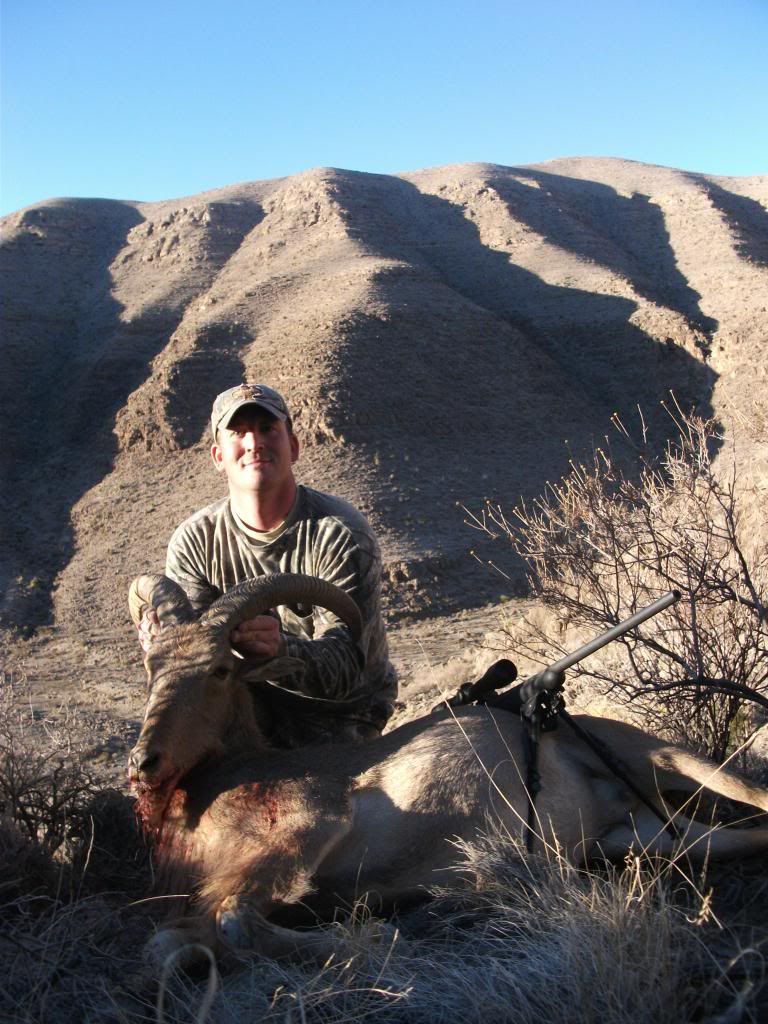 Last edited: