Since I tossed and turned about upgrading a sleeping pad, figured I would share my decision and experience. Thanks too, for all those 'sliders before me who have written up 'reviews' – hope this one helps others!
Nemo Quasar 3D [Q3D] Regular Wide vs. Classic Therm-A-Rest [CTR]
My purchase: NEMO QUASAR 3D, INSULATED in REGULAR WIDE.
Purchase Price: $135.96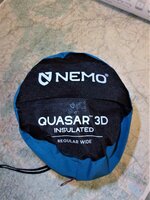 Caveat No. 1: I am not a total backcountry crusher. I car camp a good amount, wall tent and cot it with some hike-in weekender trips thrown in. I have been out in temps to 3-below zero for several days running. My decision to upgrade was based on a couple of things:
No. 1 Comfort – I'm over 50 and things get sore laying on the ground. I am a side and stomach sleeper with some tossing and turning thrown in. Even on cots, shoulders, hips and back soreness were increasing and general overnight recovery has been waning from the younger days.
No. 2 Size – the ol' T-rest is just large; works fine for car camping but is clunky to carry around. Figured I could improve on that and on weight [while increasing #1].
Read a few 'slide reviews and came across Nemo Tensor but some other reviews had me questioning comfort for my style. The Quasar was shown to be thicker and since I am not an ounce counter nor dedicated to backpack trips, felt I could give some back.
Caveat No. 2: I did not try out many [any] other pads; dug around the 'net. Did some online comparisons and research and found what I thought I wanted on sale [with bonus coupon].
History: been using the classic self-inflating Therm-A-Rest for DECADES [it was my very first serious camp purchase and yes, it lasted longer than most will tell you; never patched it once either]. The thing is still good and I will continue to use it – only time it let me down was on fishing trip when I mistakenly left it at home. Tried one night on the ground and there is no way that would work for 3 more nights – drove 70+ mile round trip to a Do-all grocery store and I was the proud owner of some $10 egg-crate foam type get-me-by product [yes, it was worth the $10 (plus gas etc) that one trip and I still use it as a pad base for my car camping trips now but for all intents and purposes – it was only worth the $10 that once].
Specs: The Quasar 3D published specs are included – they are a snapshot from the Nemo website. I found some differences in what I measured – perhaps based on inflation levels or simply being manufacturer safe.
Weight: I broke this down more than the factory did and also came up with some variance. To be fair, my scale was a digital postage meter: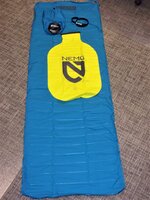 Q3D System: the Q3D 'system' contains 1) the pad. 2) the carry bag. 3) the inflation bag. 4) a strap. 5) a couple of adhesive patches and also some swatches of pad material (adhesive not included) for patching larger tears.
2-pounds 2.8 ounces [34.8 oz] all-in on the system.
1-pound 15.8 ounces [31.8 oz] for the pad and strap.
2.0 ounces for the inflation bag.
0.9 ounces for the carry bag.
0.2 ounces for the strap.
For reference, my CTR weighs 2-pounds 4.8 ounces; I had no idea and just assumed the thing was heavy by today's standards. Bad assumption on my part and I made no appreciable weight savings with my purchase [though, I 'think' I got more comfort relative to comparable weight – so I feel good about myself again].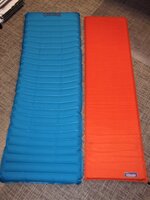 Q3D Size [inflated to a 4 'bags' level – the level I start with when in use]: just shy of 27-inches x a bit over 74-inches x a bit over 3.5-inches. Larger than published.
CTR [two puffs added to "self-inflation" level]: 20-inches x 72-inches x 1-inch
Commentary: the Q3D thickness is what I figure would be an average OAT; based on the photo below, it is near 4-inches thick at the two long edges and 'cupped' to less than that in the center – this is the sleeping containment that keeps us floppers from leaving the sleep surface during the night. Which, in my experience, works well. You can see the shape in the other photos as well. Unlike the CTR, I have not left the Q3D pad during the night unknowingly – but I also have not challenged that with majorly sloping tent sites either. Also, the Q3D has a 'pillow' of nearly 5-inches at the head end – this was handy on one trip where I forgot my pillow; this increased thickness helped contain my rolled-up fleece jacket well for added comfort – all this say the Q3D is a step of overall from the shapeless CTR.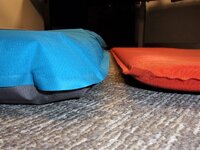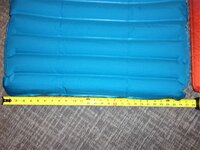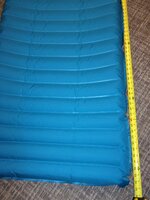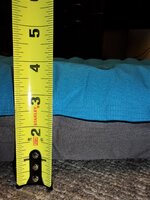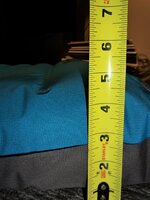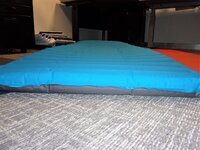 Side Note: for general camping if you are still using the CTR style pad – or anything similar – wrap the thing in a lightweight blanket and it will reduce the slipperiness and tendency to leave it behind the middle of the night.
Packed Sizes: without much effort, I get the Q3D back to about 4-inches x just under 10-inches; more judicious rolling could probably improve that. Factory says 9-inches x 5-inches so definitely in the ballpark. The CTR is maybe 7-inches x 20-inches.
Commentary: I like the CTR valve better for packing at trips end – just is easier to mess with. The Q3D has a fancy closed/bleed-off/dump air three setting valve. The bleed-off one-way is a nice feature since this is an air mattress. Dealing with all the little caps and small tabs makes me think I will be tearing the valve out of the cover and ruining it soon; so, I take care with it. The full open/dump air setting works to move air out when packing it up.
Insulation: I never had problems with the CTR in this respect and never really considered it an issue. The Q3D has a 3.3 R-value by specs via Primaloft – I see it inside the pad. Does it make a difference? I have not tested it and since I do not sleep directly on the ground, I may never know. Here, I relied on others.
Noise: I generally sleep right through it – especially, if I am comfortable. The Q3D seemed like it would be way noisier than the CTR; but it turned out not to be. The Q3D was also less slick with my bag as well than the CTR. This can be subjective based on the person though I am sure – I did not find noise to be a big concern.
My Experience(s)/Conclusion:
Good: size and comfort.
Without much comparative analysis, I am pleased with the Q3D purchase. It is smaller in packable size if not weight and easier to pack than my CTR but larger and more comfortable to use – that wide dimension is a real step up for me over the CTR. It takes some adjusting the first few times but you develop a starting point to work from quickly and you MUST lay on it to make the adjustments [see 'weirdness' below]. When you lay on it, the weight dispersion keeps hips and shoulders off the ground when adjusted properly. It was comfortable to sleep and lay on and allowed me to sleep on any side I chose. As mentioned, the contoured shape also keeps you on the pad – though again, short of a bit of slope at the head end, my tent sites have been pretty level which will always help. Obviously, if concerned about weight, you can shed some of the system weight by dropping off the appurtences.
Leery: that 3-setting valve system; it certainly works as promised but just seems prone to me tearing it apart and rendering it useless.
Weirdness: that air inflation bag; using the pad as a seat.
The inflation bag seems gimmicky; though, it does work and it does seem to shorten the fill time. I have yet to try and breathe the pad full – especially at altitude – which, I can only imagine to be problematic. Part of my worry might be the aforementioned feeling that the valves are a weak link and plugging that bag in and out just worries me that I'll tear something up. Either way, you are filling either the pad or the bag with air sooooo….
Sitting on the pad: you MUST lay on it to make the adjustments – it is an air mattress after all; do not be fooled! Similar to that pool floatie mat, if you just sit on it, your butt will hit the hard ground and the ends will rise up in the air [the one experienced drawback while trying to sit in the tent – to sit on it, you'll need to overinflate or fold it over/in half].
Rest well all!