Sky 5900 with lid , 4 belt pouches, access bag and hydro pocket. Medium belt. Used on 1 fishing/scouting trip. $500
Evo 6900 with lid, 2 belt pouches and hydro pocket. Used on 2 backpack hunts. Unfortunately no blood.
SOLD
Both packs are in excellent condition with just a little wear on the belt and shoulder straps. My Kifaru just fits me better.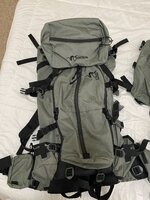 Last edited: