This is a note on how I handled the meat and rack from my moose. Pretty simple really, and there are three options here that I looked into. All of these require that you have some mode of transportation to move the goods.
My hunt was Anchorage based, so take that for what it is worth. Fairbanks would be similar I think, but other flyout points will have to be scoped out for options. Cost goes up the farther from Anchorage or Fairbanks you get.
Option 1: When out of the field, take it all to a processor. Mat Valley meats, C&J Tender, and Alaska Sausage were suggestions that I got from folks that had actually used each. I didn't go this route, but it is the easy button route. That said, it is the most costly, but you just put it in the freezer when it arrives after shipping home. I'd give this $$$$ for cost.
Option 2: Bone out the meat when out of the bush. Keep in mind some units require bone in until you get to civilization, check this in the regulations. Stuff it into the big size fish boxes. Line the box with a contractor trash bag, put meat in, fold up the bag, and tape it shut. You'll need a scale if you do this and you need to keep each box under 100lbs. This can all be accomplished in the Wal-mart parking lot after you buy the boxes. You will have to figure out what to do with the bones.
You'll also have to deal with the antlers. You can cardboard or pipe insulation protect the tips, and wrap them there in stretch wrap, then freeze them with the meat, or take them to someone to deal with for you. If you don't clean the skull, it must be frozen, and really, really well wrapped. No smells, no leakage, no nothing. Clean as much meat as humanly possible off the skull before wrapping and use a wire, i.e. clothes hanger, to get as much brain out as you can.
These boxes will go to the hotel with you and you'll put them in their freezer until you fly out. Figure 5 boxes, plus antlers for a whole moose. Check them as baggage. On Alaska Air it is $100 per extra bag up to 100lbs per bag, so depending on what you check, that's the extra you pay. I checked 5 items, a suitcase, 3 boxes (I donated some meat), and antlers, and paid an extra $300 to get it home. I mailed my rifle home for $90 through USPS so I didn't have to hassle with it too going through the airport.
Couple of Caveats to this route. First, the hotel may not have freezer space. CALL AHEAD. Later season hunts like mine will run into this more than early. Most Hotels have a backup plan, or suggestions, but you really should call ahead when you get out. Don't assume they have space. A few of the meat processors will store as well for a fee, you'll have to call and see.
Covid warning on this and the next option. This year they weren't filling planes with people, so lots of extra baggage wasn't a problem. Next year, all your stuff may not fly with you and may be delayed a day (unlikely, but possible). A frozen meat box will handle this delay for about 3 days, then it starts to thaw. It took 6 in my garage at 60F for my boxes to thaw completely, so keep that in mind. No spoilage worries, but thawing meat leaks blood and that could be bad since the airline will hold it where ever it started leaking (see using contractor trash bags above). Like Seattle when I live in Indianan. Shipping it frozen with refrigerated service (Alaska Air Cargo) would be the better option if you are super worried about frozen meat.
Option 3: Use a service that does this stuff. I used Alaska Trophy Expediters, Nick Ploesser. We boned out the moose in his driveway, and stuffed it into boxes that he provided at the same cost as Wally World. Into his freezer it all went, and I also had him wrap the antlers for travel. This cost $200 all in, but was well worth it to me so I could go fishing and jump around to different hotels. His prices were fair, and he did a great job on the antlers. Even dropped me at the airport on the way out. If you wanted or needed to ship through Alaska Air Cargo, he could arrange this as well, and get quotes for you. I was very happy with the service he provided, and will use him again. If you have questions, get hold of him and ask. He'll help even if you don't use his service.
So, there you go. That's how I did it. The tricky part is moving the moose around once you are out of the bush, and then it is all labor on your part or you pay someone else. Really no different than hunting deer or elk out west. Take care of the meat, and move it home.
My trolley at the check in counter in Anchorage. All stacked up and ready.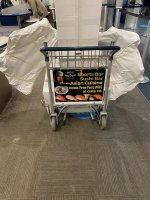 Antlers on the oversize baggage conveyor in Indianapolis. Got a lot of weird looks when I wheeled these through the baggage area.