Joined

Oct 22, 2019
Messages

1,423
Location
Hey everyone. A quick little bit about myself... I am 34 years old and a lifelong outdoorsman and hunter from Northern California. I live on 200 acres and am lucky to have the mountains about 2 hours east and the Pacific Ocean only 45 minutes to the west. I spend a lot of time in the field and use my gear very heavily compared to most hunters. It's a rare day when I don't spend at least 2 hours out in the field hunting, hiking, shooting, training, scouting, etc.
I bought (not in any way sponsored other than the 15% Rokslide discount) a brand new pair of the Canis Alpine Light Pants in their Grapeleaf solid color. I figured since this is a new brand who is trying to make an impression I would post up a comprehensive and ongoing review of these pants as I use them in the field.
So without blabbing anymore let's get to it.
First Impressions...
Quality: The pants look to be stitched quite well. My wife makes custom clothing as a side job/hobby and she was impressed with the quality of the stitching.
Fitment: I am 6'1" and 185 lbs and consider myself to be in well above average shape. I wear a 30-34 in blue jeans and wear 30T in hunting brand pants. I ordered the 30T in these pants and for me they fit true to my size however, there are some important notes. These pants are definitely "athletic" or "slim" fit as some guys might say. You can definitely tell the cut was engineered in Europe as the tag states. For me personally the fit is great. I hate extra baggy pants and extra material rubbing together in the legs. You don't get that at all with these pants. If you are very muscular or fat and rely on that extra space in the thighs and seat of the pants you may not like how slim these are cut. One other thing I will note is that for me the freedom of movement is really good in the pants. The fabric stretches when it needs to and seems to move well hiking steep hills and sitting/squating. All in all they are very "comfortable" pants and I really like the overall fit and finish.
Fabric: These are made from Codura 4 way stretch fabric and then they are treated with a water repellent finish. The tag states that the pants are 89% Polyamide and 11% Elasthane. Since I do a lot of spot and stalk hunting I was very curious to see how "noisy" the Codura was going to be in a pant. They are definitely not the most quiet pants I've ever worn. With that being said, since the fabric is slim cut and doesn't rub together they are not very loud in the field as of yet. Using a 15 mph wind to my advantage I tested them out on a coyote last week and was able to stalk in to about 30 yards before he either heard me or got wind of me. For a comparison... When I rub them together inside a quiet house, they are just a little bit louder than my Sitka Jetstream Jacket with the gore wind stopper shell. That's the best comparison I have wish I could provide more details. I will be curious to see how they do crawling on granite rock up in the sierras and how the material holds up and the noise level. I'll be back up scouting in the sierras in two weeks and will report back.
Features: These pants do have a pretty nice and well thought out set of features. Some of them are a little gimmicky like the elastic waist band that's designed to "keep your base layer tucked in". I've never had an issue like that in the field and I've never been a fan of the feeling of that sticky little band on bare skin. I haven't noticed it on these pants yet even in some 100 degree field days so far.
The leg vents are really nice after a long hike or if it's really hot out. They go from the ankle up to about the mid calf. Decent feature and they work fairly well. Not the "best" for trying to dump excessive heat but the pants are pretty light to begin with and don't overheat me at all.
The knee pads are an absolute must for me. I have really bad knees from sports injuries and can't spend a lot of time crawling without good quality knee pads. The knee pads on these pants are great. They seem to be "slimmer" when compared to say the knee pads in the Sitka Timberline pants. They are also somehow "cooler". I used to sweat and then feel the pads rub a little with the Timberlines. I don't get that with these and it's been 90-100 degree highs every day since I received these. Another thing I hate with knee pads is having to "shift" them when crawling long distances. These seem to stay in place and I don't find myself reaching down to shift them back to my knees like some pants in the past. The knees of the pants are reinforced with extra material and they have done well so far crawling around dry grass and foxtails. The real test will be how they hold up after the hard use on rock this fall.
The lace hook and draw string are nice features as well. I like being able to roll the pants up and draw them tight while I throw some gaiters on to cross a stream. The lace hook also works well and I use it everyday. I climb steep rolling hills at home and hate when my pants bunch up around the ankles or get caught on top of the laces knot or whatever. The hook keeps them down in steep climbing really nicely so far.
The pockets are laid out nice with your standard had warmer pockets and rear seat pockets. You also get two side pockets on each leg with their own zippers which works well. Just don't forget which one you put your gear in. I keep 3 extra rounds in my left side pocket always while stalking for varmints at home. I had a string of rabbits at 300 yards and I went 3 for 4 on 4 shots and needed to reload the mag and get the 4th one down before he ran off. I fumbled around the pockets that are really close toand opened the wrong one and got a little upset when the rabbit ran off.
Temps: These are the "light" version of their pants meaning they are designed for early season and mid season. So far I have only been able to test them in 60-100 degrees. I have not overheated in them at all. The one time I was hiking and was getting too warm I opened up the side vents and was fine. I'll be curious to see how they do going the other waythis Fall.
Field Use/Longevity: Time will tell on longevity as I keep this review rolling. I have 10 field days in them so far. All spot and stalk coyote hunting mixed with some sitting and glassing. I've also spent some time shooting rabbits and squirrels when the coyotes evade me or don't come into where I'm glassing. They seem to be holding up well so far and I'm really liking the pants the more I use them. I'll be taking them onto my next scouting trip up at 6,500-9,500 feet of elevation in the sierras in two weeks. Looking forward to reporting back after that.
Hope this interests some of you guys and gals and I'll keep the updates coming as often as I can. So far they seem to be a really well made and well thought out pair of pants. Now let's see how they perform under some heavy field use.
I'm happy to answer any detailed questions in this thread so ask away.
Thanks.
John.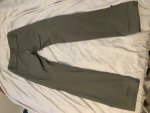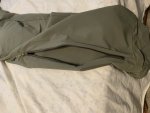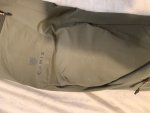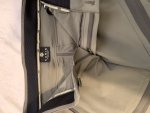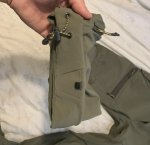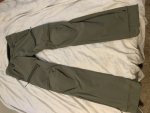 Last edited: