Joined

Aug 21, 2021
Messages

60
Location
Made it into my run & gun pack (well...archery...but same concept). I needed it quieter and not flopping around so much and that MR belt just did not fit my body. Yes I could have sold the whole pack but I had alot of spare parts laying around and a couple of ideas so i went at it. It carries really well now and is quiet.
Mods are:
Replaced pack bag with US Marine FILBE molle panel for hauling meat and holding bags secure.
Replaced most clips with non-rattling ones - military issue - you can buy those in bulk and I do since I hate paying too much for clips and webbing.
I think the water holder is light fighter - can't remember as I bought that in Afghanistan when I was deployed there in 2004. I have the kill kit in the very bottom and then a 2 liter source bag sits on top of that. The bag then molds between the two frame rods and the weight is much closer to my body and up where it should be.
The bags attached are molle bags I had laying around - figure i would try them out and so far i like them. Survival and first aid in the bottom pouch and anything else in the top. First aid is basic - flat packaged H bandage and a quickclot gauze, coupla meds.
The belt is the Gregory Women's belt on sale at Moosejaw right now. I had an eberlestock on there earlier in the week and that carried much better than the tiny MR belt...but the Gregory blows them both out of the water as it cups my hips perfectly. I cut off the wings that the MR belt slides through as the belt not being able to move really hurt my back pretty bad so they had to go...and would not have worked with the other belts anyway. I think the men's version is on sale too right now if you wanted to try out their hipbelt. They go for around 50 or less on sale and come with molle so attaching things to the belt is easy. You do need to sew velcro onto the middle part that slides behind the lumbar pad but that is not hard to do.
Since it's the older pack and sized differently I cut off an inch at the bottom of the shoulder straps panel (the part that slides into the pack and adjusts to your body size). I tried the women's shoulder harness first but that is made for tiny women imo (I have broad shoulders so women's packs generally don't fit me well at all).
I love the pack now and some might think I was crazy for doing all this but like I said I had extra parts and kinda wanted a meat carrying run & gun pack anyway so I used what was at hand and stopped wondering what the mods would do.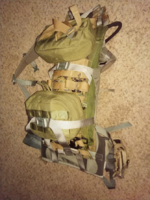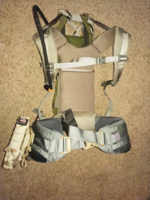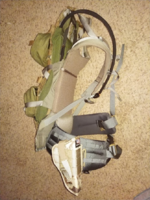 Last edited: