Joined

Feb 26, 2018
Messages

458
We ended up throwing in a Hail Mary and got drawn. We aren't bear hunters by any means. None of us have even shot a bear! And as much as we hunt in our home state of Idaho, one of us has seen a bear while hunting.
previous weekend we set out in an area we had E-scouted. Walked in and ended up doing 10 miles over the course of the day. We cut one track that seemed somewhat fresh.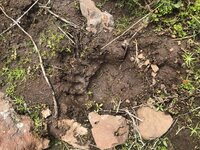 We tried tracking him for awhile and did great for about a mile then went dry. Never did see him, but cut 60head of elk. Great to see something!
Ended up getting high and glassing the bottoms. Didn't see anything, so we headed back. (Huge thunderstorm coming)
get in shape. Just plain and simple. I'm a tad overweight going into this season and didn't prepare at all. Knee ended up giving out 1/2 mile from the truck.
Fast Forward. May 15th.
after work we headed west for the 5 hour trip and dropped off the wife and kids with the in-laws. Got up early and had my brother in-law that new the area very well go this time.
He came in clutch and pulled private access for us. We hiked another 9.9 this day. Some steep country.
Pulled out a set of elk sheds on top of one ridge.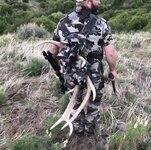 As Much as I'd like to show some of this country to you guys, out of respect for the landowner and the elk hunters for this area, I won't. As much as it kills me lol
We end up finding a nice side hill that sits on top of a small valley and over looks the flats. Ton of pockets.
remind you, we haven't seen a bear the whole trip. In 15 total miles at this point, we haven't seen one.
about 6:20 we debate on heading back since my father in-law is cooking (really great cook) I tell them "let's sit till 7"
we start finding elk and deer everywhere.
They try pointing out a calf elk to me, I pull my binos up and immediately see a bear.
"Bear! Bear! Bear!"
on the move we go. We sneak in from 1500 yards to 485. We see another rock formation closer and move in to 410.
we set up, "boom" bear takes off. Ok we hit him awesome.
so my buddy heads up to the left to cut over to where the bear was standing to cut blood. I head down to the right to cut him off in the bottom if he goes out. Brother in-law stays high to watch what we can't see.
After about 20 min, of glassing from our spots, my brother in law is yelling "behind you! Behind you!"
He wasn't kidding.
This bear is in a full run right at me. (He wasn't charging me) he didn't even see me until I raised my rifle.
At 25 yards, this bear took 3 212grn eldx rounds from my .300 win.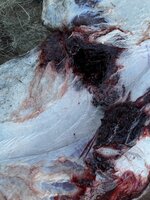 He piled up, 30 yards from me. This was a different rush I hadn't felt in deer, elk or coyote hunting. Such an awesome experience!
After getting the hide and meat off the mountain, we got back a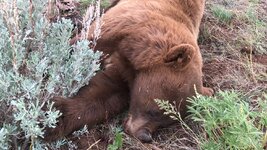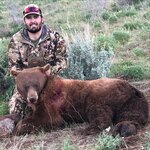 Never tried bear, so any recipes are appreciated!!