Joined

Feb 25, 2012
Messages

489
Location
# Note- I thought I would post this here; I thought at first I would post it on the Kifaru forum- but I then thought that they may not be thrilled to see different companies pack bags on one of their frames on their site.
To start off with why I posted this topic- I thought I would give some people a idea of some bags from different companies that I have found that can work well with a MMR duplex frame from Kifaru ( or would work for the EMR).
FWIW- some of my likes and what I like to use for a pack and hunting. First of all I have been a fan of the modularity of bags and frames for hunting for years. Some guys like a single internal bag and some guys like a frame bag combo. I just like to be able to cinch down meat close to my back- out of any other bag and then still be able to have another pack bag also attached to the frame for the haul out.
My background for backpacking and backpack hunting started with using external frames in the early 70's when I started in Boy Scouts. After that I progressed to internal frame backpacks and then went back to using a better made external frame for hauling meat in the late 80's.
I have been using a modular type set up since I first used an older Dana Design ( from the guy who started Mystery Ranch) external frame. When I use to mostly rifle hunt I used a small fanny pack or a rucksack if close to camp/vehicle and then would go get the external for packing meat. If strictly packing in I used the large DD external and then set up camp and used a real small day pack or fannypack to hunt out of camp.
When I started bow hunting in the mid 90's I used a Dwight Schuh frame (Coleman Peak One) and pack bags. At the time I got that influence from what Larry D. Jones was using. - Since one, he was from around here in town and two, as far as I ( and many others) was concerned- Larry knew what he was doing and we thought he was the MAN when it came to killing Elk. From there I went to using a better harness and suspension system for that frame, to better pack bags for it (Schuh frame), to using a Molle polymer frame and bags for it from a company here in Oregon. I eventually went to the Mystery Ranch NICE frame system; I used the MR nice frame and a bag and load sling for 3-4 years.
During that time I also used some small daypacks from Blacks Creek and tried out a few of my non-hunting backpack packs for hunting also. I used bags from Deuter and also a couple other companies. But for me and my hunting I kept gravitating back to a true hunting pack. I either liked a medium size fanny/day pack if hunting less than a mile from the truck/camp, or I liked to bivy with a frame and bag set up- which I found was also the best even for day hunting if any distance in.
When I got the MR Nice frame system I thought it was going to be the pinnacle for exactly what wanted in a do all hunting pack. And for 3-4 years I really tried to like it. Even though it was tough as nails and was fine for either super light loads or real heavy ones- the bottom line was- I realized that it was for me one of the most uncomfortable packs of any type that I ever used- especially for medium type loads. It was even more uncomfortable that my older Dana Design external frame pack! The problem with the pack frame ( NICE frame) for me was it did not fit my back well at all with that straight back and no curve to the stays profile that it has. My mid back would just fight against the hipbelt and shoulder straps. Plus for medium bivy type loads (30-40 lb.)- that frame did not flex or move with me. That is not even to mention the shorter stays that give little lift- although for me that was not the real issue with the pack.
After one miserable (because of the frame) long weekend bivy hunt with the MR longbow pack this fall, I finally came to the conclusion that I needed to find something else. I realized that even though I liked the Longbow pack bag and the MR pack/frame was bullet proof- almost every other pack that I had available to me was more comfortable to use than the MR one. I was either going to go back to the Molle frame pack frame and bags ( that, while not perfect- it was more comfortable than the MR Nice frame when I used it on the next weekend's bivy hunt) or seriously look into a Kifaru system. I had no experience with them- but had read glowing reports.
The real thing that tipped me towards the Kifaru Duplex frame and ordering one was- when less than a week after using for the last time my MR Longbow, I saw this thread and Aron's post's of one here:
http://forums.bowsite.com/TF/bgforums/thread.cfm?threadid=401372&forum=5
I thought that looks like it could just be the thing that could be better (more comfortable) than my Nice frame set to be used as a day pack/ hauler. So..... after talking with some guys who had experience with both the MR packs and the Kifaru's, I ordered one ( MMR frame) with a cargo panel, with a couple of small pockets and a (M) pod. I also thought that I maybe could keep and use my Longbow pack bag on it and also be able to use some other quieter bags that I had tried with some success mounted on the Nice frame. I did not need the MMR pack bag- as it was too heavy for my tastes- plus I heard that Kifaru may come out with dedicated hunting bags for the duplex frame and I would wait.
I also thought long and hard about the Timberlines- but then I thought that I have mostly modular bag set-ups already and I may as well see how they would work with the MMR.
What I found out when I received it a month later-
** The MMR frame is way more comfortable for my back than the NICe frame- by a ton!
** the MMR frame with the cargo panel attachment hardware works with way more bags than I ever dreamed and with pack bags that I already have.
I may ( probably will) eventually get one of the dedicated bags from Kifaru for the MMR frame when they come out with a hunting specific one- whenever they do. Until then- I will use the following-
________________________________________
Bags and combo's- (most of these I already had) that I have found work with the MMR frame.
I have about 6-9 different bags (with a bunch of different combo's)- anything from 800-900 ci up to over 5200 ci. And that is with out adding any extra side pockets or mod pods ( with those you could go even more). And the weights are any where from 4.8 lbs up to 7.5 for the 5200 ci combo. My empty MMR frame is 3 lbs 15 oz. What I have that works are both some softer quieter bags and some Cordura bags. It is pretty easy to make work with minimal hardware. And they all fit pretty darn good- and do not look all jury rigged or anything.
I also have a super "cargo" panel made by another company for their packs that works PERFECTLY on the Kifaru frame- and it weighs - 4.5 oz.
First few pics are bags quickly attached to take pics. and the others are simply places beside the frame- since it is a bit of a job to mount each one separately- I just filled up the pack bag and put it next to the frame and then took a picture of the frame next to it to give you some idea. I have these ( when mounted right ) real secure on the frame when I do it - there is no slop. All of these pack bags were originally designed and intended to be used mounted on a frame of some sort- except of course the REI 85 XT.
*** obviously the Kifaru cargo panel ( and the small pockets that can be placed on it) and the (M) mod were designed to be used with the frame.
1. cargo panel-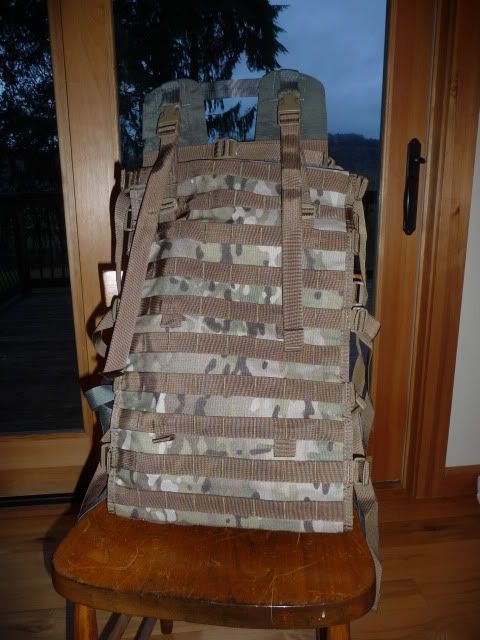 2. another load hauling panel- 4.5 oz.
3. A MR Longbow bag ( which I have since sold because I kept a MR Military issue pack bag that is larger instead)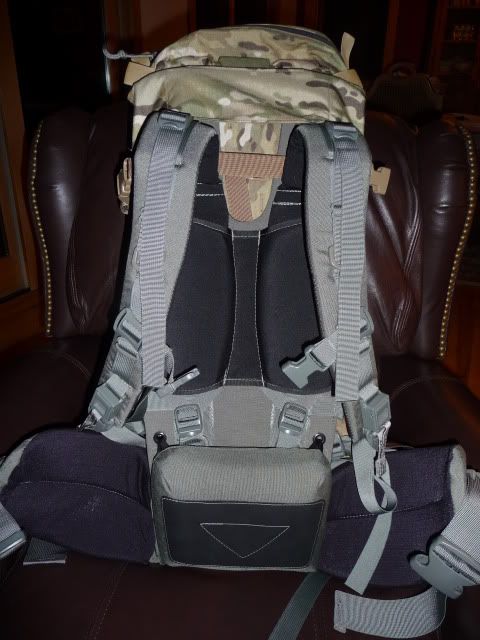 Last edited: