Tikka hunter in good condition. Bought new 4 years ago, taken out on a few hunts. Shoots as well as any Tikka does with multiple loads. Selling because I put together a custom Mauser in 6.5 Swede and I don't need two.
Trades I'm looking for:
Savage 99c
Savage lightweight hunter( not 223 or 6.5creed)
Remington 700 mountain(depending on rifle I'll add cash.
( currently unavailable pending transaction)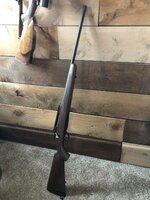 Last edited: