Joined

Feb 10, 2019
Messages

1,080
Location
Hmmmm..... Hadn't planned on it, but maybe. Be nice to see if it is consistent.

Leave to hunt in 6 days.
my last 3 day mini challenge at 70 with broadheads. Last on was the day before 1st rifle season in NM after I was done scouting. Was too busy trying to get my brother a goat to get but 2 quality stalks in. Got within 150 before they busted. I had a ton of confidence if i could get within 60 I had a chance. Just couldnt get close enough. It was good practice getting my butt whipped though.
Funny story while I was at our place in NM there was a mule deer in our barn eating alfalfa by where that target was on the 3rd day. Nice little young 3x3 He trotted out of the barn looked at me for a minute and then jumped the fence. Shot the target at 70 from where I was standing looking at him later that afternoon. Made me feel warm and fuzzy.
day 1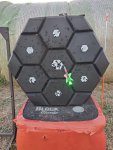 day 2 before the drive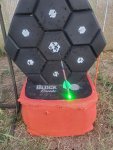 day 3 afternoon before season opened. I guess i should have looked at all the deer poop when I put the target there.