Joined

Mar 4, 2020
Messages

356
Hey all. Shot the CBC two years ago for my first year of bowhunting. Didn't bow hunt last year or participate in the CBC so this is technically my second go.
MER is 45 yards. My first year was 30 so this is a big step back for me. I know you guys are shooting 60 plus and I hope to get there soon, but this is as far as I've shot my bow yet, anytime.
I'm shooting a New Breed Genetix (60lb), TreeLimb quiver, with a G5 drop away rest, double pin Spot Hogg sight and Spot Hogg Wise Guy wrist release. Arrows are Gold Tip Hunter Pro 340 with 100g field points.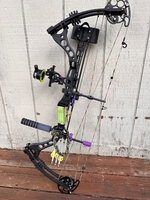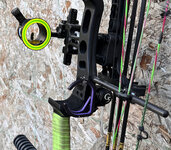 Day 1. 10 mph winds, but around 50 degrees so not too bad. I'm pretty happy with this first shot although I was definitely low and I'll chalk that up to nerves unless I keep doing it, in that case I have no excuses!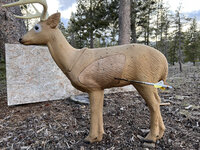 Day 2. No idea why I pushed this right. 10mph wind and 55 degrees, very mild conditions. I'm guessing I'll need a lot more practice at this range when this is over.
Day 3. Very happy it's in the vitals but still pushing right of aim. Conditions were as good as they could ever be (68 degrees with an 8 mph wind).
Day 4. Last few days have been snowing so I've had to take a break. 41 degrees with a 5 mph wind. Felt colder than 41 with the fresh snow, but not bad considering. Guess whatever I'm doing to push my arrows right is consistent.
Day 5. Beautiful day. 74 degrees and a 5 mph wind. That's a wrap for me! Still right of aim today, and not the tightest group over 5 days but super encouraging as a new archer. I've now got the time to try and figure out what I'm doing to push everything right.
Super thankful for the challenge. I would most likely not practiced past 40 yards before this, but will now push it out beyond 50 over the summer. Can't wait to start throwing more than one arrow down range! Thanks again Rokslide for the push.
Last edited: