Joined

Nov 6, 2013
Messages

1,905
As the draws were going on, I noticed that Nevada had separate cow points from bull points. Looking over my sheet I definitely had a few, so what the heck I'll toss my name in the hat. I like hunting elk and because I didn't pay attention in 7th grade health, we have a lot of mouths to feed and eat at least 2 elk a year.
Fast forward a few weeks and low and behold I had a successful hit from Nevada for a antlerless elk (only). So I started planning, the units I drew have a lot of wilderness in them, which I don't mind packing bull meat, but packing cow meat is dumb. A really good friend of mine Dennis lives in the area so I picked his brain and he lined me up on a spot, it looked good from E scouting and so the planning began.
I asked Madelynn if she wanted to go, out of my daughters, she's the one who always wants to go. So every night this summer, after stories were told, me and her planned our trip. I took her on some 5 mile hikes to see if she could handle it and she was good so what the heck. At 7 she's going on her first "backcounty" elk hunt. A couple trips to Cabelas later and she's ready to go.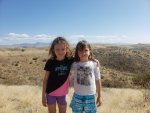 Season opened and because of work, we had to head down opening day. (did I mention I also suck at geography) Put the location in the GPS and it's 9 hours from my house. We got a bit of a late start in the AM and made it to the closest town at about 6:30 Thursday night. After dinner, I decided to head into camp, one quick phone call to Momma and she recommended we get a hotel room and head in the morning. Not my MO, but setting up camp at night in a new location with Madelynn at 10pm might not be the best idea so we got one. Anyways, don't tell my wife this, but she was right. It was a grueling 3 hour drive in the morning on nearly 100 miles of gravel roads that well, flat sucked.
We end up arriving at 7:30 am and setting up camp, Madelynn was most concerned with getting firewood for smores, while I did the rest of the work. We got out and did a little 7 mile scouting walk in the afternoon, starting at 9k going down to about 7400 and back looking for tracks in the 85 degree heat and checking bedding areas. Got back hot, tired, and we immediately took off to glass. Saw a bunch of deer and horses, but no elk.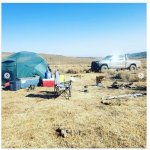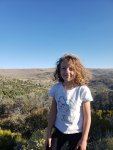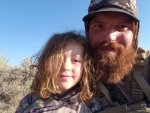 Saturday morning, we got up before light and took off to do some glassing. After a short drive, I looked up in the quakies and immediately saw elk about 1200 feet above us, off to the races we went straight up the mountain and covered about a mile in 15 minutes at a blistering pace just in time to see the elk slip into the quakies to bed at 7:00 am. We went to the top to see if we could see them, wind got janke so we bailed out back to the bottom and went tracking. We checked multiple springs for tracks and found where a herd went through a saddle that morning.
After a quick nap and some lunch, we checked more canyons and then headed up to wait for the elk we saw in the morning to come back out. After about 45 minutes, a raghorn bull fed out above us. We got set up and he went back into the timber. We glassed for another 30 minutes and bingo, elk got up to feed, all bulls Darn it. Madelynn, who decided that slip ons with no socks were better than boots, and I headed back down the mountain to the truck. We ran into Jeff and his daughters that were camped next to us and talked to them about their plans for the following morning. They were going to do the same hunt they did the previous day and judging the sign, we decided to go hunt the saddle we saw the tracks in the previous day.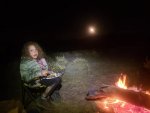 After a short night, we got up at 5 am and hiked into the a knob above the saddle in the dark, as the sun came up we slowly crept around the knob glassing the springs and openings in the quakies. About 6:45 we heard their truck come by as we just hit the our viewpoint above the saddle. Shortly their after, I caught movement just below us and out came 3 cows, I lined up on the lead cow and smacked her behind the shoulder, she turned and ran back into the quakies, she slowed as she hit an opening and I sent it again, I lost her in the recoil and heard Madelynn say daddy I saw her fall. We gathered most of our stuff and headed down the ridge, Madelynn walked me right to our prize.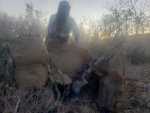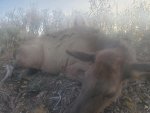 We took a couple pictures and called momma to tell her the good news, then the work began. I've lost track of how many elk I have killed, I think this is number 25 or so, it's the first time I have ever broken one down solo. Madelynn wanted nothing to do with the breaking down part as she said it was too stinky after I got the guts out. Needless to say, I got half of her quartered, peeled, and bagged. I stopped for a much needed break and looked to the north and low and behold we're 30 yards from a road, sweet. Then I looked at my empty bino harness and realized my Els were sitting somewhere on the ridge. After a quick heart attack, we went back 200 yards to where we shot from and found them rather easily.
We finished getting her broke down and hiked the 1.5 miles back to the truck and just as we pulled in, Jeff and crew drove by and stopped to say hi. We recounted the story and they came in to see the elk. we gave Jeff the heart and liver, and while we did a final clean on the carcass, his daughter and grand daughter (un beknownst to me) packed all the meat to the truck.
All loaded up, we headed down the mountain, broke camp, iced elk down, and said our good byes and started our nine hour drive home.
I know it's a long story for for a slick head, but as far as my hunts go, taking my daughter on her first backcountry elk hunt will go down as one of my favorite memories of all time.
Last edited: