Joined

May 6, 2014
Messages

6,848
Location
First i want to give a big shout out to the many guys that have opened my eyes to these DIY shelters and the "How To'. The latest being Woodbow that took the time to answer some of my tedious questions.
Though I'm still not done with my first semi wall tent project...since i'm sick as a dog...I decided to play on sketchup for a tipi project. The idea here is 2 men, with extra room, light as we are limited to Supercub weights, and well vented as I've done a few rounds with these tipis and they are condensation monsters....I hate that.
I'm going to modify this design....but its a starting point.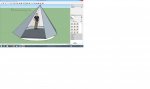 The whole reason for the vertical walls is to install venting around a large % of the perimeter along with 2 roof vents to combat condensation...which works in another tent I use a lot. So even if its raining it will vent with them protected.
Options;
modify to the 45 deg angle of Woodbows tipi...probably a good idea
How much vert wall...and how much eve do I give it????
my SL5 didn't have near enough floor space....but how much is enough?
[This version has 16" walls with about a 10" OH.]
.i don't want to take away from the structural integrity of the tipi itself.
i have to say this Sketchup is about the most intuitive program out there....simply amazing...and when you are done you can measure angles, pieces etc for your cuts.