Joined

Dec 29, 2014
Messages

165
Location
Disclaimer: I'm about as far from an optics expert as it gets. These are the only two spotters I've ever looked through. My only other optics experience is a pair of 10x42 Bushnell Excursion EX binos that I really like, that are probably around 7 years old now, and a pair of 10x42 Zenray Prime HDs that I got used off the classifieds, and love. So with that in mind, this isn't really a review, so much as an overview with some general impressions.
With that out of the way, I, like many others, was on the market for a decent budget spotting scope. These two are often mentioned in threads on the subject, with the Vanguard seemingly the choice of most around here. The Celestron also gets great reviews, and seems to be more popular on the birding forums compared to the Vanguard, at least from what I found.
Amazon.ca had both in stock, for prices competitive with what I'd pay buying from the US and dealing with the exchange rate and customs fees. Bonus that the Celestron was only $10 more than the Vanguard, compared to the $50 USD or so difference on most websites. I figured I can try both, and return one within the 30 day limit.
I couldn't find exact weights online, so here they are, measured on my kitchen scale:
Bare spotters:
Celestron 57.2oz
Vanguard 51.25oz
With lens caps and eyepiece covers:
Celestron 60.2oz
Vanguard 52.55oz
With cases and caps/covers:
Celestron 66.05oz
Vanguard 56.1oz.
Tough to get exact measurements with the angled eyepieces, but the Vanguard comes in just under 14", and the Celestron just under 16".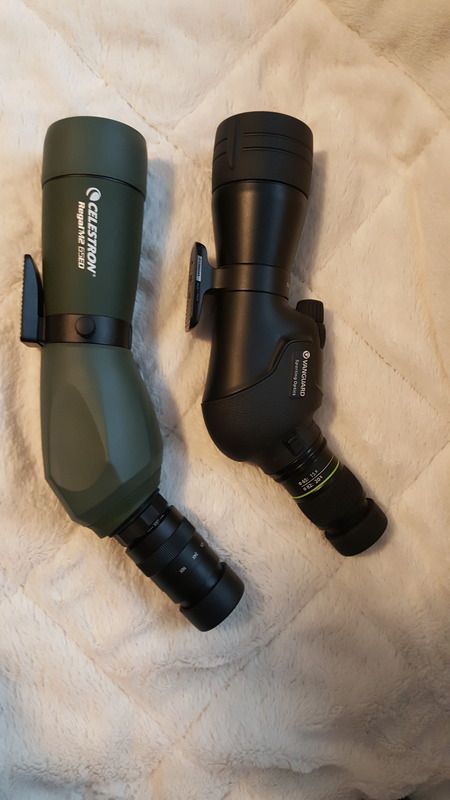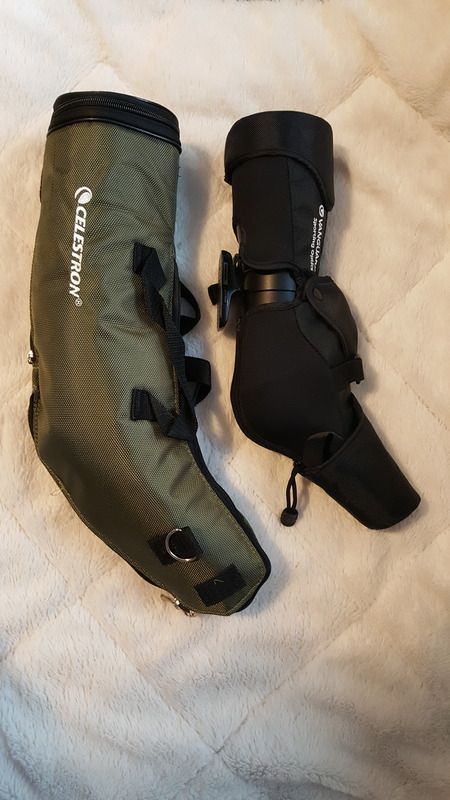 You'll notice the weights on the Celestron jump quite a bit compared to the Vanguard. It comes with a threaded metal tube for an eyepiece cover compared to the standard rubber cap. This metal cover comes in at 2.45oz. It's a nice that it covers the entire eyepiece, but it adds weight, and the metal on metal threads are loud when putting in on or taking off. Granted if you're setting up a spotter you're probably not close enough to the animal that it'd spook it, but annoying nonetheless. I'll probably try and find something else to protect the eyepiece.
As well, the case for the Celestron is bigger, and not form fitting like the Vanguards. I probably won't carry it with the case, so somewhat of a non-issue for me, but I do suppose a better case would be nice, the Vanguard definitely wins on that one.
Both being 65mm scopes, they're similar in size, though the Regal is noticeably bigger. It's about two inches longer, and weighs in heavier. However, the Regal 'feels' better to me without necessarily feeling like a brick; more solid, smoother focus and zoom, the rubber armoring and finish feel higher quality than that of the Vanguard. It's hard to quantify without having anything else to compare, but to me it feels like a better built optic.
I don't have a ton of time behind these spotters yet, but I've had them out on a couple of different days in some different conditions, and I think I've got a bit of a feel for both. Unfortunately I don't have any sort of digiscoping equipment, and trying to handhold my cellphone up to each one probably won't capture the differences, so I'll try to get the jist of it across.
To me, the Celestron has a sharper image, is easier to get into focus, and is generally more pleasing to look through. The difference isn't huge, but is definitely noticeable. The focus knobs are smoother on the Regal. I can't think of the right wording, but the Vanguard focus knobs aren't entirely smooth, there's a slight bumpiness(?) as you turn the knobs, and its particulrily noticeable using the fine focus. This is definitely an intended feature(that I'm doing a terrible job of describing), but I find it makes it just a bit more difficult to get the focus exactly where I want it.
The zoom on the Regal eyepiece is smoother as well. While the lowest setting on the Regal is 16X, vs the 15X of the Vanguard, the image sharpness(or something about the image) makes the picture appear more zoomed than the additional 1X would imply. Another bonus of the Regal is it takes 1.25" eyepieces, so plenty of aftermarket options if that's your thing.
While the Regal wins for me on optical clarity and build quality, it does have it's downsides. As mentioned, it's heavier, and the case is a bit ridiculous compared to the Vanguard. The Vanguard warranty is no fault/no hassle, while the Celestrons is nowhere near as impressive. The Regal is quite back heavy, even with my tripod plate mounted as far back as it can. Where the Vanguard will hold steady on its own, I need to tighten the tilt plane a bit to keep the Regal from collapsing backwards. Not a big deal for me, I'm using a Vanguard PH-113v head and it deals with it quite fine, but something to note regardless.
A couple of other things:
The Regals focus knobs are off to the right side of the body, while the Vanguards are centered on top. I'm a righty, so it doesn't bother me, but potentially an issue for someone that might have to reach over top to use the focus.
The Regals entire main body(the angled part the eyepiece attaches to, not the 'lens' portion) is rubber armoured, whereas the Vanguard only has rubber on the rear part of the body.
A quick summary on my thoughts so far:
Vanguard Pros
-Fantastic warranty
-Lighter weight
-More compact
-Slightly cheaper from most places
-Better case
-Well balanced
Vanguard Cons
-Optical clarity not as good
-Focus and zoom controls not as smooth
-General build quality doesn't feel as solid, though this isn't to say it feels cheap or anything. It feels good, but I suppose it would be similar to the difference between the Bushnell Excursion binos I have, compared to my Zenray Primes, it just doesn't feel
as good
.
Celestron Pros
-Better image quality
-Better edge to edge clarity
-Generally more pleasing to look through. I imagine this will equal less eye strain during long glassing sessions.
-Smooth zoom and focus controls
-Solid build feel
-1.25" eyepiece compatibility
Celestron Cons
-Heavier
-Slightly larger
-Lame case
-Heavy eyepiece cover that's loud putting on/off
-Rear heavy balance
-Warranty isn't as great
Which one will I be keeping? Probably the Celestron. It certainly has it's downsides compared to the Vanguard, but I simply prefer looking through it.
Would someone be happy with the Vanguard? All the raving reviews around here would indicate yes. With that said, I actually purchased the Vanguard first. I was going to just get it and be done with it, based on all the positive reviews, and the warranty being a big bonus. But when I received it, having never looked through a spotting scope before, I was underwhelmed. I'm not sure what I expected, I've never looked through alpha glass that would ruin anything lesser for me, but the Vanguard just didn't blow me away like I was hoping. And, perhaps looking through it before getting the Celestron set some more reasonable expectations once that one arrived, but when I first looked through the Regal, I got the feeling I was hoping I'd get from the Vanguard.
If anyone has any questions please ask, as I said I'm no expert, but I'll do my best to answer. I'll keep the scopes for a few more days, but unless something drastic happens, I think I know which one I'll be keeping. Thanks for reading!
Last edited: