Ok, I have read the reviews, studied the website and am preparing to drop $1k+ on a shelter system. I know there are SO pros and users on here and I have just a couple of questions based off the design image below: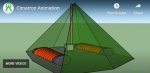 1. It looks like from the image that the stove jack is on the back wall of the tipi, so I assume there is only 1 door which in the case of this diagram would be the dark green panels at the foot of the sleeping bags?
2. Is there an option to add door screens to the DCF Cimarron like on the Redcliff?
3. Does either the LBO nest or the Cimarron 1/2 nest fit against either side wall?
Thanks for everyones help.