Super Moderator
Staff member
Joined

Feb 26, 2012
Messages

2,043
Location
So after years of begging and encouragement by Luke, I finally sewed my own stove jack into a tent today! While I have been sewing for a number of years, my skills are fairly basic and the thought of potentially ruining a good tent had me intimidated. Today I got brave and finally attempted to sew one in on my own instead of paying someone else to do it...while there are some real challenges in sewing with silnylon, I think it turned out ok....
One of the biggest issues in sewing with silnylon is that it's slippery and you don't want to poke too many holes in it using pins the way you would traditionally in sewing. I compromised and used four pins, because I couldn't figure how I would hold the jack in place while sewing it without them and because I planned to seam seal it anyway and figured four more pin holes wouldn't be the end of the world.
My sewing machine was not thrilled with sewing through the thickness of the jack and Velcro, but it chugged on through and got the job done. Another challenge was in moving the whole rest of the tent around while I was sewing around corners. Luke was a great helper, and worked to keep the main body of the tent out of the way, preventing me from accidentally sewing any parts of the tent together inadvertently. We realized afterwards that the tension on the bobbin was not quite right, so the inside seam isn't very pretty! The error in tension doesn't seem to have affected the tensile strength at all, so we let it ride.
Probably the most nerve wracking part was actually taking scissors to a brand new tent to cut the hole...
Set it up in the yard to do the first burn on the new stove, and also to do some seam sealing. I was liberal in sealing the seams around the jack....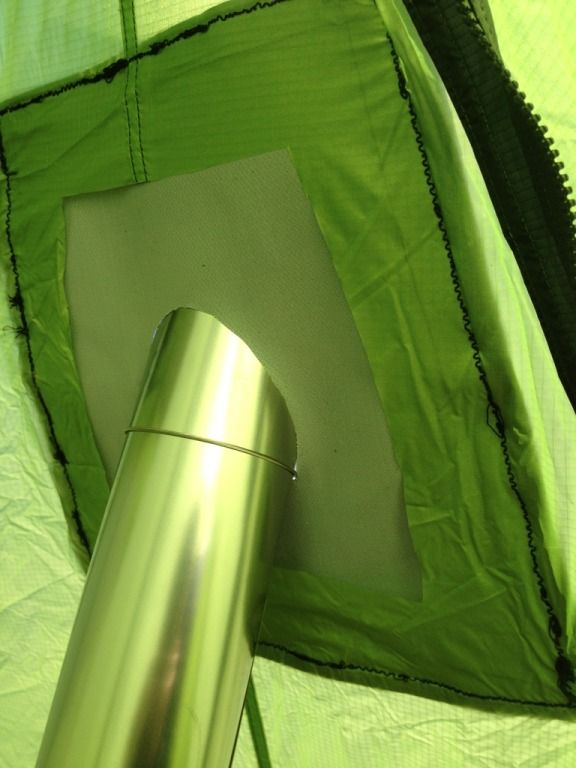 Pretty pleased with how it came out, can't wait to get this set up out in the field for a real test!