I'm not sure that any single component of my first custom rifle build provided more angst than deciding on which stock the remaining components would rest in. The build itself was to be a lightweight (what does that even mean?) rifle in a nearly-do-all caliber, and so the stock needed to be light and feature-rich—a tough combo, no doubt. I wanted the finished weight of the stock to be 25 ounces or under, but I also wanted a more tactical style: vertical grip, flat forearm, high cheekpiece, and, if possible, a negative comb.
Of course, that's a long wish list, and I ran down all the possible options from well-known manufacturers. There were a few options available that met all or most of my wish list items, but the larger after-market stock manufacturers are backed up severely—upwards of a year in some cases. I wasn't interested in waiting that long, so I continued my search. I happily discovered Forge Carbon.
Forge Carbon History
Forge Carbon, which manufactures its 100% carbon fiber stocks in Wyoming, is new to the direct-to-consumer (DTC) game in the US. Based on the research and manufacturing process of a New Zealand-based group, Forge Carbon has brought the technology to the US and matched it with domestic manufacturing. They've quietly been providing stocks for several custom rifle builders throughout the country, so it's possible that you've handled or even owned one of their products. However, they've recently taken the next step and are building out their framework to offer stocks DTC. I reached out to the folks at Forge Carbon to introduce myself, my current rifle build, and my plans to review all of the components I'd be using.
Current Offerings
They're currently preparing to offer three models: the Beartooth Hunter, the Ovis Ultra Lite, and the Tactical Super Sport. A fourth, the Verdus Tactical Lite, which features an adjustable cheek, will be released in early 2023. One or two more models are expected to follow shortly behind.
All can be inlet for about a dozen specific actions and 10 barrel contours. They graciously sent me demo versions of the three currently-available models so I could compare and contrast each before determining which stock I wanted my rifle to be founded on.
Speaking of my rifle build, here are some of the build details.
Action
A titanium action was top of the list for this build, and I ended up building on a Summit Titanium from Mesa Precision Arms. The Summit is a 700 clone with all of the 700 upgrades one would want. There's not a lot of information available on the internet regarding this action, but I'm really pleased with it. The machining and finish are clean, and the bolt is smooth. I chose to chamber my rifle in 280 Ackley Improved because, well, I've always wanted one. I've always been intrigued by things that are 'different' (although 280AI seems to be more common nowadays). Either way, it should be a fantastic all-around cartridge for the hunting I'll do – East to West, within 400 yards or so – and steel ringing for fun at longer distances.
Scope
My intent with going the custom route was to get a 'lightweight' finished product, so I wanted a lightweight scope. While the feature functionality is highly debated on Rokslide concerning Leupold, the VX-3HD 4.5-14X40 Wind-Plex did fit the bill with a zero-lock turret, side focus, small throw lever, and sub-20 ounces. The glass is fantastic, but I haven't had the chance to dial the turret a ton. But after a full firearms season with the scope, I'm not sure it's a forever match. I may choose something without dialing capabilities and lower magnification to suit my style better.
Trigger and Bottom Metal
I dropped in a TriggerTech 700 Special and Hawkins Hunter DBM Bottom Metal with the newly-released Hunter Magazine in 280AI.
Barrel and Brake
I ordered a contoured blank steel barrel in a #3 contour from X-Caliber and had it threaded to accept an Ultralight Jetblast muzzle brake (1.37 ounces) from Patriot Valley Arms. Again, I went with this combo to reduce weight while taming any bad manners the 280AI would offer. The Ultralight Jetblast is directional, so there is no worry of dust storms when shooting prone, and it's also self-timing, so I can move it from rifle to rifle as I see fit. In reality, I didn't save much weight over a skinny-contour carbon-wrapped barrel from X-Caliber, and that may result in an eventual upgrade.
Finally, The Forge Carbon Stock
The Beartooth is best described as a blend between a sporter-style stock and a tactical stock. The Ovis is a sporter-style stock. Finally, the Tactical Super Sport is a tactical-style stock.
All three models are 100% carbon fiber, pillar bedded, have a Limbsaver AirTech recoil pad and front and rear flush cups, and feature a 13.5" length of pull. A Picatinny rail can also be added to all three for an additional $90. The three demos I received were painted and roughly inlet, but they did not have pillars, flush cups, or recoil pads installed.
Beartooth Hunter
The Beartooth Hunter was the stock that I fully anticipated would be my choice for my rifle. Through the computer screen, I loved the blended style of sporter and tactical. The weight of the unfinished demo was 25 ounces, matching the advertised finish weight of 25 ounces. This model features mirrored pistol grip and cheekpieces for both right and left-handed shooters. I liked the Beartooth, but there was a little too much palm swell on the grip for my hand. I also thought the cheekpiece was a little large for my shooting form – I just didn't feel locked onto the stock. The whole thing felt 'chubby.'
Ovis Ultra Lite
The Ovis Ultra Lite is a nice rendition of the sporter-style stock. While I was pretty certain I did not want a sporter-style stock for this rifle, I did really like the Ovis. I actually liked it more than the above Beartooth. The weight of the unfinished demo was 24 ounces on my scale, an ounce more than the advertised finish weight of 23 ounces. Unlike other sporters, the forearm of the Ovis is flat-bottomed—not round and pencil-thin—which provides more surface for solid off-hand shooting or bipod hardware. The palm has more swell than common off-the-shelf sporters, which felt great, even when prone. The grip offers a little more 'vertical' than common options. And even without a cheekpiece, I felt well-welded to the stock from various shooting positions.
Tactical Super Sport
But, the Tactical Super Sport (TSS) stood above the others for me. Based on the demo I played with, I was confident the TSS was the stock I wanted. This model features a high cheekpiece with a negative comb, a modified pistol grip, and a flat-bottomed forearm. As I was building on a Remington 700 clone action, inletting for the action would be a breeze. I passed along my barrel specs and had my Hawkins Precision Hunter DBM bottom metal sent directly to Forge for inletting perfection. And it came back a perfect fit.
I ordered my TSS stock in the Bronze Carbon paint scheme, and the finish is flawless. It's also slightly textured, which provides some additional grip while carrying. The flush cups and recoil pad were also fitted perfectly. In fact, my only critique is weight. The finished weight of my TSS is 30 ounces (advertised weight of 25 ounces) – certainly heavier than I wanted/expected, but the finished build still feels light to carry.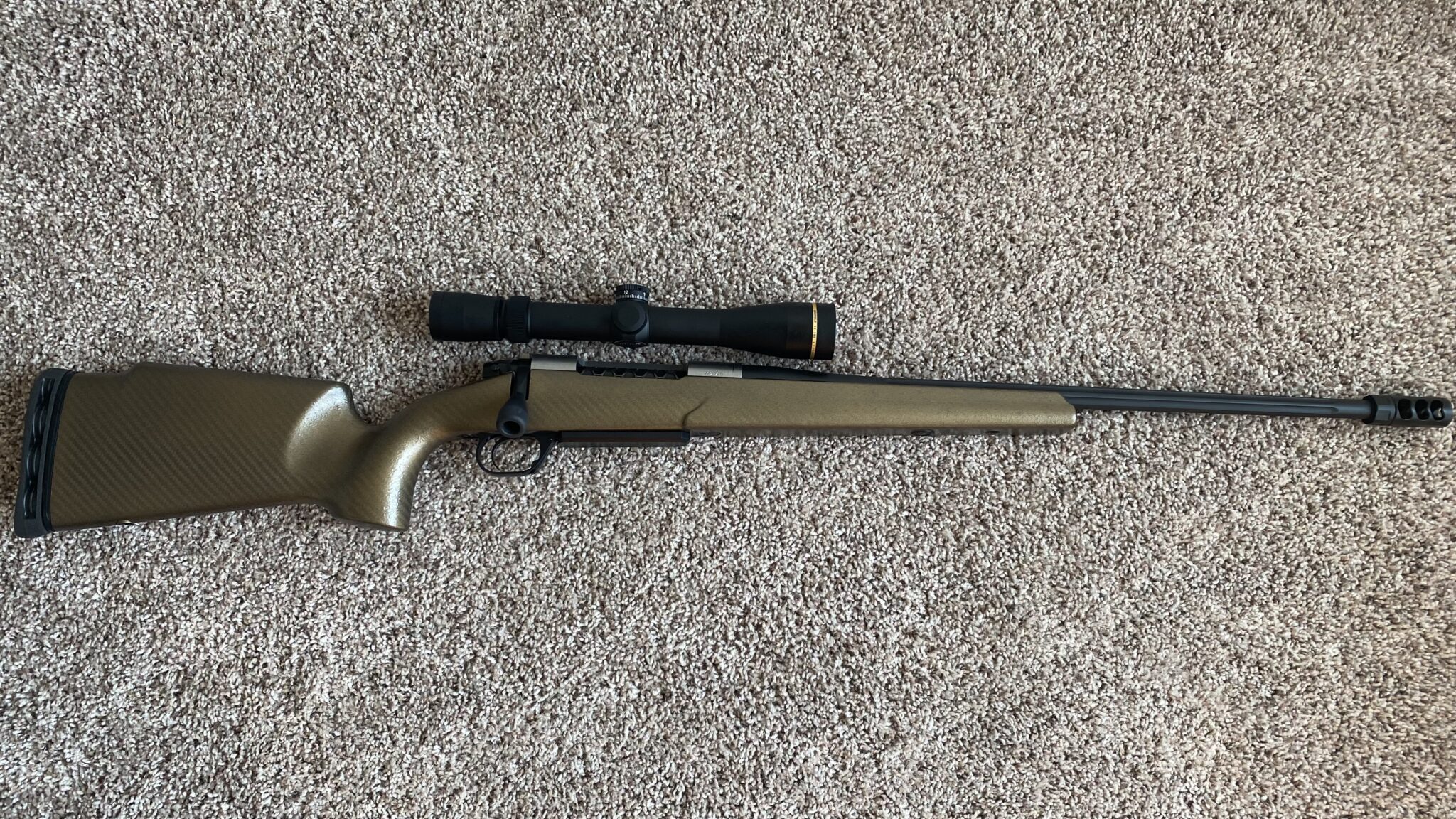 Everything pieced together just as planned; there were no issues with action screw alignment or any other inletting. The final product was rigid. And no twisting or flexing was noticeable.
Testing Time
I had my gunsmith drill out the forearm for Spartan Precision Gunsmith Adapter, snapped on my bipod, and headed to the range.
I put a box of Nosler 160-grain Partitions downrange to get used to the rifle and get my scope sighted in. It felt so damn good! The grip, cheek with the negative comb, and flat forearm made for an incredibly solid platform. It also felt very solid shooting off-hand. And I was impressed with the way it handled recoil. After a box and a half of Nosler 160 grain Partitions out of the 280 AI brass, I walked away from the bench without any discomfort or hesitancy in spending even more time behind the gun.
The rifle shoots, and it also liked the first factory ammo I fed it. It didn't take long at all to dial in, and with a cool barrel, it was shooting clovers at 100 yards. I did notice some wandering after a five-shot string. I'll do more serious shooting at distance through the winter months, and handloads will eventually find their way into the mix as results determine.
In The Field
My firearms season has concluded, and I thoroughly enjoyed toting this rifle – and stock – in the field. The lightness of the stock was welcomed on 8-mile days with steep elevation changes and slippery sidehills. While I didn't pull the trigger on any game, I did practice positioning quite a bit and had some fur in the scope. The stock's ergonomics were comfortably positioned offhand, on sticks, and prone. And the Bronze Carbon finish also looks great, if I don't say so myself.
Conclusion
I couldn't be happier with my Forge Carbon TSS. And I look forward to recreationally shooting and hunting with it for years. Again, my only critique is weight. If you're counting ounces, expect your finished stock to be a few ounces above advertised. If you're not too worried about weight, purchase with confidence.
Speaking of purchasing, all three models (and soon, a fourth) will be available DTC on thier website at the beginning of 2023. The stocks are pricey – pushing $1K – but there's no 6-12 month waiting period, and the craftsmanship is top-notch.
Right now, you may have to call or email to order or inquire about a particular color/model combo, but the website is being updated to allow for a fully-online ordering process. If you don't see something you're interested in yet – stay tuned. Forge is busy expanding their lineup of stock models and color options. Also, expect expanded inlet options as they get rolling.
Comment on this review or ask Torin questions here.