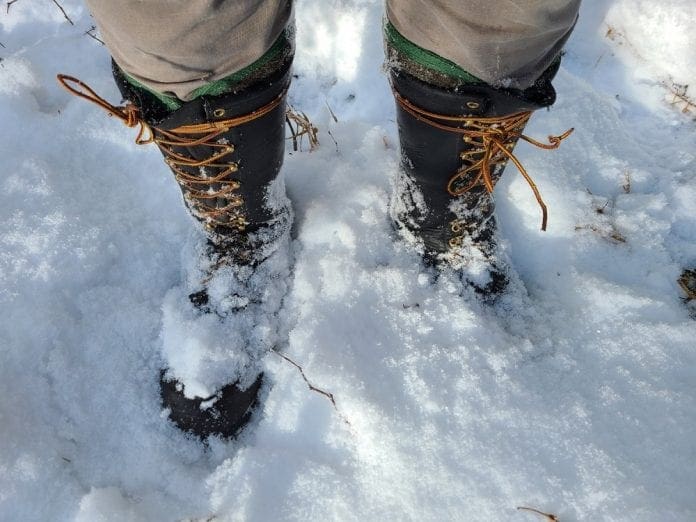 Double Insulated Hoffman Mountaineer Pac Boots
As a new transplant to Idaho, it is ironic to note I will be hunting in colder weather here than I ever did in Alaska. August sheep hunts and September Moose / Caribou hunts are not as cold as October's Idaho pursuits. With this in mind, I had to check out Hoffman's Boots of Idaho and dive into their Pac boots.
If you're not familiar with the term "Pac boot," you're not alone.  A Pac boot is a rubber bottom/leather upper boot with a removable liner made of felt or other insulation.  They are warmer than all leather hunting boots and are much easier to dry out due to the removable liner.  They're not as stiff as a typical hunting boot but usually offer plenty of support.  They're well matched for the coldest of weather in more sedentary hunting pursuits like ambush hunting and horseback hunting. The better brands are rebuildable often giving the average user a decade or more of use.  Learn more here
Factory Tour With Jim Hoffman
I drove over to Hoffman's, located in Kellogg, Idaho.  Owner Jim Hoffman was nice enough to give me a tour of the factory. Impressive place! They employ locals, and while they may source some foreign parts, the boots are assembled right here Idaho.
Pac Boot Sizing
I am 9 1/2 in about every boot I wear, and I have a narrow foot. I tried quite a few different variations of Hoffman Pac boots (and man do they have more than a few, see here). In the end, two Pac boots fit me best, both in size 9. The Cowboy and the Mountaineer. More on the Mountaineer here.


Double Insulated Hoffman Mountaineer Liner Options
I much preferred the felt liner on each of these vs. the Thinsulate as the felt wrapped my feet better. (You have the option of a felt liner, a 200 gram Thinsulate, or a 400 gram Thinsulate).  I understand that the felt will compress some, but it seemed to fit me best.
Jim helped guide me through the fitting and selection process. In the end, I went with the Mountaineer as it is their warmest boot and I wanted something for Idaho winter predator hunting. Not only does the liner provide insulation, but the rubber shell itself contains 200 grams of insulation.
More Versatile Than I Thought
I have had the Double Insulated Hoffman Mountaineers for about a year now and have done a variety of activities in them. While Pac boots will never provide the support that a leather hunting boot does, they excel in the cold! With my recent move to Idaho with a career change, I missed the hunting season but wore the boots for many of my other outdoor activities.  The Mountaineers versatility surprised me beyond my preconceived notion of just a hunting Pac.
Even Great For Watching Fall Sports
My sons are active in fall sports and standing on the sidelines watching a football or soccer game can be a cold endeavor. I quickly learned to appreciate my Hoffman Mountaineer Pac boots and the cold feet of yesteryear are no more!
I start each day walking the dog before I go to work. The last few months have been a record-setter for cold temps and my morning walks have been much more comfortable thanks to my Pac boots. These are tame activities, but none the less it highlights the versatility Pac boots can offer.
Family Tradition
The Wymer family has a strong tradition of hunting the same location in NE Washington state.  A Wymer has been there pretty much every year since the early 1950s.  With that said, the hunting opportunities there are not what they used to be, but the tradition lives on.  This year I attended without a hunting license (out of state fees did not appeal to me, and I only had a short window to participate).  I did get out and tag along with Dad and helped gather camp firewood, all in my Pacs.
Mountaineers Great To Hike In
I was surprised at how "hikeable" Pac boots can be. I spent a day working a steep sidehill with my Dad in cold weather.  My feet did get a bit warm a few times, but it was impressive how well the boots performed in steep country–certainly not as stiff as a good leather boot, but the additional warmth factor more than made up for it.  (If ankle stability is really an issue for you, you can custom order the Hoffman Ankle-loc stabilizer strap, or check out the Hoffman Outback here as it comes standard with the Ankle-loc.)  My feet never got cold and we moved slow enough moisture never really built up.  It was when we stopped and glassed that the boots truly shined, holding warmth much better than typical hunting boots.
Back at camp, I could pull the liners to dry overnight to ensure I start with dry feet each day.  This is very difficult to do with boots with a waterproof liner that isn't removable.  You just can't get the airflow in cold weather to get them dry overnight compared to a Pac boot.
A key factor to making these boots work in extreme conditions lies in how you lace them.  Too tight can decrease walkability, too loose and support wanes.  It takes a bit to figure out how best they fit your foot, but once you sort that out it makes a huge difference in performance.
Another thing to keep in mind is that the felt liners attract debris. Either wear the boots under your pant leg or throw some gaiters on.  A few hours cutting firewood resulted in a mess of sawdust throughout my boots.  Took me quite a while to dig that off the liners.  Would have been simple to avoid.
Warm and Durable
The last few months have been intense at work. We had a huge deadline we had to push hard to make. As such, I spent quite a few hours out in the field working with my crews. I have never appreciated my Hoffman's more than during that time! Cold, wet, snowy conditions were the norm and my feet stayed dry and warm. I work in the telecom industry and see quite a few Hoffman Pacs in the field. Their reputation for durability and performance is well known amongst the lineman I have interacted with.
Pac boots are a unique tool for an outdoorsman, but if you live where cold is a factor, they are a valued asset. Order here.
We had a lengthy discussion on the Rokslide Footwear Forum over the last year on Pac boots and many members chimed in with their experiences.  You can read or comment on this review at that thread here.
Looking for a leather hunting boot? Check out Ross Russell's review on the Hoffman Explorer Boot here