Podcast: Play in new window | Download (Duration: 38:51 — 60.7MB) | Embed
Subscribe: Google Podcasts | Stitcher | TuneIn | RSS | More
Today on the Rokcast, Robby hosts Josh Boyd. Besides being a very dedicated hunter, Josh is also a Hydrologist for USFS. Josh has measured and studied winter severity for over 20 years from SE Arizona to NW Montana. With some certainty, Josh can predict mule deer winterkill.  They dive into Snow Water Equivalent, where and how it's measured, the data that comes from it, and how it can help you make better decisions when planning your mule deer hunt around winterkill. Winter severity could be the number one predictor of the size of a mule deer population.
Visit NRCS Snowpack Map here
https://www.nrcs.usda.gov/wps/portal/wcc/home/snowClimateMonitoring/snowpack/basinDataReports/
Find Robby's lastest book: Hunting Big Mule Deer: The Stories on Amazon here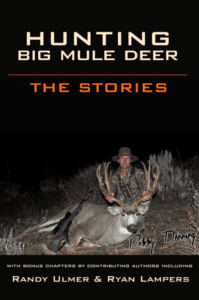 This is the follow up to his first book available in the Rokstore here
or on Amazon: How to Take the Best Buck of Your Life.