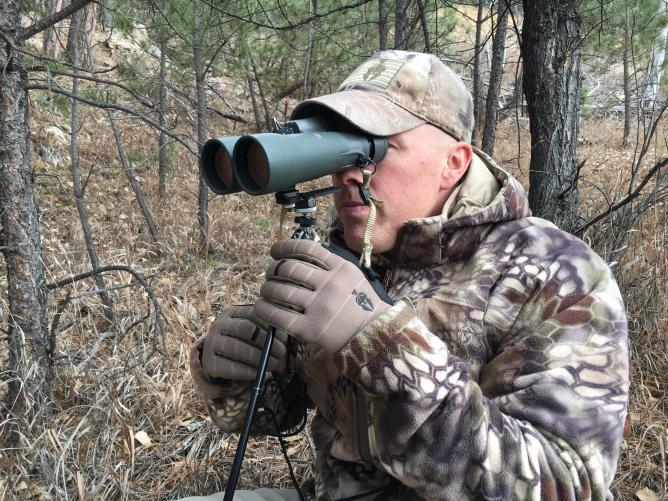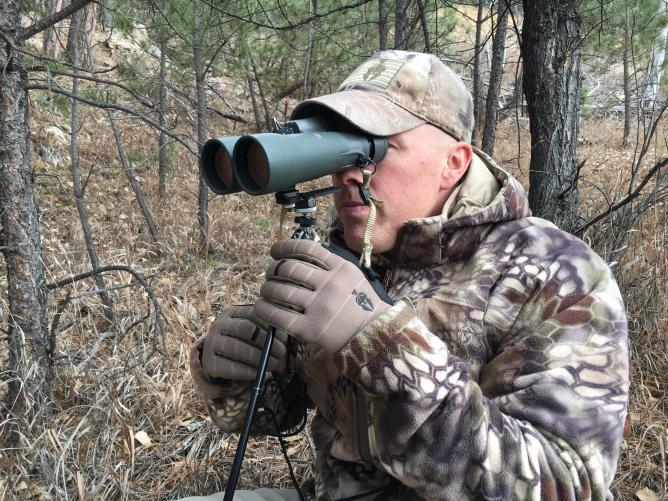 KDC Ultralight SnipePod & Granite Peak Tripod Review
By Jared Bloomgren, Rokslide Staff
As a backcountry hunter who tries to be as much of a minimalist as possible, I am always looking for ways to shave weight when I can. There are many products in the outdoor industry that can help but not all are practical or deliver as promised. When Rokslide contacted me to test a Kramer Designs Corporations's (KDC) V2 SnipePod, I was a bit hesitant. KDC tripod and bipod system weights are measured in ounces, not pounds, and I wondered if products this lightweight could really deliver in the field?
Company Background:
KDC is a small company based in the mountains of Western Montana that has been building outdoor products since 1992. With decades of backcountry excursions under his belt, owner Terry Kramer developed keen appreciation for the requirements of his customer base. Exposure to ultralight, ultra-compact and multi-purpose equipment from the foremost backcountry equipment designers over his life has greatly influenced his own designs.
Terry designed his products with these three fundamental goals in mind:

1) Ultra-light weight
2) Compactness
3) Functionality

I don't know anybody that doesn't think about getting the lightest weight products they can as long as they are functional and provide value with their purchase.

Products Tested:
KDC builds ultralight bipods and tripods that include hardware for attaching your favorite optics or rifles to the systems. These come in various forms. I thoroughly tested the SnipePod V2 with the 3L-V2 Tripod Conversion and the Rapid Release System (RSS) including Bino Tower and Optics Balance Adjuster (OBA). The V2 in SnipePod refers to Version Two of the design. The 3L-V2 refers to "third leg" which converts the rifle bipod to an optic tripod (more on that below). There are options for picatinny applications, too, so the black rifle family isn't left out. Let's take a look at each product and subsequent testing with more depth.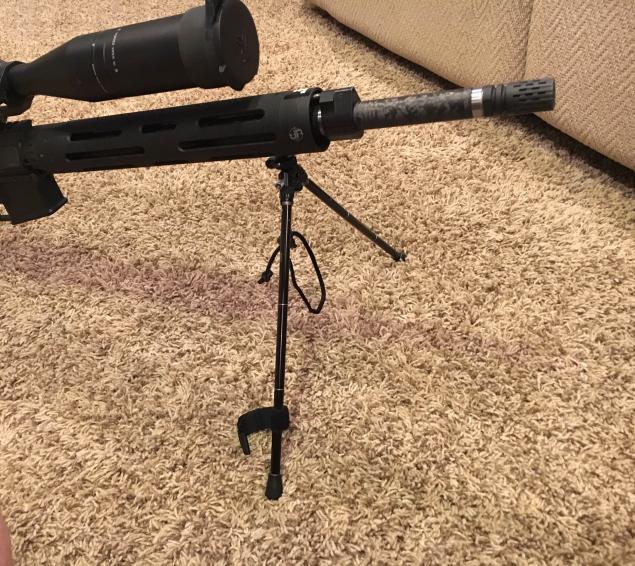 When I received the products, Terry was fast to get on the horn with me and make sure I understood each function and benefit. It seems this is something that he does on a regular basis with his customers to help them understand the key points about the products which thus improves the the end-user experience.
I have been using the SnipePod V2 on a couple of rifles in two versions. The longer 27″ model allows me to shoot from a seated position and the 13″ model is meant to be used from a prone shooting position.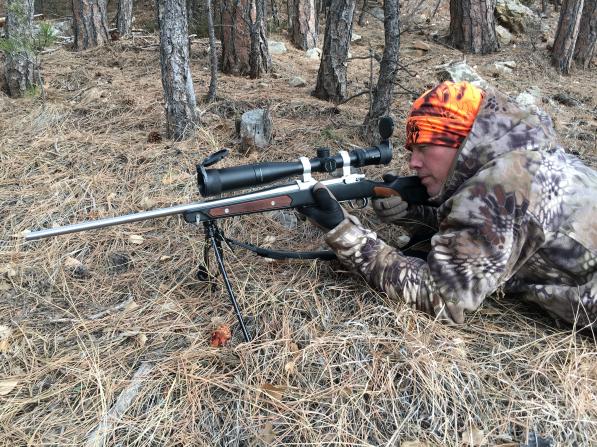 The SnipePod in both sitting and prone version steadied my rifle well enough for shots that I would likely encounter in a hunting situation. I had no problems keeping my rifle solid at the range either with longer shots. Some like to preload their bipods to help steady the rifle. With this system you cannot do that as the ball sockets rotate when you push forward. Preloading bipods is another conversation for another day as some will argue that it helps while others feel it doesn't. I, however, am not a preloading-bipod type of guy so the system works well for me.

When leaving the SnipePod attached to your rifle, you can easily store the legs forward towards the barrel and secure with the provided straps.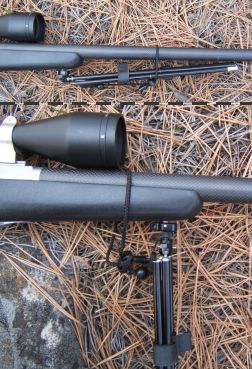 KDC SnipePod attached to front sling stud

The SnipePod attaches to your existing sling stud and locks into place by a set screw that puts pressure against the stud. There is also a sling adaptor on the SnipePod so you can still attach your sling as before.

The 3L-V2 adds a third leg so that you can now use the bipod as a tripod which is very versatile and saves weight through rendundancy. The SnipePod with the 3L-V2 Tripod conversion allowed me to use my 12×50 Vortex binoculars or my 11-33x50mm Vortex spotter on the same riflle hunting trip without dragging along both a tripod and a bipod. There is also an option of adding the RSS, OBA, and Bino Tower to the SnipePod system.

KDC Rapid Release System (RSS) with Optics Balance Adjuster (OBA) and Bino Tower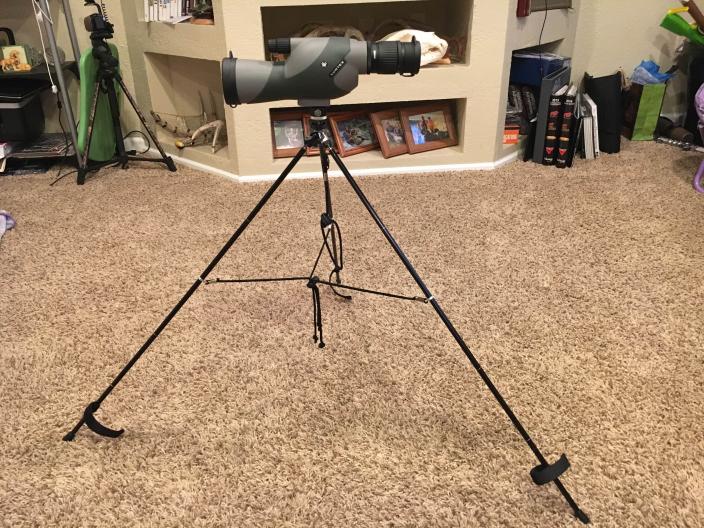 SnipePod with the 3L-V2 conversion and Triple-string tensioner

The KDC RRS paired with the Bino Tower and OBA atop the 3L-V2 SnipePod Tripod conversion

The RRS is simply a shoe and a foot that function as a quick release allowing a fast switch between optics. The OBA allows you to adjust the system so your optics balance perfectly and you don't have to use as much tension on head adjustment ring (see lead photo of this review). Even better, you don't have to continually fish for a useful field of view when you finally spot that big bull headed for the timber. The OBA is revolutionary and it's true value can only be fully understood by using it. The Bino tower is also a quick attach system that allows you to quickly remove it when not in use. Again, this gear is measured in mere ounces so taking it along on every backcountry hunt is never an issue.

I like the weight savings and versatility. The tripod conversion really shaved some weight off my pack as I don't have to carry my heavier tripod any longer if I am not taking my big optics with me.

There is obvious weight savings on my rifle as well with an ultralight bipod in both the sitting and prone version. The sitting version is a mere five ounces or less in the various sizes that are offered! The prone version of the SnipePod V2 is right at two ounces! Be careful though as you get into the 11 ounce range with a standing version! Lol! But I promise, you still won't notice the weight. You can decide which height version you need by looking at the chart near the bottom of the page here:
I can easily carry the Tripod in my cargo pocket of my pants and never notice it's there.


The design and construction of the products are very precise and well thought out. The links below go to the products I specifically tested and used in this review. Terry's website is very good at demonstrating how all his systems work and even includes live graphics:
Rapid Release System and the Bino Tower:
Limitations:
Keep in mind that you are limited to the size of optics as the legs and head will only support so much weight and the larger the surface area of the optic, the more the system is affected by wind, i.e. a binocular with smaller profile than a larger spotter will deflect less wind and stabilize better. These are some of the approved optics that can be used with this system:
• Vortex Razor 50 11X-33X
• MINOX Spotting Scope MD 50 and MD 50X
• Opticron MM3 12X-36X
• Leupold Golden Ring 15-30x50mm Compact
• Nikon Fieldscope 13-30x50mm ED straight or angled
• Brunton Echo Compact 12-36X50
Or any other optic that falls into that class, size, and weight (further discussion here).
That weight you lug up the hill in standard bipods and tripods actually helps maintain stability for the optic. With KDC products being so lightweight, you give up some of that inherent stability. Terry introduced some design features to offset this. The 3L-V2 Tripod conversion comes with a triple-string tensioner. By adding weight to the tensioner, this will noticably increase stability.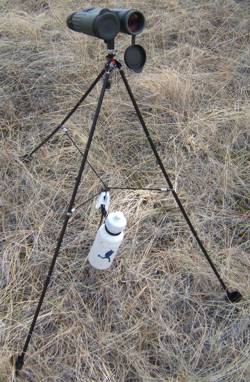 The tensioner has CNC machined clips with a slot that allows you to slip it between the joints on the Easton tube ferrule. Once the leg is assembled, the internal bungee cord holds the clips in place. Install the clips on the second ferrule from the top of the leg. Spreading each of the three legs out just enough to introduce a slight bow to the legs will further enhance stability. Attach a water bottle or other weight to that string to add stability to the tripod. Like any tripod, stability in the wind can be an issue. With the stabilizing weight, and using natural windbreaks, I usually was able to stabilize my optics just fine. The other limitation is the size of optics you use with the system.

I really enjoy using the SnipePod with the tripod conversion on both my small spotter and my 12X50 binos. Shaving weight is a big concern with many and KDC gives you that option for sure. I won't go into the backcountry without them! The RRS works and is easy to switch between two optics or camera, and the weight goes unnoticed!

The lightweight design makes it very easy for me to take with me on my hunts. I don't notice the tripod in my pack or even in my side pocket of my pants because of its compact and light-weight design. It has become a staple in my day trips out West after antelope and mule deer in the prairie. For glassing above timberline I generally have my larger spotter and tripod with me on these hunts but this system has me even rethinking that. At any rate, I don't see me leaving home without these products any longer. Comparatively speaking, KDC products are fairly priced, too. I believe the KDC line is a must for any weight and bulk conscious hunter out there. This system will take you one big step closer to being a true minimalist!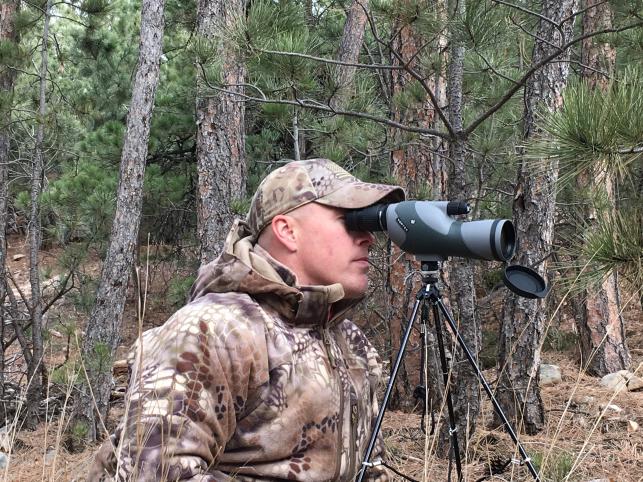 SIDEBAR

KDC Granite Peak Tripod

By Robby Denning, Rokslide Co-Owner

I first saw the KDC line at the 2016 Western Hunting & Conservation show in Salt Lake. I won't lie; I thought products that light would never practically work nor stand up to field use. A year and one hard season of use later, I've changed my mind.
I received the Granite Peak Tripod (GP) in 33″ height with the Rapid Release System (RSS) and Optics Balance Adjuster (OBA) accessories in August of 2016. After one 15-minute phone call to Terry Kramer, owner of KDC, I was familiar enough with the system to go afield. Over the next 60 days, my GP saw over 20 days hard use under various optics, including quick deployment as a rifle rest for harvest of my 10-year old son's first muley buck.

When paired with optics on the lighter end of the scale, and with wise use of the OBA and triple-string tensioner, the GP will save you not just ounces, but pounds. The head is functional, and tough (mine has not lost any grip on the ball even though I've overloaded it several times) and easily allows for different height adjustments even over rough terrain. A simple shake will assemble the legs to full length 90% of the time. The RRS functions as it should (be sure and tighten the knob or you'll dump your optic), and the OBA allows for easier glassing with unbalanced optics.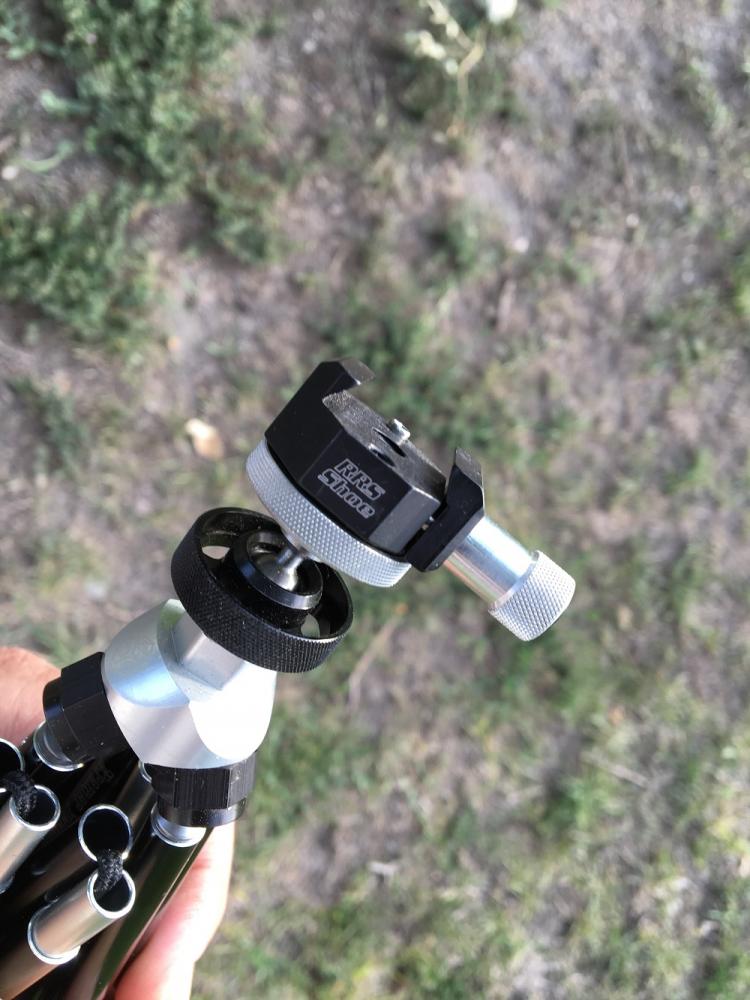 I've always longed for a tripod that could fit in a fanny pack and I've finally found it. When I'm in new country where I've not yet located the target buck, then I'll suffer with bigger optics and tripods. But once I've narrowed down where I think Mr. Big lives, especially if it's a backcountry hunt where weight is crucial, it will be the Granite Peak Tripod in my daypack. For a video overview of the Granite Peak, click here.

You can ask Jared or Robby questions or discuss this article here. By clicking on that link, early readers can enter to win either a 3L-V2 SnipePod/Tripod or a V2 SnipePod & Granite Peak Tripod (RSS/OBA can be purchased seperately)