When selecting the perfect backpack bag for you, there is a lot of different criteria to consider.   What kind of hunting do you do? Where do you hunt? How long do you hunt? What kind of gear do you have, and how good is its quality? How much are you realistically able to carry?   What can you afford? The questions are almost endless to narrow down your selection.   After you have refined what you need in a backpack, it becomes mostly a matter of personal preference.  When looking for a pack bag myself, I want the biggest bag possible that covers all my needs from western hunts for elk and bear, to public land whitetail and turkey here in Missouri.  The Ma Deuce from Kifaru seemed to fit my needs and even though it is a departure from my usual style pack, I wanted to give it a try.
Kifaru Ma Deuce
After the warm reception of the 22 Mag and 44 Mag, Kifaru decided to keep a similar style with the same features but give those of us who prefer larger capacity another option in the Ma Deuce. (More info here) At a big 7900 cubic inches of total carrying capacity, the Ma Deuce comes in at a full 3500 cubic inches larger than the 44 Mag. The only pack larger in Kifaru's lineup is the Crater at 8000 cubic inches.  The Ma Deuce's main compartment is 5800 cubic inches by itself.  It has PALS on the inside against the frame and zippered mesh pockets on the inside front panel with top and front access made possible through a matched pair of zippers up top and two single sliders on the bottom fronts.
It has a built in lid that has top, middle, and bottom zippered compartments to keep your small items accessible.  Two large zippered side pockets will hold most large spotting scopes with room to spare.  This is my Swarovski ATS 80 in the side pocket. As you can see, it could probably fit another one in the same pocket with it!
Ma Deuce Compression Straps
Two sewn-in lower compression straps and one top compression strap were designed to hold your gear in place.  There are two additional straps on the bottom of the bag for lashing gear as needed should space become a problem.  PALS webbing on the outside front panel allows for customized outside organization or strapping points.  All of these features and capacity come in weighing at 3 lbs. 12 oz., only 4 oz. more than the 44 Mag.  As always with Kifaru packs, the Ma Deuce is American made and is Berry compliant.
Ma Deuce Specs
Weight: 3.75 lbs / 1.7 kg (bag only, frame required for complete pack)
Volume: 5,800 ci / 98.3 L main bag capacity
Main Bag Dimensions: 28″ / 71 cm tall x 15.5″ / 39 cm wide x 12″ / 30 cm deep
Overall Volume with side pockets and top pocket: 7,900 ci / 129 L
Fabric: 500d DWR coated Cordura
External features
Side Pocket Dimensions: 22" / 55.8 cm tall x 9" / 22.8 cm wide x 4" – 6″ / 6.35 – 15.24 cm deep (depending on load)
Side Pocket Volume: 800 – 1,100 ci / 13 – 18 L each (depending on load)
Top Lid Dimensions: 12″ / 30.4 cm x 14″ / 35.5 cm x 3″ / 7.6 cm
Top Lid Volume: 500 ci / 8.2 L
Top zippered slot pocket with 2 key holders
Full length Pals panel
Tab loops allow for the addition of top lids such as the Bane pack
3 side compression straps
2 bottom compression straps
Built in meat shelf
Internal features
Chamber pocket
Water bladder hanger and dual hose ports
6 x 8 Pals panel
5″ / 29 cm tall x 14″ / 35.5 cm wide vertical zippered mesh pocket
5″ / 36.8 cm tall x 14″ / 35.5 cm wide horizontal zippered mesh slot pocket
Ma Deuce Testing
I received the Ma Deuce in early spring.  I put it to work right away while turkey hunting locally, scouting, and on training hikes. Then as the year progressed, I've had it on back country archery elk hunts in Colorado.  I will finish the year with whitetail, turkey, and Eastern bear.
First Impressions
My first impressions of the Ma Deuce were not as good as I had hoped, but it was not really the fault of the pack.  The build of the pack is the same rugged construction I've become accustomed to with Kifaru packs.  I really like the Ranger Green color.  I mentioned earlier that the Ma Deuce is different than my usual style choice and initially I found this frustrating.
I have been using the wing style packs like the Fulcrum, EMR 2, and Nomad 2 for the last few years.  The Ma Deuce doesn't compress quite as well as they do when its nearly empty.  I also wasn't thrilled with the sewn on straps, because I prefer straps that I can move or remove as needed and K-clip compression straps work better at compressing an empty pack.  In real use, once I got over the fact that this was just a different type of pack, none of those things were a problem at all.  I never carry a completely empty pack and it compresses fine with even a small load, so my complaints were mostly just imaginary scenarios that never happened.
Efficient and Fast
Once I started using the Ma Deuce, I noticed an odd familiarity. As an EMT, I soon realized this pack has almost the exact same layout as our jump bags on the ambulance. This familiarity made real-world use a breeze because emergency services equipment is typically designed for efficiency and speed. The more I used the pack, the better I liked it.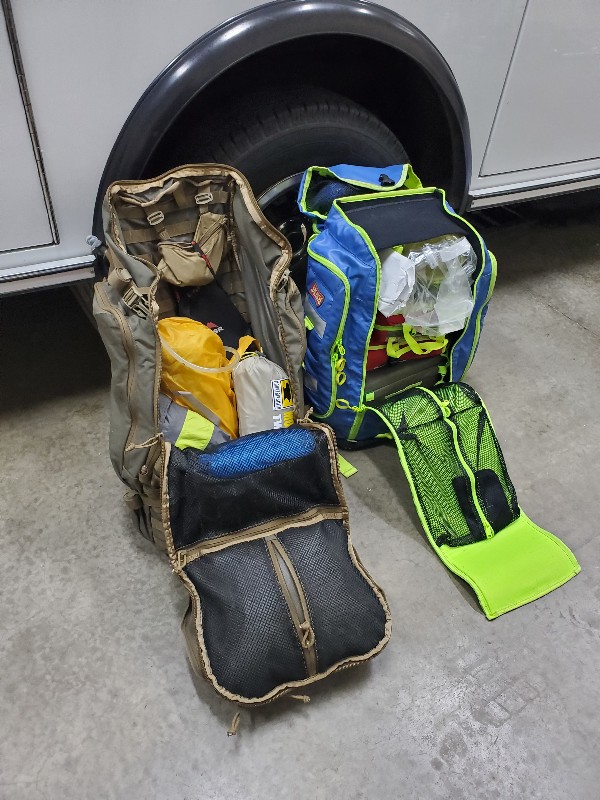 Real World Capacity
If you have never had your hands on a 7900 cubic inch pack, it's nothing short of massive.  The Ma Deuce easily managed my entire archery elk load out of an UGQ 0 degree quilt, Exped UL9, Mountainsmith LT shelter,  dry bag with spare clothing and base layers, Olicamp XTS pot and stove with fuel canister, possibles pouch/ first aid kit, kill kit, 6 days of food, 4 liter MSR dromedary bag, Steripen, Sawyer Squeeze water filter, Gopro with two spare batteries, Novagrade digiscoping adapter, Garmin Inreach Explorer, Swarovski ATS 80, Slik 636 tripod, and a Kifaru Lost Park Parka.  With all that on board there was still a lot of room left.  Taking my family on backpacking trips where I am going to have to carry a good bit of their gear will be much easier with the Ma Deuce's carrying capacity.
I even found some uses for it that are beyond its design, such as using it as a kid carrier when my little hunting and training partners get all tuckered out.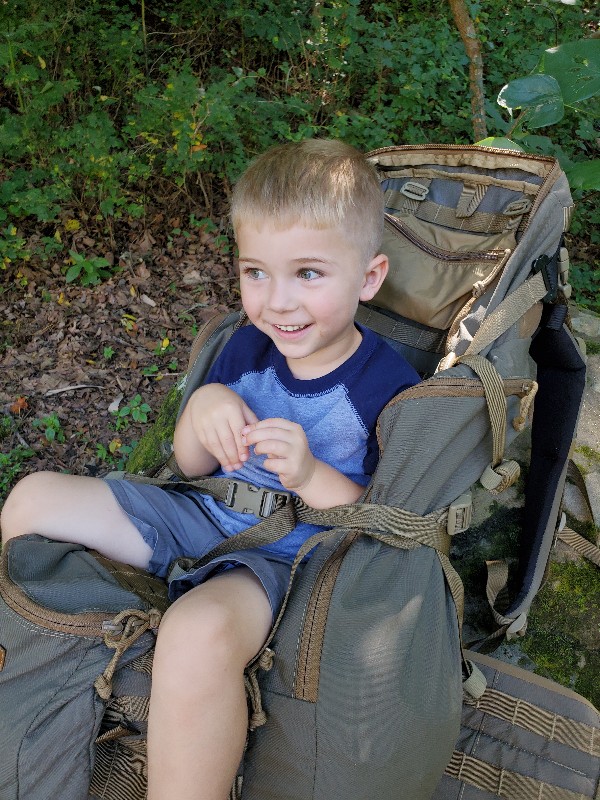 Ma Deuce Lid
Before the Ma Duece, I thought I only liked detachable lids, but after using its built-in non-detachable lid, it would be hard to go back to fussing with a detachable.  Some people might criticize the bag for not being the lightest but taking into consideration that it has a built-in lid, it's usually a wash or close to it by the time other packs add one.
Whitetalil Hunting With The Ma Deuce
As much as I love Western hunting, I also love Whitetail hunting here in Missouri and get to do it a lot more.  I always try to find a pack that is compatible with the type of hunting I do here as well. The Ma Deuce fits this bill better than any of the other packs I've had in the past.  The meat shelf allows me to carry my Lone Wolf climbing tree stand between the bag and the frame, while leaving the bag available for meat and gear.
Dislikes
There are a couple things that I don't really like. I still wish the straps were not sewn on and were K-clip compression straps that allowed me to move them or remove them.  I also don't really like the lock-out loops for the zippers.
They are kind of a pain in the butt at night or with gloves on.   Both of those things are relatively minor inconveniences though and adding a couple extra compression straps is not a big deal.
Conclusion
All in all, the Ma Deuce really surprised me.  I can unequivocally say that my initial impression was wrong.  After using the pack for the last 6 months, I would say it's probably my all-time favorite pack.  For those of you looking for one do-it-all pack, I think the Ma Deuce is as close as it gets.  If the Ma Deuce is a bigger bag than you'd like, take a look at the 44 mag or even the 22 mag.   Take into account that the Ma Deuce is an American made product backed by the best customer service and warranty in the business, you can't go wrong.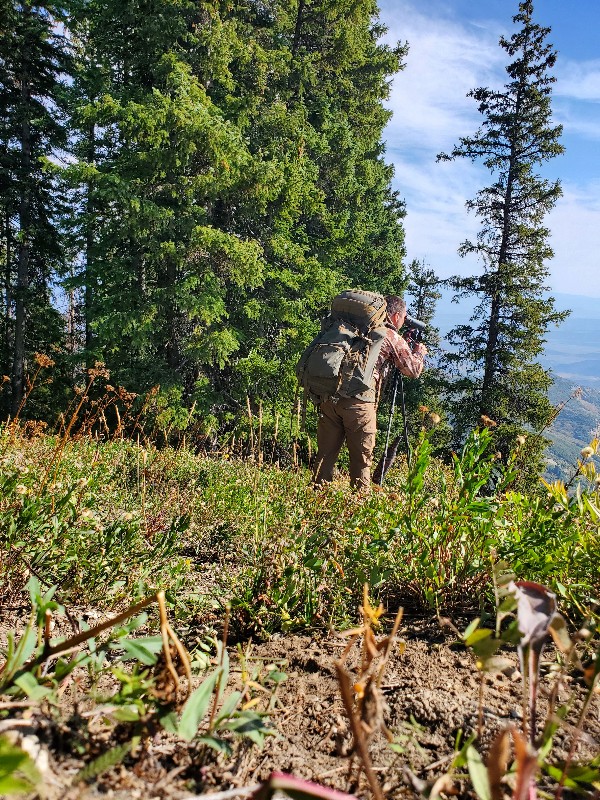 Comment on this review of ask William questions here.
Check out the rest of our pack reviews here.