Winterkill is one of the wildcards a mule deer hunter has to contend with.  You can't predict it nor can you ignore it.  It will affect you at some point…
Just today, I read one Oregon study that showed 32% mortality on adult does in Baker County!  Adult does are usually the last to tip over so I can only guess how many bucks they lost.
As I've said in previous posts, unless the winterkill is catastrophic, you can still expect big bucks to be available come fall. Let's take a look at some of the bucks I've taken in the years following bad winters.  Because I lab-age all my bucks, I know exactly how old they were when winter's grim reaper showed up.
Anecdotal Evidence
Anecdotal evidence simply means "based on or consisting of reports or observations of usually unscientific observers." These reports can be all over the place depending on who you're asking.  I can only share my own anecdotal evidence based on decades of hunting experience and let you draw your own conclusions.
As I wrote in my book Hunting Big Mule Deer the winter of '92/'93 was the worst I've lived through.  Success rates on deer plummeted almost West-wide.  When success rates drop, many deer hunters either quit or expend much less effort.  While it was very tough hunting the following fall, a few big bucks were still killed by the serious hunters I knew.  I even managed to turn over a 180″ buck.
1994-1996 was even better for some really big deer (although success rates stayed low because the deer population struggled to rebound) as those prime-age bucks that made it through the tough winter had another two years on them.
I killed the biggest buck of my life in 1996.  Lab aging proved that he was 5.5 years old and was born in June 1991.  Doing the math, he entered the winter of 1992 as a 1.5-year-old buck.  The generation below him likely experienced near 100% mortality, yet he survived and went on to grow fantastic antlers.  I first found him in 1995 when he was in the 190's as a 4-year old but exploded to over 230″ by 1996.
This 230″ buck survived one of the hardest winters in the last 30 years.
In 2008, after a very intense winter not unlike the one we just experienced, I hunted hard for a week during the early rut.  I saw just a few bucks where I'd seen dozens in the year prior.  On the second to last day, I found this buck bedded with a doe.  He was heavy with an inline so I didn't hesitate.  The lab aged him at five years old
I took this five-year old buck the fall after the very intense winter of 2007/2008
In 2014, I killed a very large-bodied 8-year old buck. Lab aging proved that he was born in 2006 (a low fawn production year) and lived through two hard winters: 2007/2008 as a 1.5-year old and 2010/2011 as a 4.5-year old.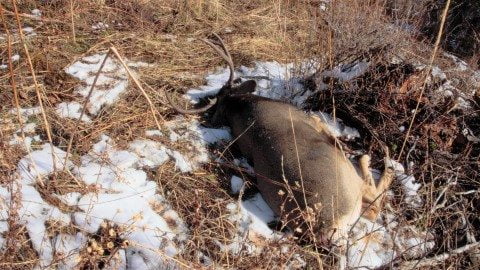 I estimated this 8-year old buck's live weight at over 300lbs.  He lived through two very hard winters.
In 2015, I took a 187″ buck that lab-aged at seven years old.  He was born in 2008, another low fawn production year, and lived through the 2010/2011 winter as a 2.5-year old.
A 7-year old buck that lived through the 2010/2011 winter as a 2.5 year-old.
Finally, I killed a buck in early November 2016. He had no fat left on his rump despite being taken very early in the rut.  His molars were very worn.  The taxidermist estimated that he was at least eight years old.  I've learned lab-aging is the only accurate way to tell and wouldn't you know it, he was six years old.  While I can't explain his tooth wear or low body fat, I do know that he was born in 2010.  He went into the very hard winter of 2010/2011 as a six-month old fawn.  Data by Idaho Fish and Game showed that we experienced heavy fawn losses that year, yet he made it through.
This buck was one of the few surviving fawns after the winter of 2010/2011

My point in all this? While we'll certainly have a tougher fall in some units, don't think that we've lost all the big bucks for years to come.  I predict that even in the hardest hit areas, a few really big bucks will be available to the persistent hunter, both this year and in the following years.  As for me, I'll hunt in some winterkill units, but I'm spreading my risk out by applying for some hunts where winter wasn't so tough.  You might consider the same.
Next time, let's talk about the hot topic of exactly where to hunt this fall.  There's some surprising research on the subject that I'll share.
Question: have you ever taken a good buck after a hard winter?
Be sure and subscribe to the Rok Blog, upper right at the envelope icon so you don't miss a post.
Read about essential tactics for mule deer hunting in my book, Hunting Big Mule Deer