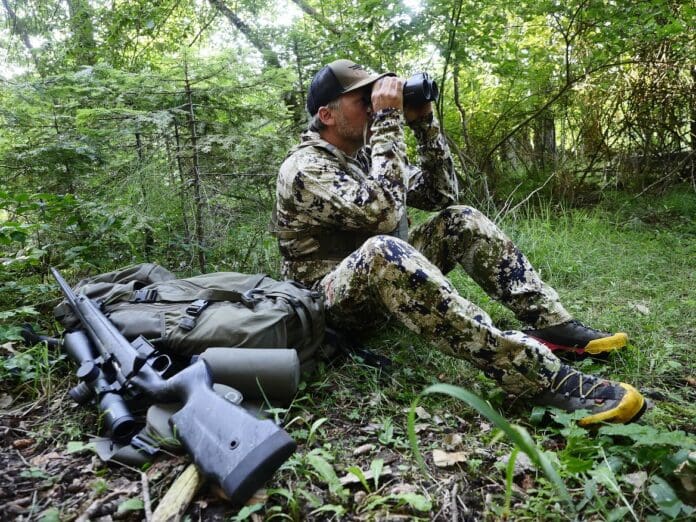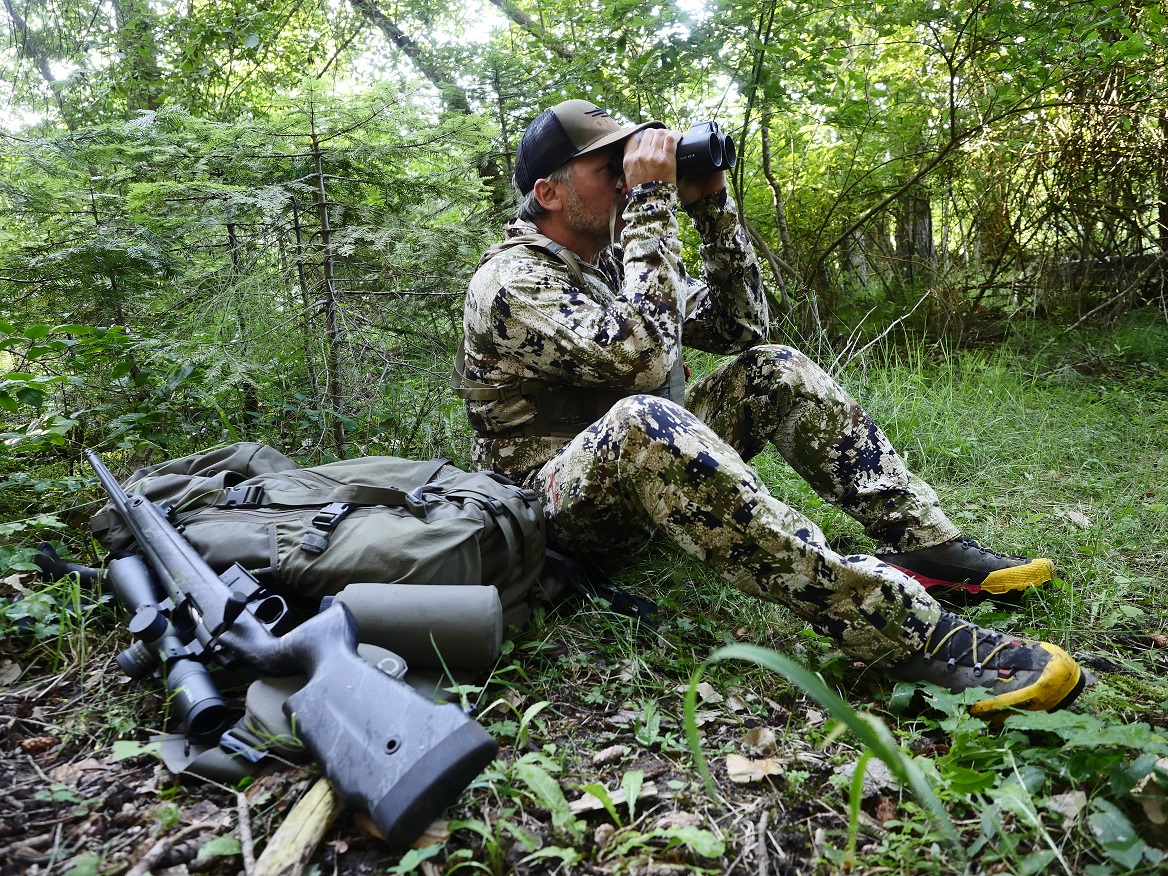 The Sitka Apex pant has been my go-to pant for most of my archery elk and mule deer hunts since its introduction in 2018 (read Tony's review on those here). I wear the pant throughout September and a large part of October while bowhunting, and it has performed exceptionally well. Everything about the pant is functional and quiet, with well-designed features like pocket layout and knee pads.
Sitka Intercept Pant
This spring Sitka Gear updated the Apex pant, renaming it the Intercept. Weighing 19 ounces on my scale, it continues to be a highly versatile garment designed to meet the demanding needs of mountain hunters. The three big updates incorporated into the Intercept are a new fabric, redesigned kneepads and pad pockets, and integrated side-zip thigh vents. All three additions make for major improvements over its predecessor. Available here.
The most apparent upgrade is the addition of thigh vents to the Intercept. They are a one-way zipper that starts a few inches below the belt line and terminates slightly behind the thigh cargo pocket. It has an overall length of 14 inches in the 34 regular size.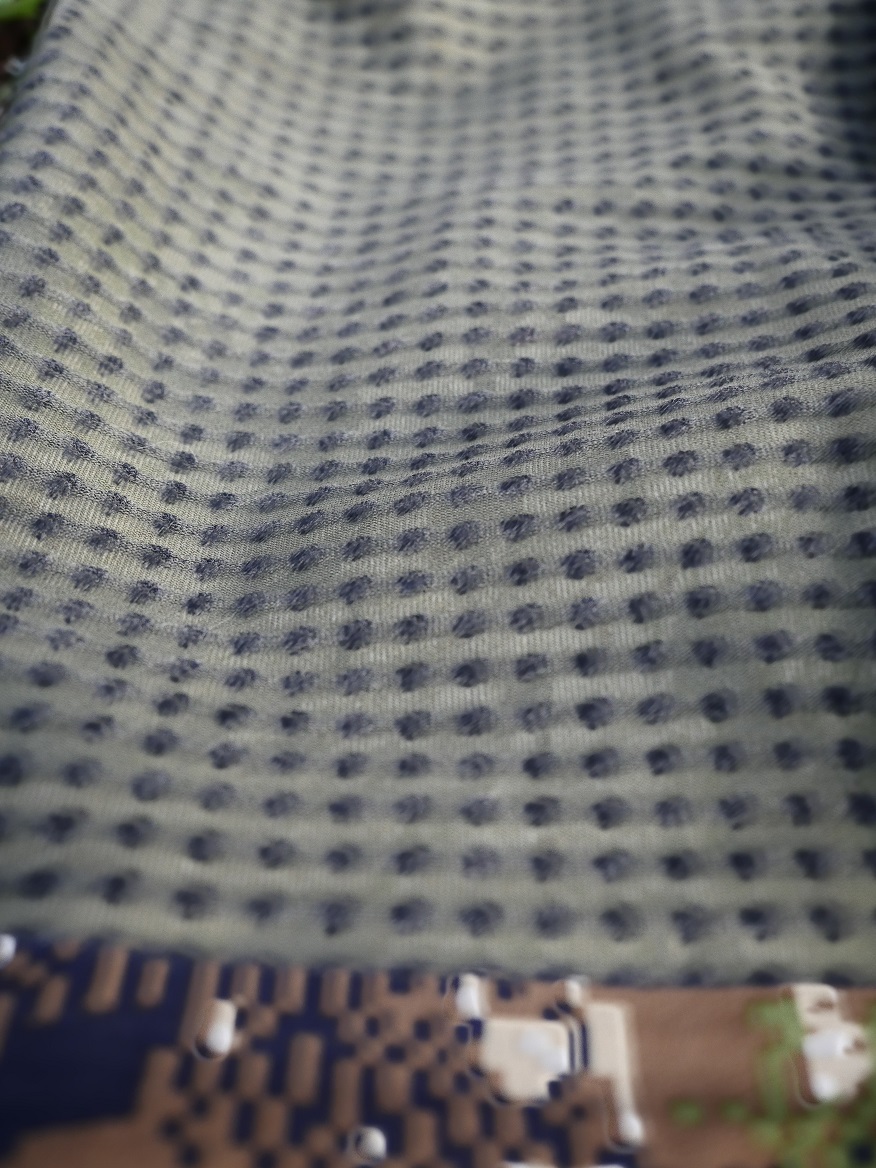 The new fabric is a raised merino-poly blend grid backer (to help with odor control), and the bonded face layer is a nylon fabric that is more impervious to tears, holds a printed pattern better, and is still quiet. The new fabric was selected with durability in mind, yet these pants offer exceptional performance in various conditions and temperatures.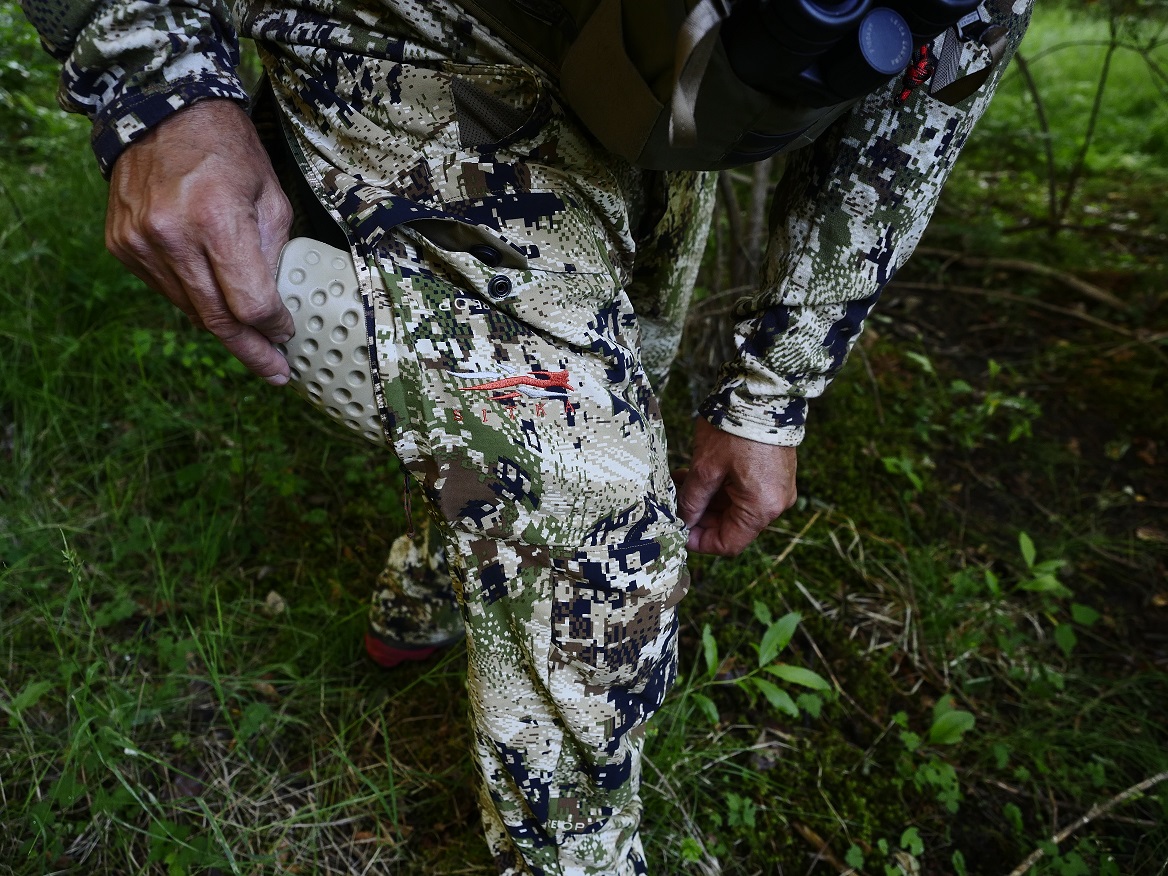 The third update to the pant is a newly designed kneepad and kneepad pocket. The kneepads are D30s, ergonomically shaped, and more compliant with knee articulation. Overall, the new pad is smaller in size than the older version but thicker in the center and tapering toward the edge. They offer better impact resistance and are more breathable than the old version. The kneepad pockets are "top loading," meaning the pad can be removed or inserted from the top through the thigh vent. This can be done while wearing the pant making for effortless changes.
The detailed description can be found on the Sitka Gear website here.

This pant was worn throughout the spring bear season in heat, sun, wet weather, snow, and heavy brush and has been seamless in transitions between activities (glassing, hiking, stalking) and weather conditions. Here is an in-depth look at the Intercept Pant.

Versatile Design and Fit
The Intercept Pant's design is trim and efficient, meaning there isn't loose fabric bunching to snag on brush and blowdown or flapping, making excessive noise. The cuffs fit nicely over a boot top for a tapered fit. The articulated cut of the pant combined with the stretch nylon fabric offers unrestricted movement hiking up steep mountains or climbing over a sea of blowdowns.
There was no chaffing in the legs or hot spots under the waist belt of my pack. The zippered thigh vents are a welcome addition to these pants, making a formerly really good pant (Apex) excellent. Opened all the way, heat quickly moves through the lengthy opening, and partially opened modulates how much heat is retained.

Exceptional Durability
The construction of the Intercept Pant is top-notch, without any fraying seams or fabric. The new nylon-faced fabric has been very durable without any punctures or tearing during the test, nor has the pattern faded with heavy use. The zippers are rugged and are still working perfectly. These pants have held up to rough terrain, bushwhacking, and abrasions without compromising their integrity. The knees have not shown any wear from kneeling, and the D30 pads have not been damaged either.
Noise Level
The fabric used in the Intercept Pant does not produce excessive noise during movement. In quiet environments, it is barely perceptible. The cargo pocket construction is tidy, with mesh dividers to keep items from banging together, and the snaps are silent and secure. This pant is made for close-range encounters.
Weather Protection
The bonded merino wool blend stays warm in colder temperatures but dries fairly quickly. The face fabric repels light rain and blocks mild breezes, maintaining warmth in exposed environments. The pant manages internal moisture well with the grid-backed fabric, mesh-lined pockets, and large thigh vents. In really cold weather, adding a base layer would give these pants the ability to be used in some late-season conditions as well.
Overall thoughts
The Sitka Gear Intercept Pant is functional, durable, and performs well at close quarters. Its well-thought-out design and features make it an excellent choice for early and midseason hunts and beyond with proper layering. It has a very trim fit, and outstanding durability and operates in diverse weather environments. Overall, the Intercept Pant is a great upgrade to its predecessor with a new fabric and new features. It has replaced my old favorite pant and will be heavily relied upon this September and October chasing elk and mule deer.
Price: $289

Sitka Intercept Hoody
The companion piece to the pant is the 14-ounce Intercept Hoody. It is a high-performance mid-layer made with an advanced merino wool fabric technology called ArmorSpun. It is a blend of merino wool and nylon that is said to be more abrasion resistant than standard merino yet retains all of its natural benefits like warmth and odor reduction. Available here.
The hoody has a center zipper that stops mid-torso, a contoured hood, and an integrated mesh facemask. The elbows have removable pads and a small zippered chest pocket. This top is incredibly soft and completely silent.
During testing, I wore the hooody over a very light base layer, and it was exceptionally warm and served as an outer layer on cool spring evenings. When worn directly as a base layer, it comfortably controls body temperatures and offers decent moisture management. Comfort under a pack harness was exceptional and was smooth and comfortable against the skin.
Merino isn't known for its durability, but during the test period, the top didn't develop any punctures or tears. The Intercept Hoody was designed to withstand typical hunting use, and it held up fine in extreme environments and rough terrain. Activities that involve constant abrasion or encounters with sharp objects may cause wear and tear over time. Overall, this quiet, durable, and comfortable piece is the perfect top to pair with the Intercept pant.
Price: $249
When a company takes great gear and makes it even better, I'm in! That's what Sitka has done with the Intercept Pant & Hoody.
Comment or ask Josh questions here.