A faded old picture of a Bibler tent pitched on a narrow shelf, high up a broken ridgeline with a backdrop of equally impressive mountains. No caption is necessary to know exactly what the hunter was doing. It's a classic picture from Alaskan sheep hunting. Sleeping up high, tucked away just out of sight from their quarry, waiting for the perfect opportunity to strike. When Stone Glacier launched their Sky Solus 1-person tent, that's immediately the picture that came to my head. My second thought was could they do it, improve on a classic mountaineering tent that has stood the test of time? We reached out to Stone Glacier, and they graciously offered up the Sky Solus 1P for a winter review.

Stone Glacier Sky Solus 1P Tent
The tent out of the box pitched in its strongest form comes in at 4lbs 6oz. While that's not the lightest by today's standards, it's important to keep in mind what that weight brings to the table. Bombproof is a description that, in my opinion, gets thrown around too much, but with this shelter, I believe it's appropriate. There are also several configurations that you can pitch the tent, offering weight savings from a few ounces to several pounds.
The lightest combination I was able to come up with uses the bathtub floor, two poles, rain fly, and 8 stakes. In this single wall configuration, the weight dropped to a total of 2 lbs 11oz. I'll switch to that pitch this coming spring bear season until bugs become an issue. More info here.

Overview
Starting with DAC PL 10.65mm tent poles as this shelter's backbone, strength is clearly more important than shaving grams. An average ultralight backpacking tent will come with DAC NFL 8.7mm poles, which are very light but not equipped to punch in the same weight class regarding weather or terrain. When the 10.65mm poles are combined with the included WebTruss, strength increases even further. The WebTruss can also be left attached to the tent body and rain fly, allowing for a fly first pitch. This makes for a very fast and rainproof pitch, with the only issue being that the poles can get caught up in the attachment points that run along the WebTruss. Not a huge problem, and with a bit of finesse, the poles feed through easily enough. An impressive 14 tie-outs along the poles and side vestibules anchor the shelter securely to whatever terra firma the Solus is pitched on.

Unique Vestibule Design
What really sets this tent apart from the early Bibler tents is that it has vestibules. With the original, no vestibule design, your muddy boots or wet pack had to sleep inside with you. Using a creative design, each side vestibule can be pitched in three different ways. When fully extended, there is easily enough room for a pack to stay out of the rain. An unexpected bonus for the guys reading this is that you can have a wet side to take care of business in the middle of the night while keeping your pack and boots out of harm's way on the other side. Not having to leave your sleeping bag in the middle of the night is awesome for winter camping!
In gear sling mode, the tail of the vestibule loops back under the rain fly and hooks to the tent body. This allows you to suspend items off the ground which is extremely helpful when groundwater is present.
Lastly, the vestibule has a secondary attachment point that pins the fly straight down in traditional Bibler fashion. This configuration minimizes the tent's footprint, and in tight wall pitches, you can extend one vestibule and collapse the close side. Having one vestibule collapsed last year on a sheep hunt I was guiding would've been very helpful. Instead, I had to leave that vestibule loose with my other tent, which allowed the rainfly to touch the inner tent.

Interior Space
The side openings within the tent body took a bit to get used to, but after a few repetitions, I could move my gear in and out of them smoothly. Initially, I was concerned about a muddy boot through the tent scenario, but I don't see it as a deal breaker having used the tent.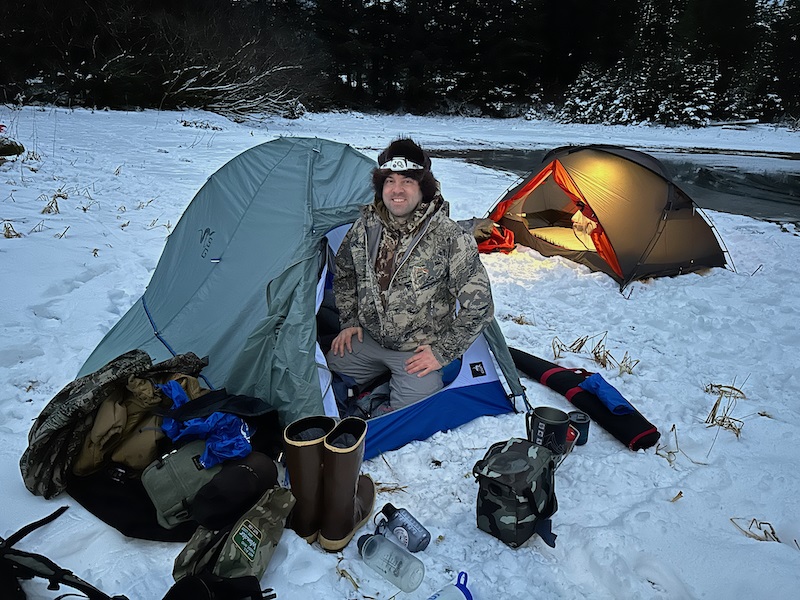 Another concern of mine was the internal length of the floor. Being 6'2", I cannot lay straight in the tent without my feet and head touching the tent wall. After speaking with Kurt from Stone Glacier, who is taller than me by 2", he suggested sleeping diagonally, which has worked well for him. On that note, I also believe it's why Stone Glacier lists the Sky Solus as a 1-person shelter, whereas Slingfin, who makes the tent lists it as a 2-person shelter. If you're under 6' tall, the tent could be used in a two-person fashion, but you'll be cozy with your partner. Having spent enough nights sleeping diagonally to give it an honest review, I'm not concerned about the length as a one-person shelter.
One option for the taller folks or when a 2-person shelter is needed is pitching as a single wall shelter with the bathtub floor. That really opens up the internal volume of the tent. Ultimately, if you're tall, it will be a person-by-person judgment call if the tent length works for you.
Great Interior Height
The interior height of the Solus is one of my favorite features. Sitting up without having to hunch over is an excellent start to the day. Having your gear tucked away in the side vestibules is an added benefit that never occurred to me until I didn't have to step over gear getting in and out of the tent when vestibules are your doors as well. The front door remains completely unobstructed while your gear stays tucked away under the rain fly. The front exit not having a vestibule will allow rain into the foot of the tent, but with my sleeping bag oriented diagonally, it's less of an issue. Also, the rainfly zipper has a small lip that acts as a gutter to funnel water away from the opening.
Moisture Management
This winter, I've had the Sky Solus 1P from -20*F to temperatures slightly above freezing just off the ocean. With anything more than a whisp of a breeze, it has handled frost and condensation as well or better than any four-season tent I've used. Largely the moisture management is helped by using the circular through-vent, which allows air to pass easily through the inner tent and rainfly when conditions permit. When airflow was nonexistent, and I left the Solus closed tight to retain warmth, the results were high condensation, as expected with any tent.

Standing Up To Wind
One evening a winter storm rolled in, and the wind picked up to a sustained 30mph. Getting out of the tent in the morning was miserable, but inside, it was completely frost free and staked out properly; it handled the wind as if it were nonexistent. Internal guylines help stabilize the tent in high winds.

A Couple Possibly Overlooked Features
There are loops to hang gear and other items on the ceiling, or you can tie a cord to hang socks/gloves/hats overnight to dry. Additionally, a second set of zippers are preinstalled to help prolong the life of the tent.
Conclusion
The Sky Solus 1P Tent has worked hard for me this winter and earned a permanent spot in my arsenal of shelters. Certain features of the tent take some getting used to, but they aren't necessarily downsides. Many of my initial concerns have proved to be much less of an issue than I was making them out to be. To answer my initial question of whether or not the Sky Solus could improve on a classic, yes, they've done exactly that. I'd go as far as to say that they've created a modern classic.
Comment or ask Kyle questions here.
Read more sleep system reviews.