Swarovski X5 3.5-18×50 Scope Review
Ryan Avery, Rokslide Co-Owner
If you talk with long range hunters very much, you will inevitably end up debating which scope is the best. While everyone will have an opinion, one thing we all will agree on is that if your scope does not dial correctly, then nothing else really matters.
When I found out Swarovski Optik was releasing a long range scope, I called and talked to my go-to Swarovski man, Rob Lancelloti, Public Relations Associate. I asked him A LOT of questions. He told me what he could, and promised me that I would have one in my hands for my upcoming fall hunts. In the meantime, he sent me some additional information on it, which I was all to happy to read.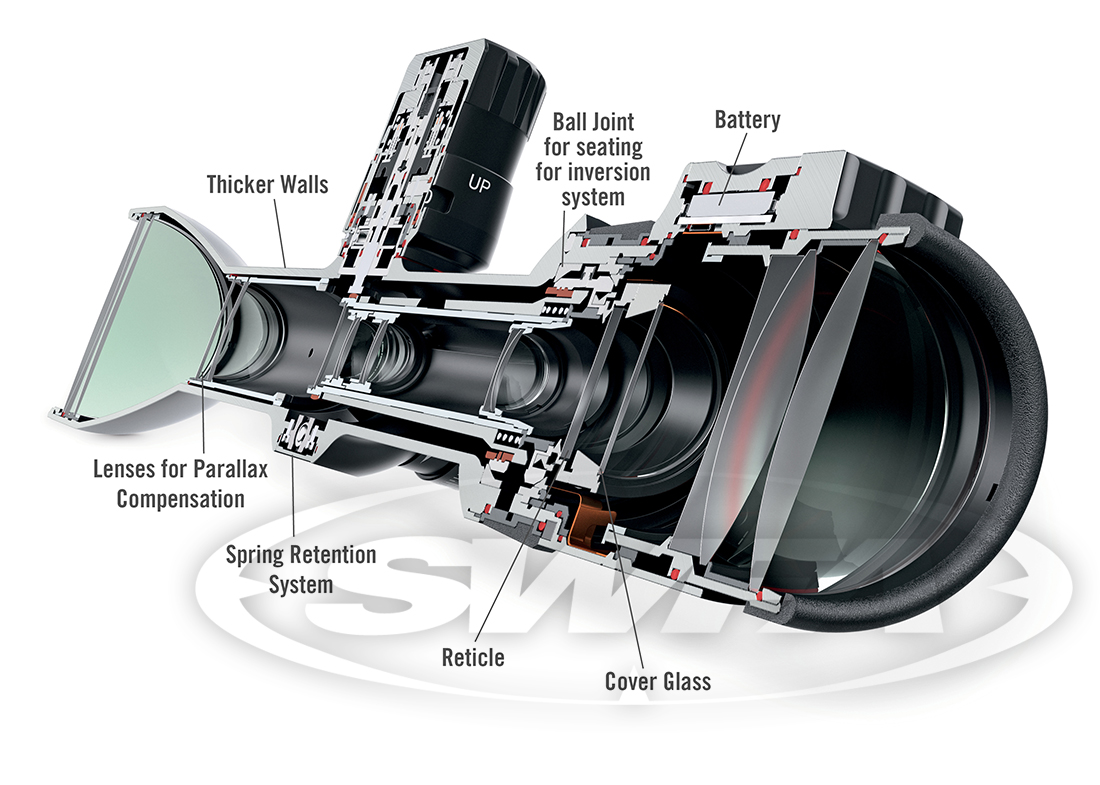 The X5 was built from the ground up for the long range hunter, taking over five years from conception to final product. The 30 MM scope tube is built thicker to handle more abuse from the hard hitting calibers. Its internal components that operate the elevation, windage, and parallax turrets are mainly Stainless Steel.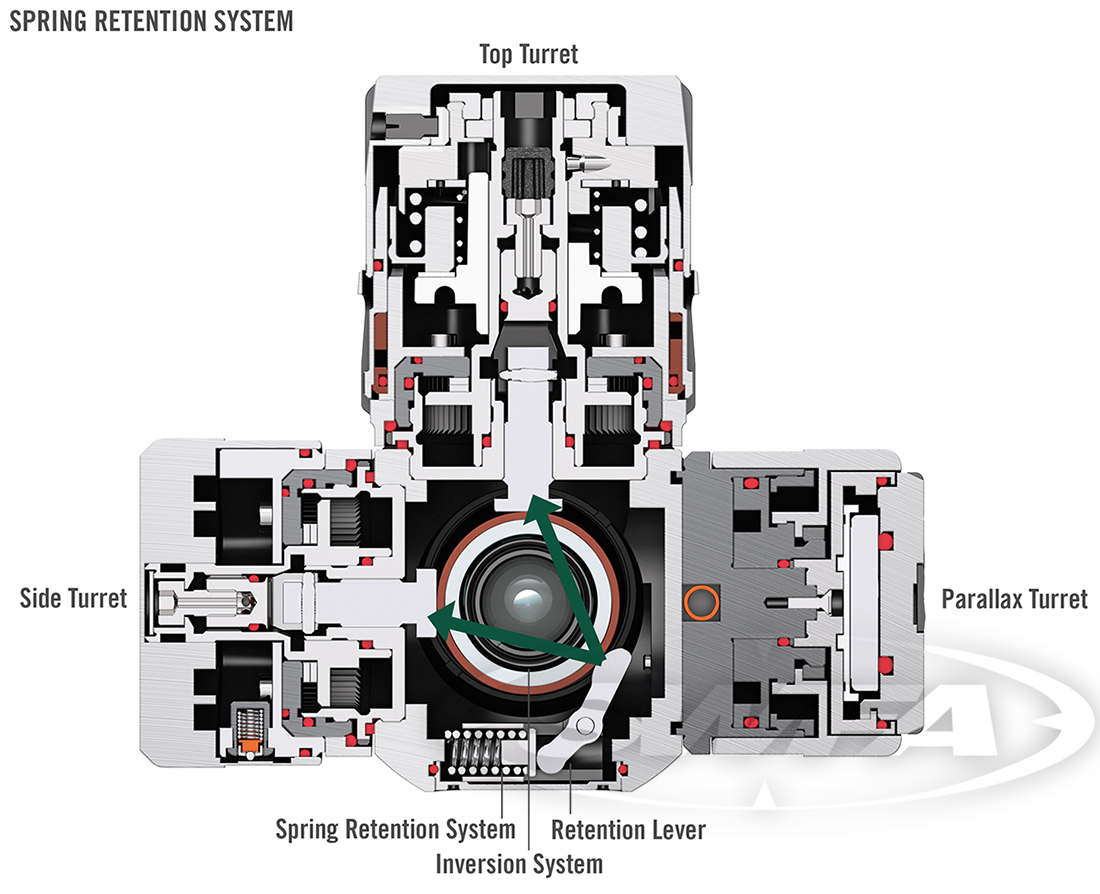 The X5 uses a patented spring retention system, unlike the 4-point coil system on Swarovski's other popular rifle scopes. Swarovski built the X5 for the long range hunting market, not the tactical market.
I received the X5 3.5-18X50 with the 4W reticle in early September. I tested it on two different rifles; first a 7mm Rem Mag then later on a 338 Lapua.
Over a 3-month period and several hunts for elk and mule deer, my wife and I shot over 600 rounds with the X5 from 100 yards to just over 2000 yards. This gave me enough time to become comfortable with the scope and its many features.
For this review, I'm not going to hit every detail of this scope, as there is plenty of information on Swarovski's website. But, I will touch on the details I think are important and what differentiates this scope from the competition.
Turrets
It's hard to miss the elevation turret. The turret caps are large and easy to use with gloves. The turret clicks are precise, and loud enough to hear and feel without looking at the scope. There is 20 MOA per revolution with 116 MOA of total adjustment in the 3.5-18×50. That's a lot of travel for a 30 MM tube.
One of the coolest features on the X5 is the revolution counter. It sits at the bottom of the elevation turret. This feature counts each 20 MOA revolution.
The X5 took 500+ rounds of abuse on a 9.5 pound 338 Lapua with zero issues.
If you have ever shot a long range under pressure, you know how easy it is to lose track of exactly how many revolutions you've made. It's also great for beginners. The windage knob is numbered to 10 MOA. The parallax adjustment knob was smooth, yet stiff, and easy to adjust.
Zero Stop
For all scopes that have exposed turrets, zero stops are a must in my opinion. They eliminate the 'what if' questions like bumping it when pulling in out of a scabbard or forgetting that you went up two revolutions at the range not three. Plus it gives you total confidence. When it stops on zero, it means zero. I have used five different scopes with zero stops. Most set up easy, but a few made me say some very un-Christian words. Thankfully, the X5 is quick and easy to set up.
Subzero
This feature is unique to Swarovski. The subzero allows you to go below your sight-in distance by sliding up the bottom of the elevation turret and dialing down 10 MOA below your zero. While this lets you take precise short-range shots, I just sight my long-range rifles in at 100 yards and can dial back down if I need to shoot close range. Some people might find the subzero feature helpful, but this old dog did not.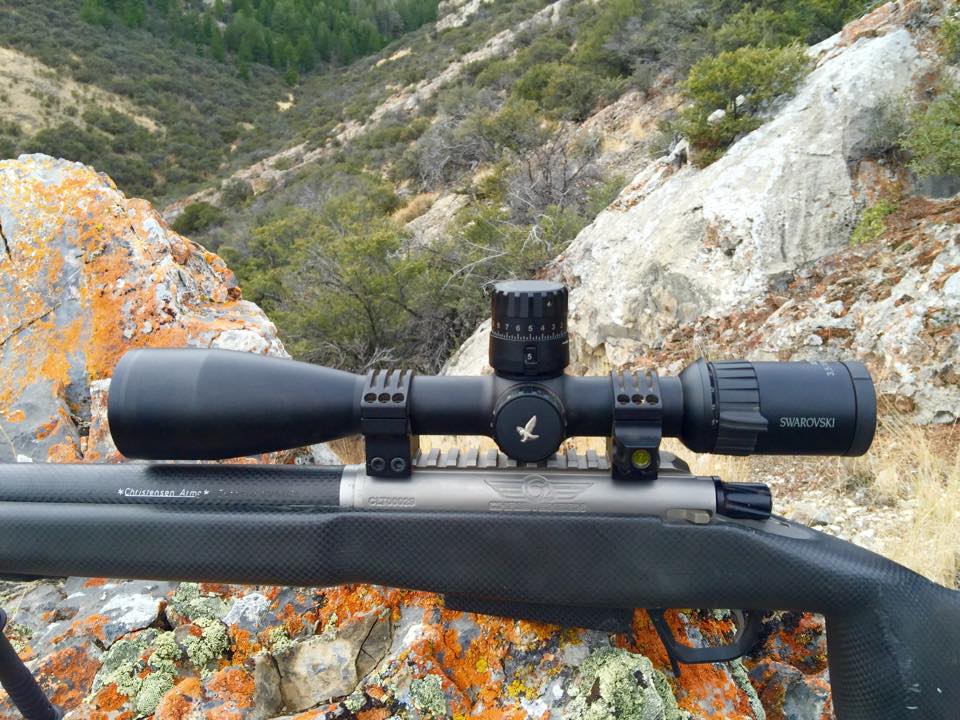 The X5 is very lightweight for a scope with this many features.
Glass
There's an old saying "You know it when you see it" and when you see Swarovski glass, you know it! The glass in the X5 is phenomenal. I had the opportunity to compare it to scopes costing $800 to $4,000, and it's second to none. Finding animals in the brush at long range is all about contrast and colors. This is where Swarovski glass excels and the X5 is no different.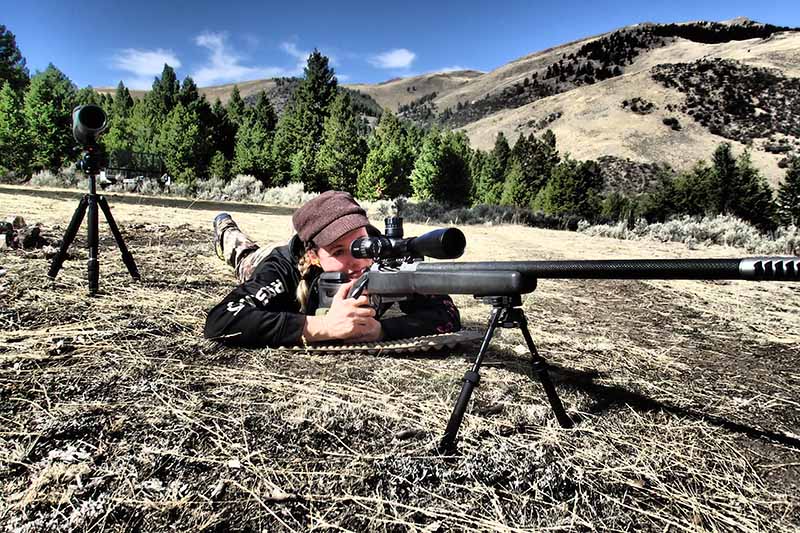 Glass so good, even your four-eyed friends can see the animals they were convinced you were making up!
Reticles
For this review, I used the 4W reticle in the non-illuminated version. The reticle was easy to see and I could practice well past legal shooting light. There are four reticles to choose from, all are Second Focal Plane. I also had a chance to look through the illuminated version of this reticle. It looked great, but the housing for the illuminating system sits on top of the ocular end of the scope. It's a little bulky and can block the view of a ring based bubble level.
In the Field
I followed the instructions, and quickly zeroed the scope at 100 yards with my Christensen Arms 338 Lapua. Knowing this gun well, I dialed up 12.8 MOA and smacked an 8″x 8″ steel target at 625 yards. Then, feeling cocky, I dialed 31.5 MOA and missed a 12″x 12″ steel target at 1145 yards by ¼ MOA. I guess this scope does not dial the wind for you.
I never did run a box test, but I did run the scope up 20 and 40 MOA on some cardboard then back to zero several times. I shot two rounds at each location. The X5 tracked perfect. Most of the 600 shots taken where in the 800 to 1600 yard range. I have total confidence the windage tracked correctly.
The X5 is feature rich and very easy to get behind and shoot.
My wife used this scope while hunting for elk. She never connected on an elk, but put a lot of 300-grain bullets into rocks and steel. She really liked the revolution counter and being a new shooter, she appreciated how easy it was to get lined up on a target with the X5, compared to other scopes she's tried.
Attesting to the versatility of the X5, I used it later on a Southern Idaho mule deer hunt with my business partner, Robby Denning. I ended up shooting my buck on the move twice, at less than 150 yards. This is why I love the 5x zoom range of the X5. With the scope set on 3.5, I was easily able to find the moving deer in the last couple minutes of legal shooting light in a nasty blizzard.
While the X5 is built for long range, it is also very versatile. I took this Idaho buck at under 150 yards with only a few seconds to prepare for the shot.
Pros
-The eye box on the X5 is big and easy to settle in with.
-The Revolution Counter
-Bitchin' Glass
-At 27 ounces on my scale, the X5 is lightweight for a scope with this many features
Cons
-I wish it had L and R on the windage knobs
-A company producing products at this level should come up with a better scope cover. Durable flip up covers would be nice.
-A simpler, less bulky illumination system
Value
I see it over and over—online, at the range, and in the woods. Hunters packing a $3,000 to $5,000 thousand dollar long range rifle topped with a $600 hundred dollar scope- that math doesn't work! With all the variables in Long Range Hunting. your scope should not be one of them. Most times in life you get exactly what you pay for and while the X5 will set you back about $3,089, it will ensure your long range rifle's maximum performance.
Other X5 3.5-18×50 features
• 116 MOA of adjustment
• 5x zoom range
• Newly designed turret and inversion system, built with stainless steel components, and a Patent Pending Spring Retention and Lever system that exerts the same pressure on both turrets in any position. This assures maximum accuracy, precision, and repeatability from the heaviest recoiling calibers
• 30 mm Main Tube, built with extreme precision and ruggedness in mind
• 20 MOA or 80 clicks per revolution
• Elevation turret has a viewing window to let you know what revolution you're on.
• SUBZERO function allows the shooter to go10 MOA below the pre-set zero
• ¼ MOA point
• SWAROTOP, SWARODUR, SWAROCLEAN coatings
• Parallax correction from 50yards to infinity
• Illuminated reticles with 10 brightness levels.
• 4 SFP reticles to choose from
You can discuss this article or ask the author questions here