Crispi Guide GTX and Hunter GTX REVIEW
By Billy Molls, Guest Contributor
For the past 21 years, my feet have been laced up in hunting boots more than any other type of footwear. I've spent 90-180 days each year guiding hunters in Alaska, and guiding across the West for elk, mule deer, and bighorn sheep. I've also been fortunate to do a little hunting here and there of my own. While hunting gear has drastically improved since I started, finding the ultimate hunting boot has eluded me.
This fall I spent 86 days across Alaska guiding in the Brooks Range mountains for Dall sheep and grizzly, the boggy Arctic flats for caribou, the rolling lichen-laiden hills of Western Alaska for moose and grizzly, and the timeless bear country of the Alaska Peninsula for brown bear. My entire season hinged on the performance of two pairs of Crispi boots: The Hunter GTX and The Guide GTX.
This was my first experience with Crispi, and I must say that, overall, I was very satisfied with their performance. Both pairs performed equally well, but I found myself preferring the Hunter, mainly do to the extra 2" of upper, which translates into more water clearance, and most of all, more heel stability (this has always an issue for me). With the aforementioned being the only noticeable difference between the two models, I will otherwise review them as though they are the same boot.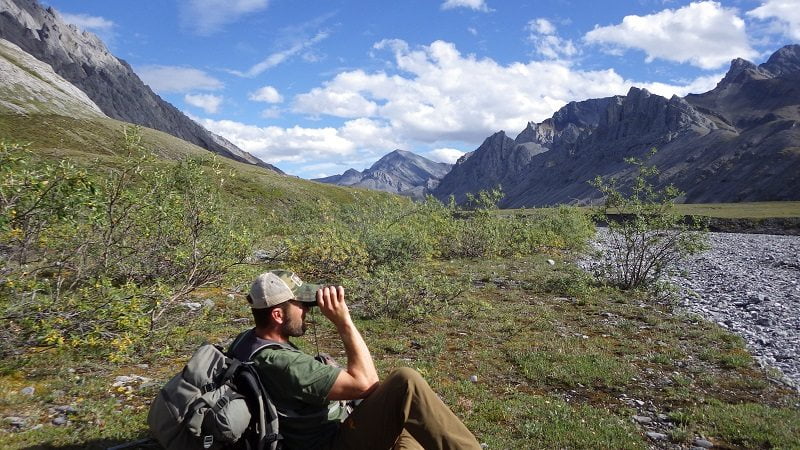 From hot and dry to cold and wet, there is perhaps no place on earth that is more unforgiving than Alaska. Sooner or later, the Last Frontier will always expose inferior equipment.
Crispi Guide GTX and Hunter GTX-
Specs- I'm far from an engineer and perhaps on the low-side of being tech savvy, so click below for the nitty gritty right from the horse's mouth:
Here are my experiences with the boots/process rated 1-10 with 10 being the best.
INITIAL IMPRESSION:  10 out of 10- I've laced up enough boots that upon first inspection I could tell these we're quality boots. The stitching was clean and the construction looked good and not over-engineered for ascetics like many of today's trendy brands.
FIT/BREAK-IN: 9- I ordered both boots in US 11.5 EE. I knew the instant I slipped my foot in them they were too short. Crispi's customer service was phenomenal! In five days, I had a size 12. (I really appreciate the fact Crispi offers most of their boots in Wide.) There was little, if any, slippage. Both pairs felt as though they were already broken in. Even in the hot, humid Wisconsin summer I didn't get a single blister. I put no more than 50 miles on each pair before heading to the bush.
WARMTH: 9- Obviously, these are boots for the active hunter. Both pairs have 200 grams of insulation. Overall these boots served me very well for temps ranging from 15F-75F. For warmth in boots, I focus more on keeping them dry than I do insulation, which is why I bring two pairs of boots with me. If I only brought one, they would be damp from sweat from day one and never dry again until I got home. You can have 2,000 grams of insulation, but if you're boots are damp, your feet will get cold!
STABILITY/SUPPORT: 9.5- For me, these boots offered perfect stability for the variety of terrain I hunt in. I did get blisters on my heels the first week or twp, but my feet soon toughened up and were golden for the rest of the season. Traction was great. The toe offered plenty of leverage in steep rock and shale, but they rolled over nice on flat terrain. Side-hilling was a breeze.
COMFORT: 10- These are the most comfortable hunting boots I've ever worn! Throughout the fall I marveled at the fact it felt as though I didn't have anything on my feet. I've never had boots conform so well to my feet, yet they still offered great support.
DURABILITY: 10- Over the course of 86 days, I took these boots from saltwater to mountain peaks. I have to say they look great inside and out. Not single stitch is out of place, the soles have lots of life left in them, the rand is completely intact, and the leather looks great. I typically get two seasons out of my boots if I rotate them. The ultimate durability test will come at the end of next fall, but at this point I have every confidence they will perform well.
WATERPROOFNESS: 9- I've yet to find a leather hunting boot that doesn't eventually leak. About Day 75, after probably 500 creek crossings and more boggy miles than I care to discuss, I started noticing moisture along the outstep of my insoles. Realistically, I was actually very impressed they held water as long as they did.
OVERALL REVIEW: 9.5 of 10- A wise man once told me: "When you find what you're looking for, stop looking." After one complete fall season I have to say the Crispi Guide is an exceptional boot, but—for my feet and the type of hunting I do—the Crispi Hunter is exactly the boot I've been looking for.
SIDEBAR: Boots I've tried…
For anyone who's interested, I'll share my experiences with some of the other boots I've tried over the years. Of course, what's good for the goose may not be good for the gander. Everyone's feet and preferences are different. I'm merely listing my experience, so take it as such.
I figure I've logged the following number of days in the following boot brands:
Meindl 1,000+ days
Pros: Very durable, high quality, great support, great waterproofness
Cons: I found most models rather unforgiving/a bit too stiff unless I was in very steep terrain. I always got blisters with them. It seemed like by the time I had them broke-in they were worn-out. My last experience with Meindl boots was the Perkekt Hunter, which had the Cabela's name on them. They weren't as stiff as the Meindl's of old, nor did they have the quality. While they fit my feet well, the leaked like sieves after only a month's use. Cabela's did accept a return. If you're looking to try Meindl, I would get the original German models. If they fit your feet properly, the original Meindl brand is very good.
Hanwag 1,000+ days
Pros: Comfortable, perfect support for all-around hunting
Cons: Every pair I had, which was several, wore out very quickly for me on the exterior by the Achilles. And stitching always seemed to give out rather quickly. That said, I had a hunter this year with Hanwag boots, and I see they redesigned the area around the Achilles. Over the years my arches have been collapsing, causing my foot to widen (I wish I would have used quality arch supports 20 years ago). I couldn't get the "Trapper Top" boot in a wide or would have likely stuck with Hanwag.
Kenetrek 200+ days
Perhaps more than any other boot, I've heard and experienced mixed reviews on Kenetrek. Some guys swear by them, others not so much. They just didn't fit my feet. There seemed to be no heel cup. I also found them to be clumsy, as though the space between the bottom of my foot and the top of the sole was too narrow, and the sole was too tall. When side-hilling, I felt like I had high heels on (For the record, I don't wear high heels very often). However, I did appreciate the Mountain Extreme 1000 for cold weather hunts, as it's hard to find good boots you can hike in that are well insulated. Aside from fit, I've seen many soles on Kenetrek's separate from moderate use and also from attempting to dry them near heat. Apparently the glue on the sole's cannot stand much heat, so if you have a pair, that is something you might wish to watch out for.
Scarpa 100+ days
Scarpa is a solid brand. I liked the Scarpa boots I tried, but really seem to prefer taller boots. I just couldn't find the style of boot I like for hunting from Scarpa.
Lowa 200+ days
Like Scarpa, and perhaps all the brands I've listed, I feel Lowa is a great brand. I used the Tibet model. While I liked them, again the lower top didn't seem to provide the stability I needed; I had too much heel slippage. I would have liked to try the Tibet Hi, but again, they don't offer them in wide sizes.
Danner 400+ days
I haven't used any Danner boots in 15 years. I used them exclusively when I first went west guiding for elk. While the quality, fit, and comfort was great, at that time, none of the models offered the support I needed in Alaska, so I quit using them.
If I could offer one piece of advice on footwear, it would be: when you find a boot that works well for you, buy an extra pair or two right away before they the change or discontinue the model. Also keep in mind that your feet and body are likely to change over time. I've mentioned my collapsing arches, but I've also developed bunions and scarring/bone build-up on my heels from years of abuse and improper fitting boots. At the end of the day, be sure to use proper arch supports and when you find a boot that works well for you, stick with them.
To leave comments or ask Billy questions, click here.
To view more photos of Billy's Alaskan Adventures click here.
To view the trailer of Billy's latest Alaska hunting DVD, High Country Brown Bears, click here